The U.S. is home to some of the biggest power equipment manufacturers in the world. Many of these companies produce lawnmowers as part of their overall lineup, while others focus on them exclusively. Customers have never been so spoilt for choice.
When choosing between SCAG and Bad Boy mowers, SCAG comes out on top in terms of company experience, deck construction, warranty details and resale value. Bad Boy wins on lower upfront cost, innovative design, and overall build quality. Depending on the use, either is an excellent choice.
Today we focus on two underrated brands and the overall worth of their mowers. Are SCAG mowers worth the investment? Will a Bad Boy break your heart? 
Find out below!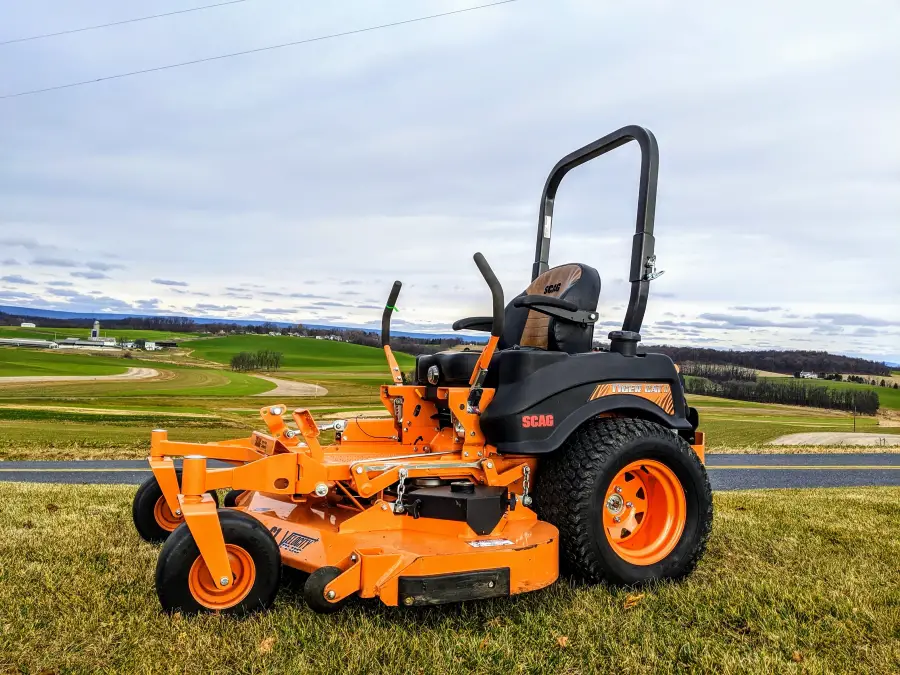 Are Bad Boy Mowers Worth The Money?
Based in Batesville, Arkansas, Bad Boy Mowers has been in the lawnmower industry making their own mowers since 2002. This makes it a relatively young company.
However, the company's impressive strides in the last 19 years have seen it rise from dust-raising whippersnapper to a genuine force when it comes to residential and commercial lawn care.
Though Bad Boy mowers have not been produced for half as long as some others in the industry, their high standards of American made quality make them worth the money, dollar for dollar. Their mowers can compete head to head with those produced by companies with double the experience.
The company primarily focuses on zero-turn mowers, although they do also make two commercial walk-behinds. All Bad Boy lawnmowers reflect the company's commitment to American innovation, engineering prowess, and attention to detail. 
As a company looking to wrestle market share from titans of the industry, Bad Boy is very much aware of the fact that quality products are the best form of marketing. As such, great investments have been made into research, development, testing, and personnel for those stages. Only the best will do.
Bad Boy Mower Models To Choose
So, let's take a look at some stand-out Bad Boys. These models are great choices when used for the jobs they were intended, clean and fast cutting.
Bad Boy Mz-Rambler Residential Zero-Turn
Starting with residential mowers, we have the MZ-Rambler, Bad Boy's smallest zero-turn.
The MZ-Rambler is a feature and option-laden mower that serves as the perfect entry into the world of Bad Boy. It is powered by a 19-horsepower Kohler 5400 (591cc) or a 22-horsepower Kohler 7000 (725cc). The edgy design is sleek and somewhat sporty, marking it out as a true Bad Boy.
The 632 lbs. mower has a heavy-gauge steel frame and a 42-inch deck made from 7-gauge steel. It has a Dual Hydro-Gear ZT2200 transmission that helps the mower move at speeds of up to 6 miles per hour. 
The deck is engaged via an electric PTO system and it has a height adjustment range of 1.5-4.5 inches. You get a foot-assisted manual deck lift system as standard but you can opt for an electric lift system too.
Other features include maintenance-free spindles, an adjustable comfort seat, and a 5-gallon gas tank. 
The Bad Boy MZ-Rambler can be yours if you pay a $1,500 deposit. Payments are $74.14 per month for 24 months. Various payment plans are available on the Bad Boy website. The warranty is for 2 years (or 200 hours) for private use ONLY.
The ZT Elite Bad Boy Residential Zero-Turn Mower
Another residential Bad Boy is the ZT Elite, the company's best-selling mower. 
You can choose from four engines and three deck sizes (48, 54, and 60 inches). A Dual Hydro-Gear 3100 Series transmission comes as standard. You also get an independent front suspension, a rarity for riding mowers and a fantastic equalizer when working on uneven ground.
The mower's fuel tank has a 6.5-gallon capacity and it runs on high-octane gas.
The frame and deck are also made from heavy gauge steel, giving the mower a weight of either 812 lbs. (48 in.), 839 lbs. (54 in.), or 865 lbs. (60in.).
Comfort and ease of use are among the major reasons for the ZT Elite's popularity, and this current generation features a heavily padded seat that is breathable and highly adjustable. Padded armrests also add to the comfort. Major controls are well-placed right next to the seat.
Features abound with the ZT Elite, and like with all Bad Boy lawnmowers, customers can get on the website and configure their own. 
The ZT Elite has a base price of about $5,499. Payments begin at $115 per month. The ZT Elite comes with a 2-year/200-hour warranty for private use only. There is no warranty for commercial use. 
Other noteworthy residential Bad Boy mowers are the ZT Avenger and the MZ Magnum.
Commercial Bad Boy Mowers
On the commercial side, Bad Boy has eight mowers: six zero-turns and two walk-behinds.
The undisputed king of the z-turns is the Outlaw Renegade Diesel, a monster powered by a 1100cc Perkins engine that whips out 24 horses. This commercial mower has the power to tackle any task without breaking a sweat. The list of features is virtually endless and you also have the option to build your own custom Outlaw Renegade Diesel.
You get a 61-inch steel deck that is supported by dual isolators. You also get a 16cc Hydro-Gear pump, rear link trailing arm suspension, and Bad Boy's patented front independent suspension. Deck height is adjustable from 2 to 6 inches. 
The Outlaw Renegade Diesel sits on massive Reaper rear tires and you also get no-flat front tires. Deck caster wheels and side-impact protection come as standard. 
Mowing with this machine is a pure delight, largely thanks to the padded suspension seat and adjustable footrests. The deck lift pedal can also be changed to whichever side is most comfortable.
Pricing for such an awesome mower is unsurprisingly steep. With an entry MSRP of $21,819, the Outlaw Renegade Diesel is by far and way Bad Boy's most expensive lawnmower. Again, financing options are available. The warranty is for 2-years (private and commercial use).
The rest of Bad Boy's commercial z-turn lineup includes the Outlaw Renegade, Outlaw Rogue, Outlaw Rebel, and the Maverick HD. The Outlaw Revolt is a powerful stand-on mower for commercial use, while the Walk Behind and Self-Propelled Push Mower are Bad Boy's walk-behind machines.
If you like this one, here are some other articles you will like…
The Bad Boy Mower Verdict
If you are looking for a thoroughly tested and versatile lawnmower that was built on U.S. soil, you won't go wrong with a Bad Boy. The machines have a distinct look about them and boast some of the most impressive build quality on the market. 
Pricing isn't anything beyond industry norms either, with machines such as the MZ-Rambler and Outlaw Rebel presenting interesting bargains. However, the company's warranty policy may be a bit too stringent for some.
Is SCAG A Good Brand To Buy?
With commercial success and brand recognition in the commercial and residential markets, does this success mean that it is a good brand compared to others in the industry?
The American made construction of their products, ease of maneuverability in their design, and great track record of customer satisfaction makes SCAG not only a good brand, but one of the best. Whether for commercial or residential use, the SCAG brand holds plenty of clout compared to all others.
If this is the case, which model should a homeowner or commercial crew foreman choose? First, we should find out if after years of use, they will still have hold their resale value.
Do SCAG Mowers Hold Their Value?
SCAG is another American mower company (owned by Metalcraft of Mayville, Inc.) that takes great pride in producing great American made products, and its mowers are front and center of that ethos.
SCAG mowers hold their value more than many major brands on the market. The reason centers around three aspects of the company's success.
Quality American based construction
Industry leading brand recognition
Easily acquired parts for maintenance and repair
The Wisconsin-based manufacturer has 11 mower model lines and over 50 model specs. The machines are the cumulative result of nearly forty years of world-class engineering to ensure minimal downtime on these commercial machines.
Which SCAG Model To Choose
So, which ones should you look out for? What are some of the most popular and best performing models of SCAG's lineup?
The SCAG Patriot
We simply cannot ignore the awesome Patriot, one of SCAG's best-selling zero-turns.
The Patriot is available in six different specifications. The major differentiators are deck size and engines. There are three specs with 52-inch decks and three with 61-inches. Engine builds are outsourced to Kohler, Kawasaki, and Briggs & Stratton. The power output range across the specs is 22-26 horsepower. All specs also have 6.5-gallon gasoline tanks.
All Patriot specs are equipped with SCAG's reinforced HeroDeck with a three-blade configuration. Spindles are internally lubricated and protected by sealed ball bearings to preserve the lubrication. An Ogura electric PTO is at the heart of deck engagement.
The Patriot's drive system is a Hydro-Gear ZT3100 Transaxle setup that is super smooth and highly durable in all mowing conditions. You also get an advanced cooling system comprised of large fans. 
Whether you're a bagger or a mulcher, SCAG has you covered. You can opt for a 7-bushel grass catcher or you can opt for one of SCAG's trusty mulch kits.
SCAG also prioritizes operator comfort, given the number of hours some commercial jobs may take. Armrests, a weight-based adjustable seat, and even a bottle holder are just a few of the touches incorporated to enhance the mowing experience.
Like Bad Boy, SCAG offers customers the chance to build a custom Patriot with certain optional extras.
Pricing for the Patriot begins at $8,585 for the base spec and just over $9,000 for the top-spec. SCAG and its affiliated dealers also offer various financing options.
Warranties for the Patriot depend on how the machine will be used. The private use warranty is 3 years (or 500 hours) while the commercial warranty is for 2 years. Engine warranties are covered by manufacturers.
The SCAG Turf Tiger II
Next up is the Turf Tiger II, SCAG's flagship lawnmower. 
This powerful Z-turn is available in 10 different specs, with 6 running on gasoline, 2 using diesel, and 2 propane-powered ones. You can opt for a 52, 61, or 72-inch triple-bladed Velocity Plus deck for the gas versions. The diesel Turf Tigers have a 61 or 72-inch deck, while the propane specs have either 52- or 61-inch decks.
Gasoline engines are outsourced from Briggs and Kawasaki, while Kubota makes the diesel motors. Kohler Command PRO-LP engines power the propane specs.
The Turf Tiger has a driveshaft system for engaging the deck. This means you won't get the level (and frequency) of wear and tear that comes with a belt-driven mower.
The Turf Tiger is driven by 26-inch 6-ply rear tires that can comfortably handle any work surface. Managing mud, slopes, and curbs is barely even a challenge for this awesome Z-turn.
You can also customize the Turf Tiger with a wide number of options, including multiple grass-catching systems, a trailer hitch, an operator-controlled discharge chute, and SCAG's Hurricane Plus Mulching System (complete with mulch plates and blades). You can also have an LED light kit installed for mowing after hours.
Pricing begins at just over $15,000 for a 52-inch gasoline Turf Tiger. The most expensive spec in the lineup is the 72-inch diesel spec which costs nearly $23,000.
All specs come with 2-year commercial warranties, 3-year cutter deck spindle warranties, and 3-year cutter deck warranties. For private use, you get a 3-year/500-hour warranty. The rental use warranty is 90 days. Engine warranties depend on the particular engine manufacturer.
The rest of SCAG's lineup includes awesome Z-turns like the Cheetah II, Freedom Z, and Liberty Z. You can also have a look at the V-Ride stand-on mower, as well as walk-behinds like the SWZ Hydro-Drive and SFC30.
The SCAG Mower Verdict
SCAG mowers, on average, are  pricier than their counterparts from Bad Boy. This may be due, in part, to SCAG's larger reputation and longer-spanning brand recognition, among other things. 
That said, SCAG does have a more flexible warranty policy than Bad Boy, and that could tilt the value-for-money and value retention scales in its favor. Additionally, the sheer quality of SCAG's mower decks, in particular, makes its mowers that bit more appealing.
The Final Touches On SCAG Vs Bad Boy…
If you are looking for a quality American made mower from companies with proven track records, either SCAG or Bad Boy will fit the bill.
SCAG wins out on experience in the industry, warranty details, and resale value of their machines.
Bad Boy wins on aesthetic design and initial price.
Whichever you choose, you can't go wrong with either company and their line of quality products.
Here are some other articles from LawncareGrandpa.com you will enjoy…
References
https://www.scag.com/product/zero-turn-riding-mowers/patriot/
https://www.scag.com/product/zero-turn-riding-mowers/turf-tiger-ll/