American power equipment brand SCAG is a certified giant in the lawn care game. The brand engineers a range of machines that are well adapted to tackling private residences and commercial properties without breaking a sweat.
SCAG Patriot zero-turn mowers are some of the top of the line when it comes to residential and commercial applications. The Patriot is squarely in the commercial category, but can be extremely useful for those with larger properties and especially rough terrain to mow.
Our focus today is on the Patriot, a striking zero-turn mower that packs a whole lot of punch. Join us as we explore the good, the bad, and the so-so about one of the most fascinating lawnmowers on the market today.
Let's go!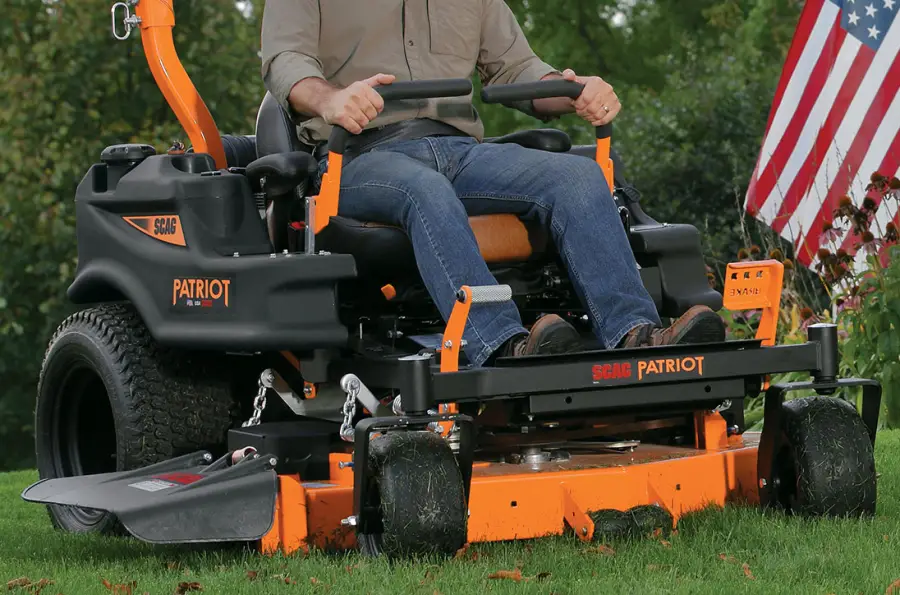 Is The SCAG Patriot A Commercial Mower?
You bet your bottom dollar it is!
SCAG's Patriot, much like the Cheetah, Freedom Z, and Turf Tiger, is a commercial mower more than worthy of the name. More specifically, it is a series of commercial-grade Z-turns.
What Deck Does A SCAG Patriot Have?
When looking at the decks of the SCAG Patriot mowers, you get six models:
SCAG Patriots have three decks with 52-inch mower decks and three 61-inchers. All models, regardless of size, feature tubular steel frames and SCAG's patented HeroDeckTM, which features three blades. The deck features 2 steel plates, with a reinforcement plate at the spindle points.
This allows the mower to run through thick grass just as easily as it would thin wisps. Typical of the brand, the blades are in a triangular formation that has the middle blade slightly ahead of the others. 
The spindles themselves feature aluminum housing and sealed ball bearings that will retain lubrication despite cutting conditions.
In fact, the ethos behind the Patriot is largely about minimizing service-related downtime. 
The Hero deck also has a cutting height range of 1.5-5 inches, with professional-grade height increments of about a ¼ inch. The best part? You don't even need to leave your seat thanks to the foot-operated deck lift pedal.
Blade engagement is managed by an Ogura electric PTO clutch system that has a holding strength of about 108 lbs. The clutch also features an adjustable air gap to lessen impact and extend its lifespan.
What Horsepower Does The SCAG Patriot Output?
Now, let's talk performance.
Each of the six specs has its own engine. The entry SPZH-22FX has a 22 horsepower Kawasaki FX691 motor. The SPZ52H-23CV has a Kohler Command Pro (23 horsepower) engine. The SPZ52H-26BV packs 26 horses delivered by a Briggs Vanguard 810.
The SPZ61H-23FX has a Kawasaki FX730 engine that churns out 23 horsepower. SPZ61H-25CV is powered by a 25-horsepower Command PRO from Kohler. Finally, we have the top-of-the-range SPZ61H-26BV, a lovely machine with a 26-horsepower Briggs Vanguard 810.
The 52-inch Patriots feature a Hydro-Gear ZT3100 Transaxle drive system while the 61-inch machines incorporate a Hydro-Gear ZT3400 system. The drive systems are well-greased thanks to spin-on oil filters. Large fans help regulate temperature to ensure consistent performance in all mowing conditions.
How Fast Does A SCAG Patriot Go?
So, what do all those letters and numbers mean in terms of real-world performance?
SCAG Patriot mowers go about 8.5 miles per hour (52-inch models) and 10 miles per hour (61-inch models).  Power hits the turf via the rear drive wheels (22 inches for 52-inch models, 24 inches for 61-inch models), with 13-inch caster wheels responsible for the Patriot's awesome maneuverability. 
Blade tip speed is around 18,500 feet per minute. This is more than enough to facilitate your bagging and mulching needs.
SCAG Patriot Bagging And Mulching
Speaking of bagging vs mulching vs discharge…the Patriot has all three down pat. Side discharge is the default setup across the lineup but you can also get mulching and bagging accessories.
For small bagging jobs, you have SCAG's simple fabric grass catcher. If you want to avoid frequent trips to the compost heap, you can get your hands on the awesome 2-bag grass catcher, which boasts a whopping 7 bushels!
You also get two mulching options. The first is the simple steel mulch plate that is secured to cover the discharge chute. You can also opt for the elaborate Hurricane mulch system, which consists of mulch plates around all three blades. Oh yeah, the Hurricane system also includes SCAG's Eliminator blades that lift clippings towards the top of the deck before shredding them again on their way down.
Here are other great articles from LawncareGrandpa.com…
Patriot Ease Of Operation And Comfort
Next up, we have to discuss one of the most important (some would say "make-or-break) aspects of a riding lawnmower…operator comfort.
The Patriot features a contoured suspension seat that is supported by torsion springs. You get armrests, adjustable weight support, and a nifty cup/bottle holder for maximum comfort on long jobs. There's also a protruding steel footplate that is mounted on rubber to save your legs from excess vibrations.
In addition to the six available specs, SCAG's website gives customers the chance to build their very own Patriot by picking and choosing various features and accessories.
All Patriot models run on gasoline (preferably high-octane), with tanks that can hold up to 6.5 gallons.
How Much Dose A SCAG Patriot Cost?
Pricing for the Patriot reflects its status as a commercial machine. According to SCAG's website, the mower starts at US$8,585 (SPZ52H-22FX). The top-of-the-range SPZ61H-26BV costs a little over $9,000. Financing deals are available from SCAG and its affiliated dealers. The cost of a "build your own" Patriot varies depending on the options you go for.
All that said, models in the Patriot series are also a fantastic choice for large yards and homesteads. As such, SCAG offers variable warranties depending on what you will use your Patriot for.
For commercial landscapers, SCAG offers a 2-year warranty that covers manufacturing defects. Components such as fittings, oil coolers, clutches, wheel motors, reservoirs, and electrical switches are all covered. Wear items are not included in the warranty though.
If you will be using your Patriot for private use, you will be given a 3-year/500-hour warranty for the same components.
Wear items such as belts and tires (regardless of commercial or private use) fall under a 90-day warranty.
Engine warranties fall under the jurisdictions of the respective manufacturers.
What Makes A Mower A Commercial Mower?
Many people are often confused by dealers or manufacturer sites that make distinctions between "residential" and "commercial" mowers, particularly when it comes to their price tags.
Well, we're here to offer some much-needed clarification.
In general, commercial mowers are built for endurance. This means that they are built on sturdier frames than their residential counterparts, and they have higher build quality. This makes sense because a commercial mower is more likely to be hauled around much more frequently than a residential mower that may only ever be transported from the store or to (and from) repair shops on occasion.
Commercial mowers are likelier to be used in harsher conditions and subjected to lower standards of care than residentials, especially if the operator is not the owner. As such, they need to be built tough.
Commercial mowers also need to be versatile because commercial landscapers are required to tackle a wide range of jobs, each with its own requirements. In contrast, residential mowers are often purchased with an owner's yard in mind because that is usually the only yard the machine will ever work.
Cutting performance is another area full of differences. Commercial mowers are made to tackle large areas such as campuses, parks, golf courses, etc. As such they need stronger decks and blades than residential units. 
Oftentimes, commercial mowers have very large decks with multiple blades so they can make wider lanes and, ultimately, fewer passes during mowing. Some commercial mowers have decks that are 100+ inches wide with up to five blades! Most residential mowers only have one blade.
Engine performance is another thing to think about. Commercial mowers need relatively large and powerful engines (usually 20 horses+) to handle their demanding tasks efficiently. They must also move as quickly as possible. As such, their engines need high levels of displacement and cooling for consistency in different conditions.
Naturally, bigger engine=greater fuel and oil needs. Commercial landscapers need to make as few refueling stops as possible to fulfill contracts satisfactorily. All commercial mowers use gallons of fuel. Some residential mowers, by comparison, can run on quarts of fuel.
The build quality, size, versatility, and overall toughness of commercial mowers mean that, on average, they cost significantly more than their residential counterparts.
There are also differences in warranties.
Because of the punishment commercial mowers are expected to take, they usually come with shorter warranty periods than residentials. Since residential mowers are usually owner-operated, it is assumed that a certain level of care will be maintained.
Mowers that can be used for both, such as the SCAG Patriot, will have either commercial or non-commercial warranties depending on their intended use. 
SCAG Patriot Problems
While the Patriot is undoubtedly one of the most impressive Z-turns out there, we'd be remiss if we didn't touch on some of the negative issues some owners have experienced.
One problem some operators have reported is starting issues, particularly if the mower hasn't been used for a long period. Interestingly, other folks have reported the same issue after long mowing sessions. Turning the ignition yields nothing for a few tries until the mower just happens to start again.
A common cause for this is related to the fuse. One Patriot owner, reporting on popular landscaping forum LawnSite, found that removing and reinserting the fuse would solve the problem, albeit temporarily.
Solutions may include the replacement of wiring harnesses, something that should be covered by the manufacturer or dealer if the machine is still under warranty. If your Patriot isn't under warranty anymore, you might want to try replacing the fuse holders first since they are fairly cheap.
The Final Touches On SCAG Patriot Mowers…
These zero-turn machines are well designed, durable, and comfortable to operate. With the brand recognition and experience that comes along with the SCAG name, you would expect nothing less.
These mowers are designed for heavy use and will last for many years to come with proper maintenance and upkeep.
Here are more articles you will enjoy…
References
https://www.scag.com/warranties/
https://trulawnhd.com/blog/commercial-vs-residential-mowers/#:~:text=Commercial%20mowers%20should%20possess%20high,mowing%20task%20all%20the%20easier.