Anyone who has ever had to move their stuff over a considerable distance knows that a strong, reliable, and user-friendly trailer is more than worth its weight in gold. Convenience is the name of the game, and very few brands are capable of playing at the highest level. Are Haulmark Trailers a good solution for most situations?
Haulmark trailers are known for their expert construction, design, and usability. For lawn care crews needing covered storage and transport, these would be an excellent choice. For those hauling automobiles or motorcycles, Haulmark is one of the industry leaders.
Haulmark is undoubtedly among this elite class, and today we will be giving a few of their stand-out models a thorough reviewing. Of course, like Haulmark, we understand that consumer needs vary. Therefore, we will be picking our favorite models from various categories.
Let's get to it.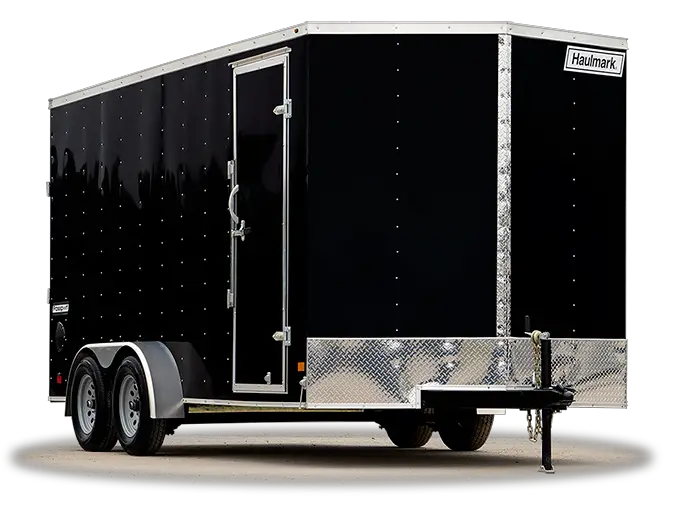 Best Haulmark Cargo Trailer
Haulmark's cargo trailers are its bread and butter, and its excellent track record in this arena has propelled the brand to its status as one of the American Cargo Group's star subsidiaries. These working-class trailers are durable and versatile enough for countless jobs. They are not bad on the eye either.
Let's start by taking a look at the mid-level Passport 8.5'Wide, which is the beefed-up version of the company's best-selling Passport.
The Passport For Lawn Care Hauling
And since our site here deals with lawn care both residential and commercial, it stands to reason I would weigh in on the carrying capacity for mowers and equipment. If you are looking for a solution to permanently store tools and machines, enclosed trailers can be a solution.
This can be the case if a small one or two man operation doesn't include a storage option onsite. Though what some find is that the expense of a high quality trailer like a Haulmark may not be feasible for use in a landscaping or commercial mowing situation.
Those wanting this type of mobile storage and use at that level of quality could also opt for a box truck of some type. With the extreme price of a new and dependable box truck, Haulmark trailers like the Passport could be the solution.
Other uses of enclosed trailers in a lawn crew situation usually deals with leave cleanup. This is normally achieved by adding sideboards and maybe a roof to an open trailer for leave vacuum jobs. Using a Haulmark trailer for this purpose would simply be overkill.
With that said, for lawn crews that want an enclosed trailer with unmatched quality, these trailers will fit the bill perfectly.
The Passport For General Hauling
The Passport 8.5' is the ideal choice for prospective owners who are looking for a multi-purpose haulage solution that is both reliable and affordable. Recreational or commercial use? It really makes no difference to the Passport 8.5'.
The Passport 8.5' is made from .024 Aluminum, making it very strong and very light. It boasts a sharp V-Nose profile as well as a one-piece aluminum roof that is virtually impervious to leaks. The trailer is only available in white.
The Passport 8.5' is available in three specs, starting with the PP8516T2 which measures 17 feet and 6 inches in length. The top-spec is the PP8524T2, which is 25 feet and 6 inches in length. All Passport 8.5' specs are 8 feet 4 inches wide and eight feet 2 inches tall. Interior area ranges from 139.4 square feet (PP8516T2) to 204.1 square feet (PP8524T2).
The trailer has a curb weight of 2,670 pounds (PP8516T2), with the top-line PP8524T2 weighing in at 3,280 pounds. Interestingly, the entry-level PP85162T has the highest payload capacity at 4,330 lbs. The middle spec (PP8520T2) can carry 3,940 lbs. of cargo, while the PP8524T2 has the lowest capacity at 3,720 lbs. The total gross vehicle weight rating (GVWR)stands at 7,000lbs.
All Passport Wide specs feature an 18-inch hitch with a 2-5/16" hitch ball and security chains that make the connection to your truck as simple as 123. You also get a 12V end connection.
The trailer also comes with tandem axles with a carrying capacity of 7,000lbs. Spring suspension is standard, as are the electric drum brakes.
You can access the trailer via the main rear ramp door, which features Haulmark's patented Spring Assist and a 16-inch ramp extension. It also has a 32-inch side door with a classic bar lock.
The Passport 8.5' has loads of other standard features including:
4x 15" Radial tires with Silver Mod Wheels
12V LED Exterior Lighting
12V LED Slim Line Tail Lights
Flow-Thru Sidewall Vents
12V Dome Lighting (with a self-switch)
High Performance PlexCoreTM Decking (3/4-inch)
Economy Sidewall Liner
Undercoated chassis
You also get a few optional extras, such as:
4x 5,000 lb. Floor D-Rings
3/8-inch PlexCoreTM Sidewall Liner
0.30 Aluminum Exterior
Prices vary depending on your retailer, delivery costs, and optional extras. However, expect to pay around US$10,000 for the top-spec PP8524T2.
Haulmark offers a 12-month (limited) warranty for the Passport 8.5' Wide.
Other notable Haulmark Cargo trailers include the entry-level Passport, the long-haul Transport V-Nose, and the commercial granddaddy that is the Grizzly HD V-Nose 8.5' Wide.
For other great articles like this one, see mine here…
Best Haulmark Car Trailer
Haulmark also offers specialized trailers for hauling cars. The trailers on offer in this category are ideal for carrying hatchbacks, sedans, station wagons, or even high-performance sports cars!
Our pick is the Transport V-Nose Auto, an elegant-looking trailer with pure workhorse DNA.
The V-Nose configuration offers advanced aerodynamics that will have a considerable impact on your tow vehicle's overall MPG. The trailer body is made from 0.30 aluminum with smooth aluminum fenderettes. The roof is also a solid piece of aluminum. 
The Transport V-Nose Auto's color palette is also much wider than that of the aforementioned Passport Wide. You can choose from black, champagne, yellow, matte, "silverfrost", blue, and six others.
You get four specs this time around, namely the:
TSV8516T2
TSV8520T2
TSV8524T2
TSV8528T3
All specs are 8' 4" wide and 8'6" tall. Only the lengths vary. The TSV8516T2 is 17'10" long, while the TSV8520T2 is 21'10". The TSV8524T2 is 25'10" long and the top TV8528T3 spec measures 29'10" in length.
As for the interior area, you get 140 square feet (TSV8516T2), 172 square feet (TSV8520T2), 204 square feet (TSV8524T2), 236 square feet (TSV8528T3). 
Capacity-wise, the V-Nose Auto is a certified class leader. 
However, since the first three specs have a total axle capacity of 7,000lbs., the lighter models have greater payload capacities. In other words, the TSV8516T2, TSV8520T2, and TSV8524T2 have capacities of 4,420lbs., 3,780lbs., and 3,140lbs. respectively.
The top-spec TSV8528T3 has the greatest payload capacity at 5,310lbs. This is because it has an axle capacity of 10,400 lbs.
Speaking of axles, you have a tandem setup supporting four 15-inch radial tires. You get a spring suspension as well as electric drum brakes. The hitching system is the same as the one on the Passport Wide.
The V-Nose Auto can be accessed via the main rear door opening that features a 16-inch ramp extension. You also get a nifty side door with a flush locking mechanism.
Electricals are facilitated by a male 12V connection (7-way). You get LED Slim Line tail lights, LED mini clearance lights and two 12V high output LED dome lights.
The interior floor is lined with 3/4-inch PlexCoreTM Decking while the walls feature a 3/8-inch PlexCoreTM sidewall liner.
Other standard features include:
Silver mod wheels
Tube main rails
16" OC tube vertical posts
16" OC crossmembers
16" OC Tube Roof Bows
Undercoated chassis
24" ATP Stoneguard
ArmorTechTM on A-frame and rear end rail
Optional extras include:
Air conditioner
ATP and extension
Rear spotlight
Chrome V-Nose
Locking fuel door
Pricing is also around $10,000 for the entry-level TSV8516T2. Haulmark and its affiliated dealers offer a 3-year limited warranty for this awesome vehicle haulage solution.
A cool alternative to the V-Nose Auto is the standard Transport Auto which features a radius roof front profile.
Best Haulmark Motorcycle and ATV Trailer
Haulmark doesn't just cater to those wishing to transport cars. They also make the impressive Low Hauler, the best way to haul your motorbikes and ATV.
The Low Hauler features an unbonded 0.30 aluminum exterior with a V-Nose and one-piece aluminum roof. You also get polished aluminum corners in the rear as well as 16-inch OC floor crossmembers, vertical posts, and roof bows.
The interior deck is lined with ¾ inch black textured Polybead flooring. The walls have a simple and elegant white vinyl lining that contrasts beautifully with the dark floor. The Low Hauler floor also has two removable wheel chocks, as well as floor and wall rings, for holding your motorcycles in place while on the go.
The trailer also features 15-inch radial tires that are attached to tandem axles with a 7,000lb capacity. Like the Transport V-Nose Auto and Passport Wide, the Low Hauler has spring suspension and electric brakes on both axles.
The hitch is 13 inches high with a 2-5/16" hitch ball size. The hitch also holds 10-15% of the trailer's curb weight.
Like the other trailers we've discussed, the Low Hauler is available in different specs. You have the entry-level LH712T2, the mid-level LH714T2, and the range-topping LH716T2.
All specs have body widths of 7 feet but the lengths vary. The LH712T2 is 15'1" long while the LH714T2 has a length of 17'1". The LH716T2 is 19'1" long.
Naturally, interior space varies by spec. The LH712T2 has an interior area of 99 square feet and the LH714T2 has 112 square feet of space. The LH716 has the most space with 133 square feet.
The trailer specs have payload capacities of 4,400lb (LH712T2), 4,200 (LH714T2), and 4,000 (LH716T2). The GVWR of all Low Haul specs is 7,000lbs.
You can easily load your bikes, ATV, and other gear through the main rear door, which features a ramp extension and a ramp door extension. As usual, there's a side door too.
Other standard features include:
7-way 12V connector
12V LED exterior lights
12V LED interior dome lights
Rear ID Bar with built-in loading light
Black Viper Aluminum wheels
Skid pads
Fold-down stabilizer jacks 
Options include:
First Aid kit
Sidewall E-Track
Aluminum Pull-Out Step
Gasoline access door
You can get your Low Hauler in one of 11 colors including yellow, black, red, white, and charcoal.
The Low Hauler is one of the best ways to transport motorcycles safely, and the pricing reflects that. Expect to pay up to US$14,000 for a mid-level LH214T2.
The trailer comes with a 3-year limited warranty.
The Final Touches On Haulmark Trailers…
If you have ever seen one of these trailers, you will know what I mean when I say you can feel the quality. When your equipment matters, these trailers instill the confidence you want in a hauling solution.
Whether you are taking your 'toys' out to the lake or dirt trial, hauling your project antique to a show, or pulling your heavy mowers to the next jobsite, Haulmark trailers will help you do it with style and ease.
If you liked this article, you will love some of these…
References
https://haulmark.com/images/pdfs/specifications/HM_LH_FLYER_1121.pdf
https://haulmark.com/images/pdfs/specifications/HM_PP_85_FLYER_0820_-_Small.pdf
https://haulmark.com/images/pdfs/specifications/HM_TSV85_FLYER_0918R0120_-_Web.pdf