Are you looking to change your lawn mower and considering what the most suitable choice might be? Is this your first lawn mower purchase and do you want to do everything you can to ensure you make the right choice? Are you caught up in the decision to choose between a SCAG lawn mower or a Kubota lawn mower?
SCAG mowers are known to be better in rough terrain and wet conditions. Kubota are known to have even cutting and dependable mower engines. Both have high fuel efficiency, but the diesel option is exclusive to Kubota. SCAG is best in rough areas whereas Kubota is the choice for even dry ground.
This is what we are going to explore in this article. Would a SCAG or a Kubota be a better option for your mowing needs? With either of these heavyweights in the mowing world, you can't go wrong. Yet, which is better?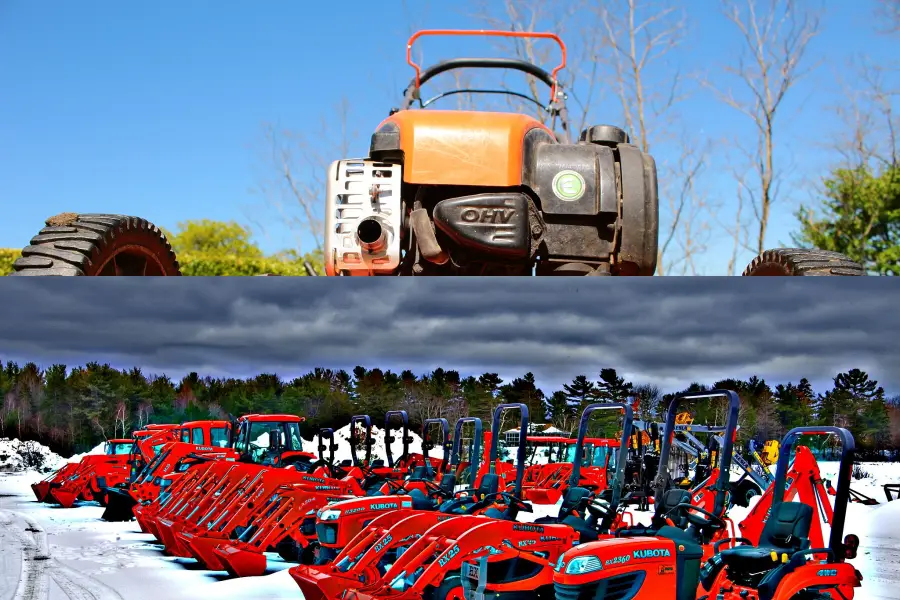 Why Choose A Kubota or SCAG Mower?
The decision to purchase a new lawn mower should not be done blindly. You have to do enough research to make a well-informed decision. 
Let's say for the sake of this article, you've done your homework and inevitably ended up with two contending options (a Scag or a Kubota), you still have to narrow down on the benefits and downsides of both of them to make your final pick.  
For some, Scag mowers are the best mowers ever made. The preciseness, the mobility, the ease of operation, everything! For others, Kubota mowers are a suitable choice. Nothing beats it. 
For you to join any of these bandwagons, you need to understand everything about both lawn mowers which is the focus of this article. 
If you stay with me till the end, you'd have enough information to decide between a Scag or Kubota lawn mower. 
A Brief Overview Of Both Lawn Mower Companies 
Scag and Kubota are both well-known names in the turf maintenance industry. These two companies have been battling for turf equipment market share since the 1980s, and have made some of the best lawn mowers out there.
It stands to reason that they would make the top of your list as well as the list of countless others in the market for a tough and dependable mower. Let's look a bit deeper at the two companies behind these popular products to see if we can shed any light on which one might be best for your needs.
SCAG
Scag equipment is manufactured by a division of Metalcraft of Mayville, Inc. This company was founded in 1983 and boasts of more than 50 models in its inventory. They've been long in the game, tested and trusted to deliver durable machines.
The centerpiece of most of their more popular models is the Kawasaki engine. The name speaks volumes for reliability and ease of upkeep. If you are needing a rugged mower for either a precision cut or a field full of ruts, SCAG makes a mower for you.
Kubota
Kubota is owned by the Kubota Corporation, a company founded in Japan. It is a well-known brand that has been producing lawn mowers and diesel engines since the 1950s. The Kubota mower is one of the best out there.
It has a lot of great features that give the product a good rating in the heart of homeowners and landscape professionals. A notable offering that comes from their mower line is a high quality diesel engine.
To see more articles from LawncareGrandpa.com, see these…
How To Decide Between A Kubota And SCAG
Deciding on which lawn mower between the two is a difficult choice. You have to know what to look out for in a great lawn mower. Let's list a few of the things to look out for when comparing them.
● A good mower fits your yard size
The size of your yard determines the type of lawn mower you should go for. It's a play with proportion. If you have a smaller yard, then go for a smaller mower to save you money, and still provide every feature that you need.
Kubota offers sizes from the small WGC6-21 commercial grade 21″ cutting deck to the massive 72″ deck of its monster ZD1511LF zero-turn professional machine. The offerings are massive allowing most any buyer to find one that fits their needs perfectly.
The offerings of SCAG range from the 30″ SFC30 commercial push mower to the triple blade, 72″ zero-turn TURF TIGER II. SCAG is known for the precision of their cutting decks to the tough reliability of their engines and builds.
If you are needing the smaller cutting decks, then Kubota will be your option. With many brands making these smaller machines, this would also put them in the running as well. If you are wanting a reliable and even cut from a larger mower, then SCAG outperforms most in its class.
● Should be budget-friendly
The cost of the mower should be slightly lower than what you have budgeted and maintenance costs should be pocket-friendly. This doesn't mean that simply the least expensive mower will be the best for the job.
The budget freindly option will be the one that combines the ability to do the job, long lasting reliability, and an affordable upfront price.
The Kubota prices range from $1,300 to $24,500 with many different sizes and configurations.
SCAG offers models with prices that start at $2,600 and top out at $23,000.
All in all, the prices that both companies offer are not only comparable overall, but fairly similar when comparing individual mowers.
● Saves you time
A lawn mower should save you time while cutting. This can come in the form of reduced maintenance, adequate mowing decks, speed, or ease of handling. A combination of several of these would make either SCAG or Kubota the optimal choice.
● Must be easy to operate
Both of these brands have excellent user controls, smooth ride systems, and quality of life options that make them great choices. Not only is the handling of nearly all of their respective machines top notch, they are made to take on the rigors of commercial applications and abuse.
Now that you fully understand what to look out for in a lawn mower, below is a detailed comparison of both lawn mowers based on key parameters that should be important to you. 
SCAG Vs Kubota Cut Quality
Simply put, the cut quality is determined by how cleanly the mower will cut the grass on your lawn. Different weather conditions make certain setups more or less capable. Kubota has a reputation for cutting grass clean and neat in dry conditions without leaving 'strings' or tearing grass blades. 
The only downside is whenever it rains, the grass causes a clump around the blades in excess of the Kubota mowing deck. There is also a problem with uneven cutting to some degree in damp or wet grass.
For the SCAG lawn mower, the case is different. Come rain or shine, you can trust the SCAG lawn mower to pull those grasses down in one trip. There is no need to run over the same areas to catch pesky stragglers.
If you have a small yard, the Kubota might be your best bet where a touchup run or two would not be as time consuming in wet grass.
If, on the other hand, you live on a farm with rougher conditions or have a larger sized lawn you should consider the SCAG lawn mower. 
Mulching Feature
The scag and Kubota have great mulching features. They both cut the grass into fine pieces and spread it across the lawn. 
When you cut, you could either decide to mulch or bag the grass. Depends on your preference. Here, both lawn mower types are a good call. 
Kubota and SCAG Cutting Width
With a wider cutting width, your mower will make fewer passes when mowing your lawn, thereby reducing the time it takes to mow your lawn.
Both SCAG and Kubota have 72″ cutting deck options. These massive mowers can make quick work of even the larges turf areas no matter which brand you choose.
Durability
Both the Scag and Kubota lawn mowers are famous for their durability. Unlike other brands out there, they don't require constant maintenance, and in the long run, they help you save up money. 
If you need a lawn mower that's rugged and able to withstand even extreme conditions, I recommend you go with the SCAG. The one in your shed will go to work even when the weather is unpleasant or the grasses have grown long. 
Kubota lawn mowers carry out the day-to-day cutting of a lawn, but when damp conditions arise, that is where they begin to have slight problems. 
Pricing
The price of the Scag can range between $2,600 to nearly $23,000. Kubota can range from $1,300 to $24,500, depending on the features you need. 
The Scag costs more than the Kubota in model by model comparison many times with all added features. But overall they are very competitively priced.
Higher costs to some implies there are added features or modified designs that help you conquer even the toughest grass better. Yet, this is not always the case.
All in all, both mowers will save you time and maintenance money and will last for a very long time.
Power Source 
The SCAG and Kubota mowers are fuel powered. This means that they have no restrictions whatsoever that come with electric lawn mowers. Most mowers with this level of power could not be run on electricity.
However, the Kubota mower has better diesel engines which costs a bit extra both to fill up and maintain.
In terms of engine design, Kubota takes the win. The engine is sturdily built to withstand pressure. Their motors are so trusted that even some SCAG models have featured Kubota engines in the past.
The Final Touches On SCAG Vs Kubota Mowers…
Both of these brands are going to be pricey for the average home owner with a suburban yard to care for. Where these will shine in the cost comparison will be for those owners with larger fields and lawns and those looking for a rugged machine for commercial use.
You really can't go wrong with either choice, even though there are those on both sides that swear by their chosen mowers.
Here are more great articles you will like…
Resources
https://www.youtube.com/watch?v=PdUL838ZbfM
https://www.youtube.com/watch?v=in2AUO_Pb_I
https://www.tractorpackage.org/lawn-mowers.html
https://www.plantgardener.com/scag-patriot-vs-kubota-z421/
https://www.homeownershub.com/maintenance/scag-mower-vs-kubota-mower-thoughts-225897-.htm