For over a century, American power equipment manufacturers have been trading blows in the pursuit of precious market share. The latter half of the 20th century is famous for birthing some now-household names from post-war ashes. Our focus today is on two companies that emerged from this era…SCAG and Hustler.
Both SCAG and Hustler are comparable in both price and reliability. Much of the difference in comparable models in each comes down to personal preference. One thing that may make SCAG more accessible is the fact that they have many models whereas Hustler makes only Zero turn mowers.
In particular, we're taking a look at their lawnmowers, as we indulge in an old-school shootout. SCAG vs Hustler…who has the best machines? How do you choose? Decisions decisions.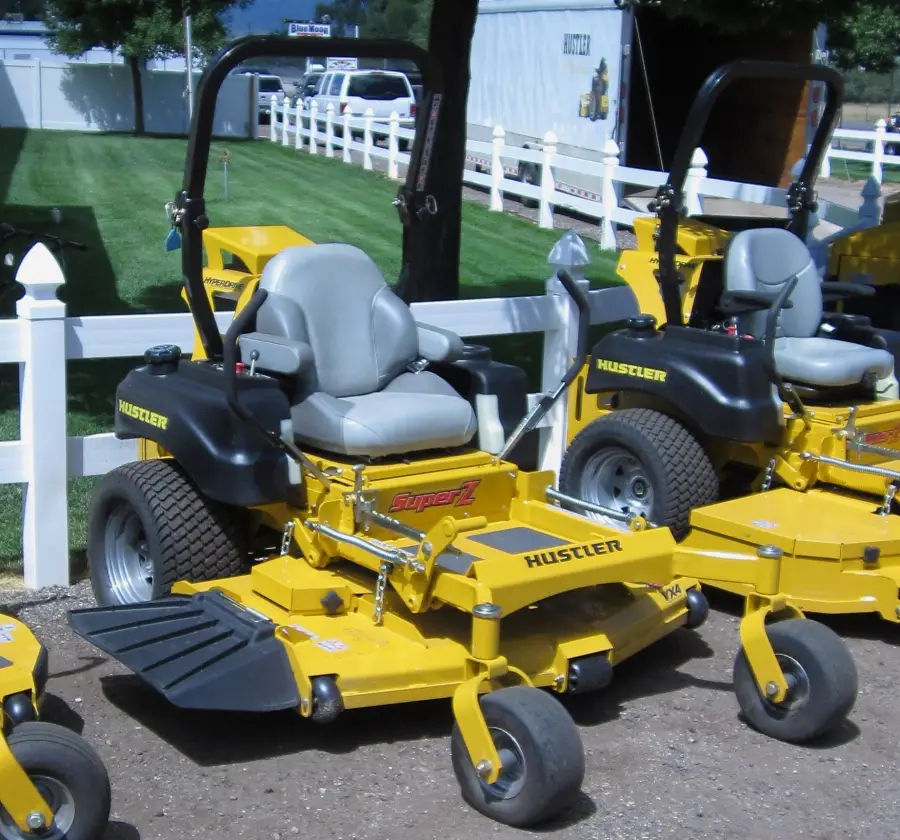 Are SCAG Mowers Worth The Money?
Ever since the early '80s, the folks at SCAG have had a single vision. 
To be the best.
SCAG mowers are well worth the money for most any type of mowing situation. The fact that they have over 50 mower models means that most anyone can find the exact right version with the appropriate features for their job. Though higher priced, they last and have top of the line performance.
Or, according to the company's marketing branch, "simply the best commercial riding, stand-on and walk-behind lawnmowers money can buy".
Tough talk, but can they back it up?
Well, they've certainly tried. With over 50 lawn mower models, SCAG is now among the most recognizable brands in landscaping. Build-quality, machine output, ease of maintenance, and user-friendliness are just some of the core values the company has continued to strive for over the years.
There is even the option to design your own setup and have the experts at SCAG build it for you. On their website you can make choices along several lines. Your options include…
Type (zero-turn, stand-on, walk-behind)
Mower
Deck
Engine
Accessories
Warranty
SCAG Zero Turn Mowers
Let's start by looking at the Wisconsin manufacturer's zero-turn lawnmowers.
At the time of writing, SCAG manufactures seven commercial zero-turn lines, each with a pretty cool name. The lines include the Turf Tiger, Cheetah, Cheetah 1, Tiger Cat, Patriot, Freedom Z, Liberty Z. 
Each line has several spec models for customers to choose from. And again, SCAG's website also allows customers to "build" their own machine by combining features and extras.
Every SCAG zero turn makes use of a triple-bladed mower deck for wide-area management. You get the premium Velocity Plus cutter deck with the Turf Tiger, Cheetah, Cheetah 1, and Tiger Cat. The other triple-bladed deck, known as the Hero Cutter Deck, is used on the Patriot, Freedom Z, and Liberty Z.
All these machines also feature powerful engines from world-class engine builders like Kohler, Briggs & Stratton, Kawasaki, and more. These Z-turns are also built on tubular steel frames and pack several useful features including:
Foot pedal parking brakes
Contoured suspension seats with adjustments
Tiger Eye monitoring system (select lines and models)
Warranties for SCAG Z differ depending on the line and intended use. Various models also have separate engine and mower deck warranties.
Pricing also ranges significantly. An entry-level Liberty Z (36-inch Hero Cutter Deck and 18 horsepower Kawasaki engine) will cost just under US$5,000. A top-of-the-range Turf Tiger (72-inch Velocity Plus Cutter Deck, 37 horsepower Briggs Vanguard motor) may require you to fork out over $20,000.
Stand-On Mowers
SCAG also has a line of stand-on mowers known as the V-Ride. Boasting impressive speed and maneuverability, the V-Ride is one of the best stand-on mowers around today. 
Again, you can build your unique machine or choose from the listed specs. Whatever your decision, you can expect a rugged design, operator ergonomics, and exceptional performance. You get everything from dual hydraulic pumps and wheel motors, compounded fans, heavy-duty cast-iron drive pulleys, and Marbain cutter blades. 
Entry-level models feature the Advantage Cutter deck, which features dual blades. The rest of the line uses the same Velocity Plus decks we discussed earlier. That's right, a stand-on mower with THREE blades. Talk about efficiency.
Prices range from a little over $8,000 (32-inch Advantage cutter deck, 16 horsepower Kawasaki engine) to just over $11,000 (61-inch Velocity Plus cutter deck, 37 horsepower Briggs motor).
Just like with the Zero-turns, warranties for the V-Ride vary. You have a 2-year commercial machine warranty, as well as a 3-year cutter deck warranty. You also get a 3-year cutter deck spindle warranty. Let's not forget the 3-year non-commercial use warranty and engine warranty.
SCAG Commercial Walk Behind Mowers
Finally, we have SCAG's commercial walk-behind lawnmowers. There are four lines, including:
SWZ Hydro-Drive
SW Belt-Drive
SWZT Hydro-Drive
SFC30
The walk-behind mowers feature the same reliability, comfort, and toughness offered by the riding mowers. The SWZ Hydro-Drive, in particular, shares many features with the V-Ride and the top-tier Zero-Turns (Velocity Plus deck, easy serviceability, etc.). 
Pricing for SCAG walk-behinds ranges greatly. An entry-level SFC30 (30-inch dual-blade deck, 224cc Kohler engine) will cost around $2,500 while a top-of-the-line SWZ Hydro-Drive (61-inch Velocity Plus cutter, 22 horsepower Kawasaki engine).
SCAG mowers are certainly pricey, but no one can argue that they get the job done efficiently and comfortably. Some people might feel inclined to compare with other brands and seek better value. Our view, however, is that these machines are more than worth it.
Looking for a sulky to turn your walk-behind mower into a ride-on version? I recommend a sulky, and here is a popular option you can get delivered to your door from Amazon.
To see some more great comparisons, here are some of my other articles…
Are Hustler Mowers Worth The Money?
Based in Hesston, Kansas, Hustler Turf is one of the zero-turn mower specialists. In fact, these are the only kinds of lawnmowers they make.
This tradition began all the way back in 1964 when inventor John Regier came up with the world's first zero-turn lawnmower. Regier had bemoaned the lawn tractors of the time for their lack of maneuverability before dedicating himself to a solution.
The rest, as they say, is history.
Today, Hustler Turf manufactures seven residential z-turn lines and ten commercial lines.
The residential lines include:
Dash
Dash XD
Raptor X
Raptor XL
Raptor XD
Raptor XDX
Flip-Up
These machines run on Kawasaki and Briggs motors and you can choose the best deck (and other features) for your property needs. The company's website actually sets out the ideal work area for each zero-turn.
The Dash is the entry-level line, while the Flip-Up is the top-of-the-range offering. Sturdy build quality, rider comfort, and versatility are the general themes across all the lineups. Features abound, with ergonomic seats, steel frames, and corrosion-resistant mower decks just the tip of the iceberg.
An entry-level Dash will run you back about $2,400 while the Flip-Up starts at $5,400. Active members and veterans of the U.S. Armed Forces will be pleased to know that Hustler offers 8% discounts in honor of their service.
Hustler Warranties
Hustler offers two warranties for residential zero-turns. There is a 2-year (or 200 hours) warranty for the Dash and Dash XD. For the rest, Hustler has 3-year (300 hours) warranties.
On the commercial side, Hustler manufactures:
FasTrak
FasTrak SDX
X-ONE
Super Z
HyperDrive
TrimStar
Super S
Super 88
Super 104
Diesel Z
For these machines, Hustler outsources engine builds from Kawasaki, Kohler, and Briggs. The Diesel Z runs on a Perkins engine.
Much like SCAG commercial z-turns, Hustler's machines offer wide-area coverage, operator comfort, and almost indestructible steel frames. The decks are all resistant to rust and corrosion, and there is easy access for routine service and maintenance.
Hustler's commercial mowers are pretty expensive. Official prices are not listed on the company's website, so you will have to enquire with Hustler dealers in your area. However, you can expect to pay at least $6,000 for an entry-level FasTrak. The Super 104, which is the top line, can easily go for more than $15,000.
Warranties for Hustler commercial z-turns include:
4 years/750 hours (FasTrak)
4 years / 1000 hours (FasTrak SDX)
5 years / 1200 hours (the rest)
All in all, only you can determine whether a Hustler mower is worth it for you. However, given the efficiency, durability, and other features on offer, it is safe to say that Hustler mowers are worth it.
The Final Touches To SCAG Vs Hustler Mowers…
If you are looking for versatility then you are going to want to check into SCAG mowers. They have not only the trifecta of mowers (zero-turn, stand-on, and walk-behind), but offer a unique option to customize your mower with features and design.
If you are wanting one of the best names in zero-turn mowers, then you may be interested in Hustler machines. They do one thing and do it well. They make zero-turn mowers.
Neither of the two options are the cheapest in the field of brands, but for those wanting to decide between the two price is more than likely not the number one consideration.
Whichever you choose, you will be getting a quality machine that will last for years to come.
Here are some other articles you will like…
References
https://www.hustlerturf.com/about