America vs Japan is a long-running rivalry that continues to this day in various areas. The two giants have been at loggerheads in some fashion ever since the tragedy that was Pearl harbor. While the stakes in today's battle are nowhere near that high, the level of competition is arguably just as stiff.
The Briggs & Stratton versus Honda debate ends with Honda winning on many fronts over Briggs. Honda mowers have more compact designs, lower emissions, lower noise, more durability, and better fuel efficiency. Overall, Honda is a better choice than Briggs & Stratton.
The two nations are represented by Honda and Briggs & Stratton, two companies that have mastered the art of producing small engines. Our focus is on lawnmower engines, and which one of the two comes up trumps. We will highlight the merits and drawbacks of each manufacturer before we pick an overall winner!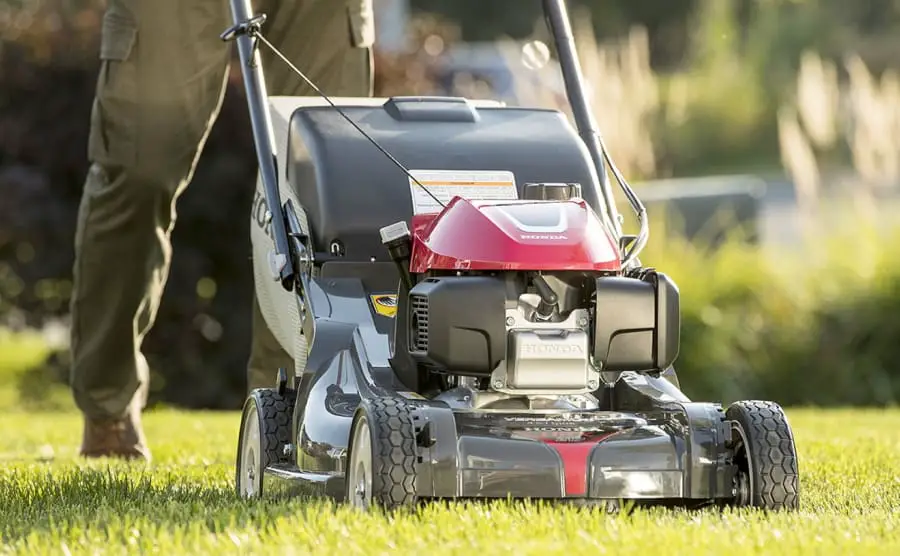 Honda Mowers Vs American Made Models
While Honda officially entered the lawnmower world with the 1978 debut of the HR21 walk-behind mower, the Japanese giant has been in the engine game since the aftermath of the Second World War.
The Rise Of Japan's Market and Honda's Bright Future
Before Japan was the industrial powerhouse we know now, the country had long been an agricultural economy. However, with the rise of capitalism in the mid-1940s, Japan had to accelerate quickly to avoid being left behind.
Companies set up shop in the country and created thousands of new jobs…and the new workers needed efficient transport to get to these jobs.
This need created an ample opportunity for inventors like Soichiro Honda, the founder of…well, Honda. In 1946, Soichiro came up with the idea of using small engines to power bicycles and save the rider from exhausting pedaling. The idea was a home run, and the Honda Motor Company was born.
Fast-forward to the late 70's and the company, and its engines, had grown to global prominence. The company's ambitions for maximizing engine output and fuel efficiency served it well, as the U.S. suffered an oil crisis that drove fuel prices through the roof. 
Americans Discover Honda's Efficiency
American consumers quickly found that almost anything with a Japanese engine was considerably more efficient than an American equivalent. This was true of cars, power generators, water pumps, and (of course) lawnmowers.
As the '80s rolled around, Honda created its revolutionary compound vortex-controlled combustion (CVCC) motor to meet the requirements of the Clean Air Act. Again, another home run.
They followed that act up with a whole new take on the overhead valve engine, which was formally known as the GX engine series. The GX110 and GX140 were the first OHV engines to feature an inclined cylinder, which was an engineering stroke of genius (no pun), as it allowed the engine to be smaller without compromising output and, more importantly, pricing.
The success of the GX series, and other successor engines under that family name, propelled Honda to the position of industry leader as the new millennium dawned. By the mid-'90s Honda was already making engines for several other lawnmower brands who simply could not compete when it came to building motors. 
Increasingly strict environmental laws and watchdogs were also on Honda's side, as several American engine builders failed to shake their gas-guzzling ways. The minimalist engines were also killing their rivals when it came to affordability.
Honda's Mower Quality Shines
Today, Honda has three multi-purpose engine lines which can run lawnmowers. These include the GVC160/190 series, the GSV190 series, and the GXV160. All three lines retain Honda's legacy of compactness and unbelievable reliability.
The GVC160/190 line features the GVC160 and GVC190, a pair of lightweight Overhead Camshaft (OHC) motors that have an innovative "uniblock" build that saves fuel. They also have a resin camshaft, which reduces noise levels to make these environmentally-friendly engines the ideal residential mower engine.
The GVX160 line is primarily used for commercial lawnmowers. However, you wouldn't be blamed for mistaking it for a residential mower motor…it's that quiet. This engine can tackle big-boy jobs with less than 0.4 gallons of gas and it hardly breaks a sweat while doing it!
The GSV190 straddles the line between private and commercial use. Its durability makes it tough enough for professional landscaping work, while its small footprint and lack of noise make it perfect for suburbia. One of the best OHC engines around today.
One of the more affordable models that I recommend that you can get delivered right to your door from Amazon is the Honda 663020 21 in. GCV170 Engine Smart Drive Variable Speed 3-in-1 Self Propelled Lawn Mower with Auto Choke.
Honda also makes engines for commercial lawn care equipment like zero-turns and lawn tractors. These include:
iGXV 800
GX100
GX120/160/200
GXV 50
If you liked this article, I recommend my other ones about mowers…
Briggs & Stratton Vs Japanese Mowers
Briggs & Stratton has certainly earned its place among the great engine-building companies. Operating out of Wauwatosa, Wisconsin, B&S has come a long way, and picked up unrivaled expertise, over the last 113 years.
While Honda casts its engine building nets far and wide, Briggs is much more dependent on the production of lawnmower engines. The company also powers pressure washers and generators, but lawnmower engines are the brand's bread and butter.
Like Honda, Briggs & Stratton began as an engine building outfit, as inventor Stephen Foster Briggs and businessman Harold M. Stratton joined forces in 1908. This collaboration quickly yielded a six-cylinder 2-stroke engine that went on to power the Briggs & Stratton Flyer, the brand's early foray into the automotive industry. B&S was also making a name for itself in the agricultural and military space.
However, the move into full-on car manufacturing stretched the company too thin, prompting specialization in engine building, a move that served the company well in the coming decades.
The 1950s saw B&S make a major splash in small engine design. The company unveiled an air-cooled aluminum engine that significantly raised the reliability and ergonomics of lawnmowers. The use of aluminum made mowers lighter and easier to wheel around.
When the 1970s and the Clean Air Act rolled around, B&S decided to pivot into electric motors and even hybrid technology. However, the company did not turn its back on pure combustion engines, with refinements made to tip-toe through the regulatory minefield.
Today, Briggs & Stratton is one of the major brands that power some of the best mowers, lawn tractors, and zero-turns on the market. The company makes 21 engines for walk-behind mowers and 12 engines for riding mowers. This incredible range caters to all budgets and purposes.
Which Is Better, Honda Or Briggs & Stratton?
Both Honda and Briggs & Stratton are industry leaders in the small engine space thanks to their ability to innovate and adapt to changing landscapes. With such rich history and pedigree behind both brands, picking one over the other is likely to be a matter of preference.
Briggs & Stratton offers a range of engine options that few brands (including Honda) simply cannot match. You can browse for hours to find a B&S motor that ticks boxes that may be unique to you. Honda's streamlined offerings may require a bit more compromise from the buyer.
At the same time, there is no arguing against the reliability and efficiency offered by Honda. The compact designs are (still) a marvel of engineering, and all signs point to even smaller engines in the future. Honda's OHC technology is the best in the industry, while its OHVs are no slouches either. 
Briggs & Stratton engines are also reliable and efficient, although not to the extent of Honda's. This is especially true for post-warranty motors, which have been known to develop leaks and carburetor issues. They can also have issues starting in cold weather conditions.
Hondas, although competitively priced, are often pricier than B&S motors. Technologies for noise and emission reduction do not come cheap, and they contribute to the higher asking price of Honda engines.
Fancy technology is also great…when it's working well. However, were your Honda motor to suffer problems, you'd have a limited number of places you could go to get it fixed. B&S motors do not have this problem thanks to their simpler designs. Almost any small engine shop can handle Briggs motors, while DIY repairs are much easier than on Hondas.
| | | | |
| --- | --- | --- | --- |
| Honda | | Briggs & Stratton | |
| Pros | Cons | Pros | Cons |
| Compact design | Expensive | More affordable | Breaks down more |
| Great fuel efficiency | Limited range of choice | A wider range of choice | Not as fuel-efficient |
| Technological features | Expensive to repair/ expensive replacement parts | Easier DIY repairs | Bulkier engines |
| Durability | DIY repairs are difficult | Affordable replacement parts | Greater emissions |
| Lower emissions | | | |
| Lower noise | | | |
Final Touches On Honda Vs Briggs And Stratton…
Though my pick and the choice of many of the experts I interview would be a Honda over Briggs & Stratton for durability, design, and functionality, the price dictates that we don't own and use only Honda machines. The fact is, the time and financial situation at the time of buying has a major impact on the decision.
So, if you are financially able at the time of purchase, then yes, a Honda mower is the better bet. Yet, if financial concerns are at the top of the list then Briggs & Stratton mowers are an excellent choice.
To see more great articles on mowers, check out my others…
References
https://www.briggsandstratton.com/eu/en_gb/support/maintenance-how-to/browse/history-of-the-small-engine.html