There is no questioning the Minnesotan brand's status among the world's biggest manufacturers of landscape, construction, and agricultural equipment. Toro's relentless growth has seen the company go public on the New York Stock exchange, all while growing an enviable list of subsidiaries. Few companies have as many fingers in as many pies.
All of the Toro Company's brands outsource the majority of their residential mower engine builds to companies like Kawasaki, Briggs & Stratton, Honda, Kohler, and Loncin. This applies to homeowner style non-commercial engines for the most part. Toro manufactures most commercial engines in house.
In this article we will focus on the company's lawnmowers, and how their engines are produced. Join us as we dive into Toro's lawn care history to learn just how the rise began. Finally, we will identify some of Toro's finest modern mower engines!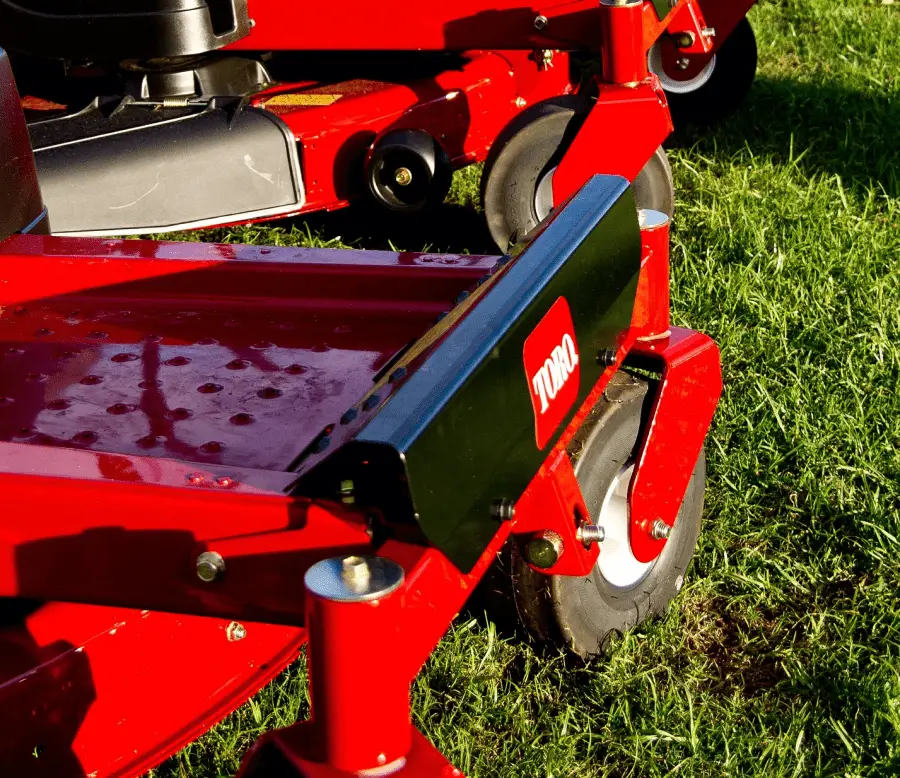 Who Makes Toro Lawn Mower Engines?
Let's begin by taking a stroll down memory lane.
The Toro Motor Company opened its doors on July 10, 1914, and immediately got to work on their first major contract, engine builds for the now-defunct Bull Tractor Company. This relationship was what led to the choice to call the company "Toro" (which means "Bull" in Spanish).
After the Bull Tractor Company's demise, Toro had to pivot quickly to keep the lights on. The company produced a successful line of utility tractors that inspired further pivots into another burgeoning industry…lawn care.
Toro, now known as Toro Manufacturing Company, introduced their revolutionary greens mower in the mid-1920s. They sold like hot cakes in the U.S. and beyond. 
As the 1930s rolled around, the Toro brand was becoming ubiquitous. Garden tractors had also entered the fray, as Toro took over golf courses worldwide. These early mowers (and their engines) were peak engineering at the time.
Have you ever wondered who made other mower engines? I have some other articles you may be interested in…
World War II Halted Toro Mower And Engine Production
Toro's adaptability was again put to the test during the World Wars, but the company managed to pivot again to stay afloat. After gaining contracts with the military, Toro halted their local product lines and started making weapons and tools. Their motorized winches were of particular use for naval forces in WWII.
When the war was over, Toro immediately resumed their operations. In 1948, the company bought the up-and-coming Whirlwind Company, which was one of the pioneers of the rotary mower. 
Toro Resumed Its Rise To The Top Of The Industry
Toro executives were very excited with this new approach to cutting grass and immediately set about making tweaks to improve efficiency and safety. They improved the mower deck, which improved cutting quality and operator safety.
Needless to say, the lawncare industry would never be the same again. By the 1960s, Toro was America's no.1 lawnmower brand and there was no limit to the innovations. The Whirlwind engines were more efficient than those of their rivals, which meant lower fuel costs for customers.
Toro Engines Received A Boost From New Electric Start Motors
Many great innovations (and acquisitions) would follow in the subsequent decades, earning Toro critical acclaim and stratospheric commercial success. The engines saw a radical change in the late 60s, thanks to the introduction of the electric start motor. 
Today, the Toro Company is almost synonymous with cutting grass. Its list of events and fields is impressive to say the least…
PGA tournaments
the NFL Superbowl
European soccer stadiums
or your neighbors' lawns…
are a few of the places you will likely encounter a Toro product.
The Toro Company serves as a parent to 16 subsidiaries, with five of which specialize in the manufacture of lawnmowers. These include:
Toro
Exmark
Hayter (UK region)
Lawn-Boy
Toro has not forgotten its roots as a motor company, as it makes great mower engines for some of its models. This is especially true for Toro commercial mowers. However, the company's modern-day approach leans heavily towards outsourcing engines. 
Does Toro Make Their Own Engines?
Yes, Toro makes some of their engines. 
Nowadays, Toro primarily focuses on making engines for its commercial mowers and garden tractors. They have an excellent line of single-cylinder and V-Twin engines for use on commercial mowers. However, almost all of their combustion homeowner mower engines are outsourced.
Exmark, Lawn-Boy, and Hayter outsource all of their lawnmower brands to B&S, Honda, Kawasaki, and Kohler.
Which Toro Lawnmower Engines Are Considered The Best?
Thanks to its reputable subsidiaries, the Toro company offers a very wide range of homeowner and commercial mowers, each with a very reliable engine.
However, we have identified a few spectacular performers.
Toro Zero Turn Mowers And Their Top Of The Line Engines
(All following links are non-affiliate links. They are included simply for your informational purposes.)
First up we have the Toro 34-inch Time Cutter. This awesome zero-turn mower is an absolute dream for large yards, yet its nimbleness allows it to squeeze into tight areas for the complete cut. Comfort, easy maintenance, and an engine that just won't quit.
The Time Cutter is powered by a Kohler gasoline motor that whips out 22 horses at 3,600 RPM. Serious numbers for a serious machine. There's no need to worry about emissions as the engine has been thoroughly tested and certified as one of the most environmentally friendly motors in this class.
Commercial Grade Toro Walk-Behind Mowers And Engines
Next, we have one of the best walk-behind mowers around, the Exmark Commercial 30 X-Series (ECX200CKC30000 model). As the name suggests, this is a working machine with an insatiable appetite for results. Its beating heart is the Kohler Command Pro 200 cc motor, a single-cylinder beast with ridiculous levels of torque. 
Despite its immense power, this motor only requires a gallon of gas to fill up. Its 3,500RPM makes it one of the fastest walk-behind mower engines around.
Non-Commercial Walk Behind Toro Mower
If you're looking for a walk-behind mower for your own yard, look no further than the Toro 22-inch Personal Pace Auto-Drive. Described as a "supercharged cutting machine" by the manufacturer, the Personal Pace is all about performance.
This fantastic mower is powered by a Briggs & Stratton gasoline engine with 163ccs of displacement. The recoil starter is certainly a welcome throwback, while the ¼-gallon fuel capacity is a penny-pincher's dream. Efficiency? Check. Quiet operation? Check. The best lawn in your neighborhood? Check, check, and check.
A Hayter Fit For A Queen
The Hayter brand is not too common in the U.S., as it is mostly sold in the UK and Europe. However, it is impossible to ignore a brand that takes care of the Queen's lawns!
One of the very best models is the Hayter Harrier 56 PRO Auto-Drive. This elegant (and pricey) mower has a Briggs & Stratton 850E motor with a recoil start. 
However, unlike the Personal Pace, the Harrier 56 PRO uses a blade brake clutch (BBC) which allows you to disengage the blades while you empty the mulch bag. This means you don't have to turn the mower on and off repeatedly like with other recoil mowers. 
Final Touches On Who Makes Toro Lawnmower Engines…
If you are wondering about your engine in your personal lawn mower from Toro, it was probably made through an outsourcing agreement with a quality manufacturer meeting high standards.
If you are wondering about your Toro commercial grade mower, then you have a good chance to have an in house manufactured engine.
Either way, you can usually rely on great quality in any of these products. That being said, there are always exceptions. The great customer service that Toro supplies should help you should you have a rare problem with their products.
Again, there are no affiliate links in this article. It is simply here to try to help you in your search for information on Toro brand engines and how they are made.
References 
https://www.fmiequipment.com/blog/the-toro-company-history–9278#:~:text=The%20first%20Toro%20greens%20mower,courses%20and%20other%20large%20expanses.