The iconic brand's lawn mowers are excellent machines that never back down from a challenge. At the heart of every John Deere lawn tractor is an ever-reliable and industry topping engine that leaves rivals in the (metaphorical) dust. Have you ever wondered who makes John Deere lawn mower engines?
John Deere makes the majority of their own engines, but not all in the United States. Some models are outsourced to companies like Kawasaki and Briggs & Stratton. Not only do they make the majority of their own engines, they also manufacture engines for other brands as well.
Today we explore the backstory of John Deere's lawnmower engines, and we take a closer look at how and where they are made. We will also pinpoint the very best engines that bear the famous leaping Deere logo.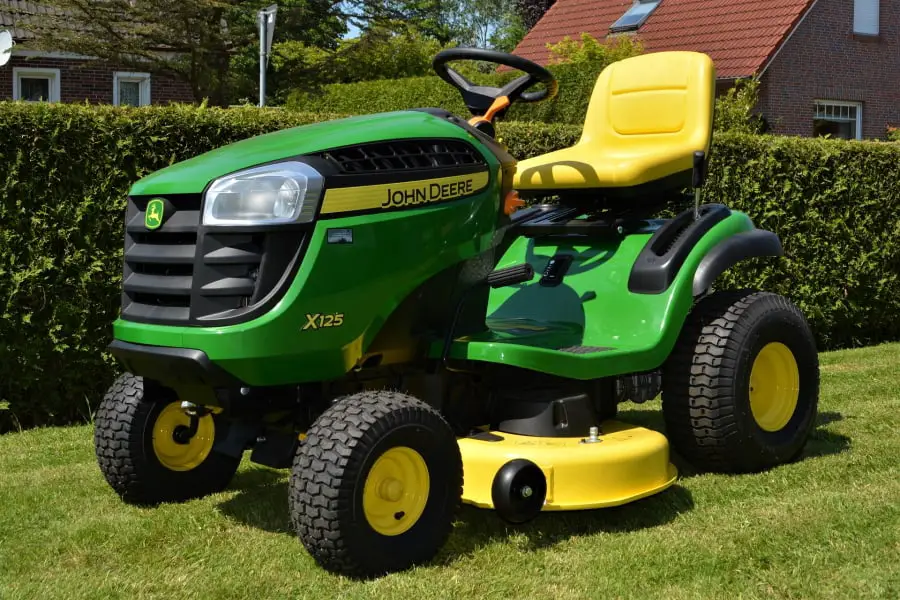 Who Makes John Deere Lawn Mower Engines?
John Deere's history in the lawn tractor market stretches back to 1963 when the classic model 110 hit 'boomer suburbia with unforeseen aplomb.
The 110 was, as a matter of fact, the world's first commercial lawn tractor, and a masterstroke for bringing the Deere name to the mainstream. Several decades, and awesome ad campaigns (see "Nothing runs like a Deere") later, the company's lawn equipment remains peerless in every way.
Deere lawn tractors are incredibly fuel-efficient, environmentally friendly, and comfortable. However, ask most owners and you will find many of them will point to one standout feature…the engine.
Historically, Deere mowers have had both in-house and outsourced engines. The 110, for example, had an in-house engine. However, as other manufacturers and engine makers entered the lawn tractor segment, outsourcing became an increasingly viable option.
Since the company's large-scale farm and industrial equipment was (and still is) its bread and butter, decision-makers were determined to keep building those engines in-house. For lawnmowers and other smaller equipment though, it was the open season (no pun).
The most prominent beneficiaries of Deere outsourcing over the years are Kawasaki and Briggs & Stratton, two companies that are undisputed experts when it comes to building small motors that are punchy yet reliable. Other notable companies that make John Deere lawn tractor engines include Yanmar and Kohler.
Kawasaki, for instance, produces the engines used in Deere's popular X300 series. These are fine 22 horsepower motors with advanced air cooling, efficient use of gas, and exceptional levels of torque…even at low revs! The V-twin engine layout also promotes smoother motor operation and effortless starts. Kawasaki also made motors for the now-discontinued 325.
Briggs & Stratton also makes engines for some standout Deere mowers. Mowers in the John Deere 100 series (125, 135, 145, 155C, 190C, and LA150), for instance, all sport B&S engines. These motors are typically in the V-twin layout, as per John Deere's requirements. Like Kawasaki, B&S mower motors are in line with John Deere's pursuit of reliability and environmental friendliness.
Does John Deere Make Most Of Their Own Engines?
As we've already mentioned:
John Deere makes the majority of its engines in-house. John Deere also makes and supplies diesel engines for other entities, which is a nod to their top-notch engine-building skills. These factories outsource certain aspects and many are not located in the United States.
Making in-house engines is not only economical, it is often the only choice because Deere already dominates the market niches it occupies.
A lot of these niches are market segments that the company itself pioneered. Just as the 110 was the first mower, the John Deere Gator is widely believed to be the world's first utility task vehicle (UTV) and, therefore, has a bona fide Deere motor. There are several more areas where the leaping stag flexes its muscles to crush any (if any) competition.
However, to avoid overstretching resources, company heads have opted for a healthy compromise. Large vehicles and equipment like crop tractors, combine harvesters, and heavy-duty construction vehicles all have in-house Deere motors. It is important to note that Deere used to outsource its crop tractor engine builds to Yanmar for nearly three decades in the 20th century.
Engine outsourcing is done mostly for smaller equipment and vehicles. The exact motive for this business approach is uncertain but, from the outside looking in, it may be because John Deere's engine building capacity is ideally suited to building large motors. 
Companies like Kawasaki and Briggs are specialists at building small motors for generators, motorcycles, and ATVs. Since lawn tractors have similar power requirements, outsourcing to these companies would have been regarded as a safe gamble.
Another probable reason why John Deere only outsources its smaller engines is to limit competition for its larger vehicles. Collaboration with other companies often involves exchanging information and engineering secrets. Understandably, the company would be less inclined to do this for large equipment out of fear of creating monopoly-threatening rivals.
However, since the lawn tractor market is already quite competitive, collaborations with small-engine experts present a significant upside. In addition, Deere's desire for greater fuel efficiency and "going green" may also be factors that encouraged collaboration with small engine experts.
Which John Deere lawn mower engines are considered to be the best?
Let's take a quick look at some of the very best engines powering the leaping Deere's grass cutters. With so many great mowers to pick from, choosing the cream of the crop (pun intended) is no easy feat.
The John Deere E180 is widely regarded to be one of the best lawn tractors on the market today. Powered by a 25 horsepower Briggs & Straton motor, the E180 is well balanced, quiet, and as smooth as a gas-powered mower can get.
The engine allows the E180 to keep pace with its predecessors, the E150 and E110, despite sporting a larger mowing deck.
The E180's engine is a two-cylinder motor with a displacement of 724 ccs. This power enables the E180 to trim an acre of grass in well under an hour!
Another Deere mower with an awesome motor is the X350R. This is the range-topper in the X300 series, which features Kawasaki engines. The rear discharge X350R rocks a 22-horsepower motor with a V-twin configuration. The 726-cc engine has dual-stage air cleaning, overhead valves, and cast-iron cylinder liners.
The X350R's motor also allows you to be kind to your neighbors, thanks to low-rev operability. Starts are always smooth and operation is simply a breeze.
Other John Deere lawn tractors with great engines include:
S180 (Briggs & Stratton, 2-cylinder, 724cc)
X570 (Kawasaki, 2-cylinder, 726cc)
X758 (Yanmar, 2-cylinder, 726cc)
Are John Deere Lawn Mowers Made In The USA?
As with many questions dealing with high volume international companies, the answer to "Are John Deere's popular lawn mower series of lawn tractors made in the USA?" is more complicated than a simple yes or no.
John Deere lawn mowers are majority made in the USA for some models and parts. There are factories in the United States making parts and assembling these riders, but it can be the case that all, part, or none of the machine was predominately made in the USA.
Here is a list of all worldwide factories making John Deere products:
| | | | |
| --- | --- | --- | --- |
| Type of John Deere Equipment | Country | State | City |
| Lawn Care | United States | Wisconsin | Horicon |
| Lawn Care | United States | Tennessee | Greeneville |
| Agricultural | United States | Iowa | Waterloo |
| Utility | United States | Georgia | Augusta |
| Agricultural | Russia | – | Moscow |
| Agricultural | Mexico | – | Saltiillo |
| Agricultural | India | – | Prune |
| Agricultural | India | – | Dewas |
| Agricultural | Germany | – | Mannheim |
| Agricultural | China | – | Tianjin |
| Agricultural | China | – | Ningbo |
| Agricultural | China | – | Harbin |
| Agricultural | Brazil | – | Montenegro |
| Agricultural | Argentina | – | Rosario |
Reference: Machine Finder
When looking at where anything is made today that comes from large corporations you can be certain of one thing: at least a portion to all of the pieces that go into making the product have been outsourced due to overhead and profit margins.
So, to say that anything is 100% made in the USA is a very large claim indeed. Microchips, fasteners, hoses, and couplings just to name a few are frequently bought in bulk from companies around the world and may be shipped in and assembled in plants on American soil.
Some savvy advertisers to get around this will use the made in the USA logo only referring to the assembly of the product and not the total makeup of its parts. Though as can be seen from our chart above, the majority of the lawn care mowers and tractors come from US assembly plants, it is highly unlikely that they manufactured every bolt and connector in country.
The Final Touch On Who Makes John Deere Lawn Mower Engines…
There is a lot that goes into research and development, production, and logistics for mass production of large and small machinery. John Deere has been a leader in their industry for many decades.
In order to retain their position on the world scene, decisions have been made to place production around the world in markets with cheaper costs of living, expenses, taxes, and tariffs. This means lower cost labor and costs.
This doesn't always mean lower quality and most often not a lower price. This is mostly done for the profit margin going to investors and stock holders.
The major takeaway here is that more than most, the engines in John Deere tractors are made by holdings of the John Deere corporation.
References
https://www.homelization.com/who-makes-john-deere-tractor-engines/
https://www.tractordata.com/lawn-tractors/003/2/3/3239-john-deere-e180-engine.html
https://www.tractordata.com/lawn-tractors/004/2/5/4253-john-deere-s180-engine.html
http://www.tractordata.com/lawn-tractors/002/6/2/2626-john-deere-x350r-engine.html
https://www.tractordata.com/lawn-tractors/002/8/4/2840-john-deere-x570.html
http://www.tractordata.com/lawn-tractors/001/3/5/1355-john-deere-x758.html