While choosing the right lawnmower is just one part of the battle for the perfect lawn, it is one of the most important parts. Many manufacturers, and even more mower models, offer varying features and capabilities to ensure that there is something for everybody.
Both Ego and Ryobi mowers will more than do the job for most homeowners, but Ego is a more practical choice. Ryobi has a slightly higher price tag, and for most yards the quality of the build and cut are nearly identical. Ego becomes the more economical and sensible pick.
Today we focus on two leading brands in the industry, as we pit China-based Ego against Japanese giant Ryobi. We explore the history, strengths, and weaknesses of each brand before we settling this hotly contested argument. Let's go!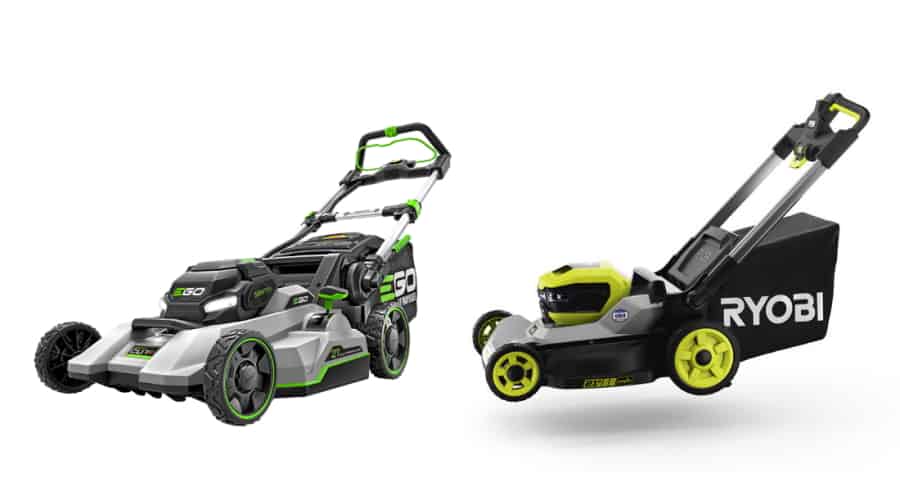 Ego Mowers
Established in 1993 alongside Chinese parent-company Chevron Manufacturing, Ego Power Plus has been at the heart of the migration from combustion to electric power. Going green is one of the company's core aims and it has been relentless in this pursuit.
Today, Ego's entire lineup of power tools and equipment is fully electric. This includes the company's range of walk-behind and riding lawnmowers. The best part? Ego's trademark power pack batteries are interchangeable between power products!
This patented battery technology is known as the Ego ARC Lithium family. Currently, the company offers four battery sizes, each with a different capacity. 
There is the 2.5Ah which dishes out 140Wh of power. Then there are 5Ah and 7.5Ah packs, with 280Wh and 420Wh respectively. The biggest offering is the 10Ah battery, which boasts an impressive 560Wh output. These figures are even more impressive because of the compact design of the battery packs.
Of course, we all know the main limitation of cordless electric power…battery life. Ego allows its customers to circumvent this issue by allowing them to purchase any one of the aforementioned batteries individually. That way, you can pop in your backup battery(ies) to continue mowing while the main battery charges.
Speaking of mowing, the brand's lawnmowers are something to behold. Ego currently offers nine walk-behind mowers, one 42-inch zero-turn riding mower, and two edgers.  Ego mowers are instantly recognizable thanks to their stylish and futuristic design, as well as the striking "EGO" logo.
The brilliance of Ego mowers goes far deeper than the surface, though. The machines are chockful of awesome features and technologies that truly revolutionize mowing.
The brand's zero-turn mower, the ZT4204L, is particularly impressive. This bad boy packs six of the 10Ah ARC Lithium batteries we spoke about earlier.
All this juice gives the mower an equivalent of 22 horsepower and an impressive top speed of over 8 miles an hour. With all this power, the mower can devour up to 2 acres on a full charge…or even more if you have extra batteries on standby.
The ZT4204L's other impressive features include:
User-friendly LCD for key information
Bluetooth connectivity for remote access via smartphone
Power take-off mower deck for engaging and disengaging blades
360-degree LED lighting
IPX4 weather and corrosion-resistant build
Three driving modes 
Ego's walk-behind mowers are also laden with futuristic features that make place them at the very top of the industry. The top-of-the-line machine is the Power+ Select Cut XP (LM2156SP), which features the company's patented Touch Drive system as well as 75 minutes cutting time (with the 10Ah battery).
For an extremely popular model found on Amazon, I recommend this battery powered Ego mower that you can have shipped right to your door.
Want to learn more? I recommend some of my other articles about mowers…
Ryobi Mowers
Ryobi's power tools division is a subsidiary of Japanese manufacturer Ryobi Limited, although its North American operations are licensed by Hong Kong's Techtronic Industries. While the company was founded in 1943, the production of power tools did not begin until 1968. 
Today, Ryobi's tools are world-renowned for their ingenious design and industry-leading technological features. The company makes a whole range of top-notch tools, including sprayers, snowblowers, chainsaws, and lawnmowers. Like Ego, Ryobi has gone electric all the way to help for the sake of the environment (and environmental laws).
Ryobi uses a combination of in-house and outsourced battery technology to power its elite brushless motors. Their in-house platforms are the 18V ONE+ power pack and the 40V power pack.
Most of the brand's walk-behind mowers use one of these platforms, with a few exceptions using outsourced batteries. All riding mower batteries are currently outsourced.
The company currently offers five self-propelled walk-behind mowers, all of which use the 40V platform. There are also nine push walk-behinds. All of Ryobi's walk-behind mowers feature eye-catching designs and almost all of these machines have bagging and mulching capabilities.
The self-propelled mowers come with 20 or 21-inch mower decks while the push mowers range from 13 inches to 20 inches. 
Ryobi has an even wider range of riding mowers than Ego, with three zero-turns and three go-kart-esque riders. One of the zero-turns has a 115Ah battery and a 54-inch deck, while the other two are 42-inchers with 100Ah and 75Ah respectively.
Two of the "go-karts" include 38-inch decks. One has a 100Ah battery while the other has a 75Ah battery. Ryobi also offers a nifty little 30-inch rider with a 50Ah battery.
Are you looking for a corded version of the Ryobi mower? Maybe you aren't interested in the battery charging treadmill and are okay with a corded option. Maybe the cheaper price will sway you. Here is a very popular corded electric Ryobi mower on Amazon.
Ego Vs Ryobi: Which one is better?
This question is almost entirely dependent on what you are looking for. If all you want is a trimmed lawn, both brands have you covered so your decision will likely be based on preference.
Ego and Ryobi are undisputed champions of the electric mower segment for both walk-behind and ridden machines. Both brands offer striking designs and technological features that are even more jaw-dropping.
If you are buying a new mower for the first time in a while (or ever), you will definitely be surprised to see mowers you can control with your phone! What will they think of next?
Ryobi Has The Experience And Selection
As the older of the two companies, Ryobi is certainly the more recognizable brand. This also reflects in the range of mowers offered. Ryobi has a wider range of machines, particularly riding mowers. The fact that you can choose from a 30-inch rider to a 54-inch zero-turn gives you the freedom to pick the perfect riding mower for your yard. 
Ego Has The Mobility And Control
At nearly 20 years old though, Ego is no whippersnapper. The company is fully coming into its own and you can expect its product range to expand as it digs its roots further in North American soil.
The brand's walk-behind mowers are undoubtedly the star attraction for the Chinese brand. The Touch Drive system for self-propelled mowers is arguably the best in class. This system makes maneuvering Ego's somewhat bulky mowers into child's play.
Batteries
While both brands offer battery interchangeability, Ryobi doesn't go all the way like Ego. The former still outsources batteries for its riding mowers and select walk-behinds, which can be cumbersome in the event of battery failure. Ego mowers, on the other hand, all use Ego batteries that you can swap out at any time for maximum convenience. 
Ego's battery build quality is noticeably better than that of Ryobi. This also translates into superior real-world performance. An Ego mower will outlast an equally powered Ryobi machine on most occasions.
Charging Ego batteries is also easier thanks to built-in fans that significantly reduce the need for a "cool down" before they can charge. Ryobi batteries often require time to drop in temperature before they can recharge.
Pricing
With regards to pricing, you will find Ego products to be more expensive than their Ryobi equivalents. While there could be many reasons for this, Ego's battery technology is likely a major factor. The batteries last longer and require less charging time, which is a pricey convenience.
If you have a yard bigger than an acre, you would be better served by getting an Ego lawnmower because of their longer staying power. Ryobi mowers are great too but their (potentially frustrating) charging times can be a real-time suck. 
The Final Touches On Ego Vs Ryobi Mowers…
If you are looking for a cheaper price or longer lasting batteries then Ego will be your pick. Though, if you looking for a trusted name brand and a wider variety of options to choose from for you lawn, then Ryobi will win your choice.
Whichever you choose, you can't go wrong with these two popular mowers. Unless you have a commercial or very large lot, it will come down to a matter of personal preferrence.
To read more on lawn mowers see my other articles…
References
https://www.youtube.com/watch?v=bDngnPhaZX4&ab_channel=WorkshopAddict