Effective landscaping and lawncare often involve the use of a wide range of tools. At times there can be a little confusion when it comes to the terminology of some of these tools. Our focus today is on the terms "weed eater" and "weed trimmer". Is there an actual difference? Or are the terms interchangeable?
A Weed Eater is a brand name whereas a weed trimmer is a generic name for the same lawn tool. The Weed Eater moniker has a direct line to the inventor of the product in the 1970s. Today, in modern usage, the two terms are interchangeable and point to the same machine.
Are there some that see a difference in the two? Is just anyone allowed to advertise Weed Eaters for sale? Let's find out!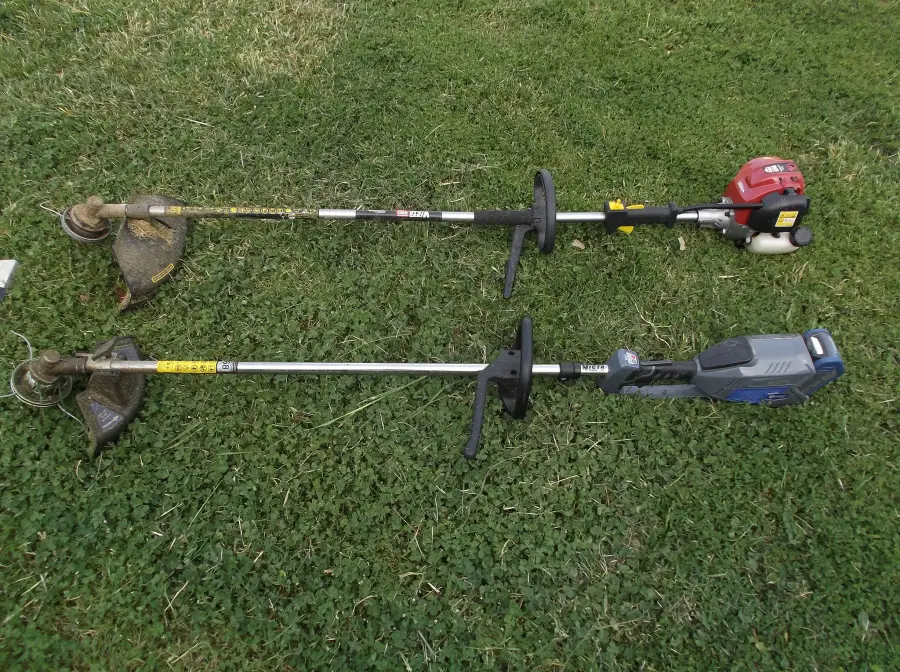 Is A Weed Eater And Trimmer The Same Thing?
So, you're in the market for a solution to overgrown grass and weeds. You've decided to get a machine for the job and have been window shopping across various hardware suppliers.
However, there seems to be a problem…
Different store clerks and reps have been referring to a certain group of machines as either "trimmers", "weed eaters", or any one of several other names.
While it may be confusing, especially for the uninitiated, the explanation behind it all is pretty simple.
As far as modern everyday speech is concerned, the terms Weed Eater And Weed Trimmer are entirely interchangeable.  There is NO difference at all. That said, there is a bit of history that explains the use of the terms. Weed Eater like Band-Aid, is a brand name where weed trimmer is not.
You see, "weed eater" and "trimmer" relate to each other in a similar way to "Jacuzzi" and "hot tub". 
As you probably know, while every Jacuzzi IS a hot tub, NOT every hot tub is a Jacuzzi. Jacuzzi is a brand name that has become synonymous with hot tubs in many instances.
The same applies here because while every weed eater is a trimmer, not every trimmer is a weed eater.
To Read more great articles about lawn equipment see mine here…
Is Weed Eater The Best Brand Of String Trimmer?
There are many good brands of weed whackers on the market. Weed Eater brand is definitely one of them. Here are some other options that I would recommend if you are in the market for a good string trimmer.
Greenworks Weed Trimmers
Greenworks is well known for their electric trimmers. There are two main versions of electric trimmers with many different options for each.
Black And Decker Weed Whackers
Black And Decker is a name that many know in the tool and home improvement industry. They have very affordable and reliable products for many maintenance and lawn care needs.
This BLACK+DECKER 20V MAX String Trimmer is a great cordless electric trimmer that will be a great tool for any homeowner.
If a leaf blower and weed whacker are both on your list of must haves, this BLACK+DECKER 40V Max Cordless Sweeper & String Trimmer Combo Kit will fit the bill.
Where Did The Term Weed Eater Come From?
"Weed Eater" is actually a licensed brand name. Weed Eater Outdoor Power Equipment is an American subsidiary of the Husqvarna Group.
The company was founded in the early '70s by American landscaper George Ballas, who was in need of a far-reaching weeding solution after one of his staff members was bitten by a snake while working with a pair of hand shears. 
Drawing inspiration from automated car wash bristles, Ballas used an old motor rotary, an old popcorn tin, a bit of fishing line, and some good old imagination to invent the world's very first string trimmers, the "Weedie" and the "Clippie".
Ballas had initially underestimated the potential of his invention and was actively looking to partner up with brands that had access to large-scale manufacturing and distribution resources. However, the repeated snubs he was met with proved to be blessings in disguise.
With no choice but to soldier on by himself, Ballas founded Weed Eater and slowly carved out a chunk of the booming landscape equipment market for himself. The Weedie and Clippie had put Weed Eater on the map (and the public consciousness) forever.
By the tail end of the '70s, Weed Eater was already flirting with US$100 million annual revenues. Perhaps even more importantly, the name of the company was now virtually synonymous with the machines, including offerings from rival manufacturers.
As far as the public was concerned, if a machine could trim grass and weeds from 4+ feet away, it was a weed eater…and that sentiment has barely changed since.
The company's success went on leaps and bounds in the 1980s, as rival brands scrambled to get in on this lucrative niche. However, directors at Emerson Electric Co. quickly recognized the futility of trying to compete and made an offer to buy the company outright.
After the acquisition, Emerson then merged with Swedish power equipment manufacturer Poulan. The success continued as various other products like leaf blowers were released under the Weed Eater name.
In 1986, another Swedish giant, Husqvarna, was drawn in by the power of the brands under the Emerson-Poulan umbrella. At this point, Weed Eater was the proverbial jewel in that particular crown, and Husqvarna moved and shook until they owned it all.
Sadly the inventor of the Weed Eater, George Ballas died Saturday, June 25, 2011 at the age of 85 years old.
Today, the Weed Eater brand continues to hum along under the Husqvarna group. However, a few of the pursuing rivals such as Stihl and other Husqvarna brands have caught up or surpassed it in terms of sheer market share.
At the time of writing, Weed Eater Power Equipment manufactures a small range of gas, corded, and cordless string trimmers. The company also makes corded and cordless hedge-specific trimmers equipped with steel blades. Interestingly, the Weed Eater website refers to the products as "trimmers".
Other Names For Weed Eaters
Away from the official brand, the term "weed eater" remains as popular as it ever was. Pretty much anyone you run into will understand what you mean when you say it.
The major change in the modern sense is that more terms have been added to the mix. You may also hear some people refer to trimmers as "edgers", "weed whackers", "line trimmers", "weed whippers", or "brush cutters", depending on location or preference.
Any one of these terms refers to a machine with a combustion or electric motor, handles, a staff, a rotary, and a cutting implement. The implement can be a plastic string or a metallic blade of some sort.
Strings Are Not The Only Cutting Edges For Trimmers
Strings are the more common of the two and most trimmers these days are equipped with strings from the factory. The string edges are typically rounded but you can opt for a variety of shapes for different cutting conditions and preferences.
Strings are popular because they are affordable and easy to replace when they snap or wear out. Strings also aid one of a trimmer's core purposes…intricate cutting.
You see, Ballas had intended for the weed eater to replace tools like shears and sickles as the ultimate compliment to lawnmowers. Strings allow a trimmer to cut confined and sensitive areas that a lawnmower can't reach. 
Precision trimming and de-weeding near and around obstacles, walls, sidewalks, and tree trunks is the task that the trimmer was made for. As such, a string presents significantly lower odds of damage to the machine or your yard in the event of a collision.
However, most trimmers can be equipped with blades for tackling dense grass and brush. In fact, a trimmer with a blade of the appropriate size and shape may be used as an effective substitute for a lawnmower. Of course, the smaller fuel/power retention capacity means that you will probably need to refuel or recharge your weed eater much more frequently than a lawnmower.
The Final Touches On Weed Eaters Vs Weed Trimmers…
As you can see, though the many terms for this popular lawn care tool are used in various parts of the English speaking world, there is a special place that Weed Eater holds. With its directly links to the inventor and original company, Weed Eater is one of the more long standing names for the manchines.
That said, any one of the many names for it you will find to be understood by most everyone. If someone says they are going to use a weed whacker or a line trimmer, everyone will know what they mean.
I bet you have heard other names for the same equipment, and if you were to use it with others, they would more than likely know exactly what you mean.
Here are more great articles you will like…
References