While a vast majority of landscaping work takes place on the ground, we can't afford to neglect some hard-to-reach areas. Tree canopies, encroaching branches, you name it…they are all problems and they all demand a solution.
The longest hedge trimmers on the market are pole saws or pole trimmers that add up to an extra 15′ of reach when trimming trees, shrubs, or other large plants. The attachments for these long reaching machines can trim, cut, and manage most any size branch or foliage.
Today's topic is the pole trimmer, the longest member of the edger/weedwhacker family. Join us as we look at the story behind this fascinating power tool and how it works. What will a pole trimmer bring to your yard? Are they worth a purchase?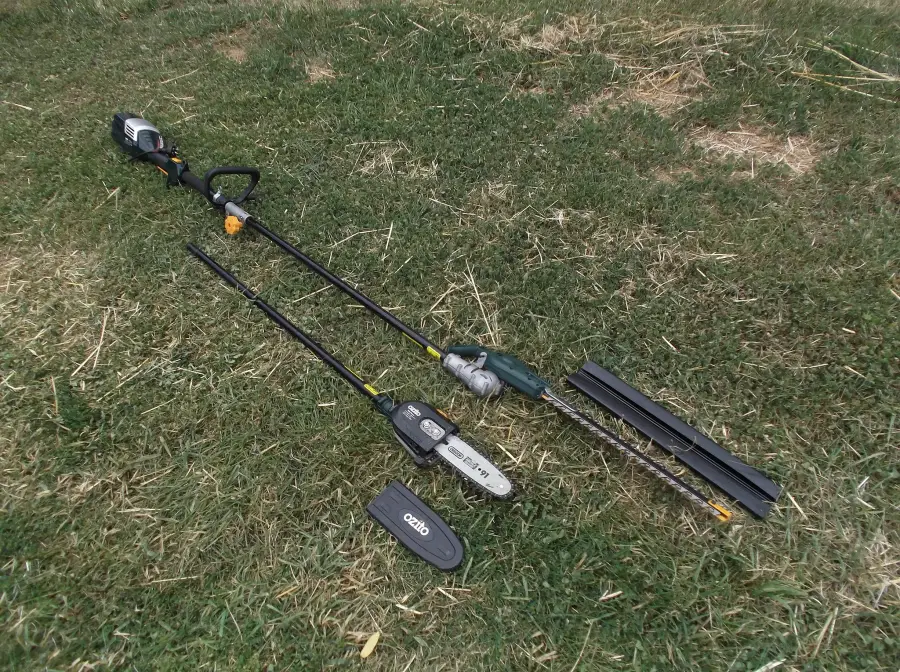 What Are Pole Hedge Trimmers And Why Are They So Long?
A lot of yards, homesteads, and commercial properties, and schools feature landscapes with short and tall vegetation. Tending to the latter often requires the aid of tools that aid our somewhat limited reach.
Sure, you can use a ladder to make you "taller" as you shear down bits of your hedge. However, is that the most efficient way to tackle this task…especially in unfriendly conditions?
Maybe not.
In any case, ladders are not the ideal apparatus for everyone.
What people need is a great equalizer, a tool that anyone can use with minimal fuss. 
What people need…is a pole trimmer.
A spin-off of the ground-tackling string trimmer, the pole trimmer (officially patented as an "electric pole saw") was invented in 2006 by David Eugene Champlin. There are motorized and manual versions (usually called pole pruners). The length is to reach tall plants without the use of a ladder.
According to the patent itself, the tool is described as "an electric pole saw featuring a novel saw powerhead mounting bracket assembly".
Pole trimmers are versatile tools that are geared towards extending the operator's reach. As a result of their handles and (usually) expandable poles, operators can touch up tall trees and bushes. You can also use your pole trimmer to edge your lawn and remove weeds just as you would with a regular weed whacker.
The most common attachment for this tool is a small power saw, hence the alternative name of "pole saw".  This configuration is certainly a safer proposition than using a hand or chainsaw while standing on a ladder.
However, various models of this tool can be equipped with other attachments such as cutting strings and blades to convert the trimmer into a de-weeder or brush clearer.
While manually operated pole pruners and saws can be classified as "pole trimmers", we will be focusing on motorized trimmers for the sake of this article.
Other articles you will also like…
What About The Longest Manual Hedge Trimmers?
Manual hedge trimmers come in two main types when discussing them with most home owners. There are pruners and shears. These can come in many sizes ranging from the hand held to the long pole trimmers.
Long Or Extendable Hedge Trimming Shears
For the shears, when talking about length, you will most likely be talking about the length of the blades or the extendable handles. These scissor like tools can sport extendable handles of up to 10″ to 15″ in length.
For shrubs and ornamental trees that have been in a landscape for many years, heights can become unmanageable with normal hedge trimming shears. These handle extensions can make these larger jobs seem less daunting.
As I mentioned, there are also various lengths to the blades in these shears and the right size can make trimming much easier and quicker. Blade lengths range from 7″ to 12″ with some featuring blade pressure adjustability.
To get a good long pair of hedge trimming shears, I would get the Corona Extendable Hedge Shear.
Long Pruners For Tall Tree And Hedge Trimming
Pole pruners are a beefed up version of the hand held pruners used in gardens and around shrubs. The have short sturdy cutting blades meant for thicker branches on bushes and smaller ones on trees.
The blade shearing action is not usually what is meant when long versions are wanted. The pole and extensions to them are what makes for the longest pole pruner.
Adding to the length on some models will be a manual saw blade attached to the end near the shearing blades. This is for the larger branches that the shears can't cut through.
These long armed tree tamers generally have a 26′ reach with all extensions fully applied. There is a rope that operates the heavy duty shears and the saw is operated by manipulating the pole itself.
If you are in the market for the longest pole pruner for your hedges or trees, then I would order the HiHydro 26 Foot Tree Trimmer Pole Manual Pruner Cutter Set Extension from Amazon.
Longest Motorized Hedge Trimmer Types
Motorized pole trimmers are powered by combustion fuels or by electricity. They make the job of reaching tall shrubs and trees much easier and safer since usually no ladder is required.
They resemble the design of a weed whacker or the grass based string trimmer. The shaft is straightened and lengthened with several attachments that can make quick work of many overhead jobs.
Gas Powered Long Hedge Trimmers
Gasoline is the combustion fuel of choice in most cases since the engines on these machines are so small. Gasoline is informally known as the heavy-duty power source for pole trimmers, as machines that run on the fuel tend to be the most powerful and versatile. As such, you will find that most pole trimmers used by professional landscapers run on gas.
Gas trimmers can feature two-cycle or four-cycle engines. The former uses a gas/oil mix while the latter uses straight gasoline. Start-up is similar to other small power tools (choke adjustment, recoil pull-starts, etc.). Much like weed whackers, pole trimmers also have triggers that allow operators to make use of various power output levels.
Electric Pole Trimmers And Saws
When it comes to electric pole saws, you have two main classes: corded and cordless. One will give you the power you need for most any job and the other specializes in maneuverability and ease of use.
Corded Long Hedge Trimmers
Corded pole trimmers, as the name suggests, feature an electrical cord and are powered by whatever power outlet you hook them up to. The direct connection to an outlet gives them a virtually limitless runtime, which is an advantage over gas and cordless machines. Power levels are pretty good and some models even rival commercial gas trimmers.
Of course, a cord also presents a corded pole trimmer's biggest drawback…limited mobility. You may need a series of adapters and extension cords if you have a large yard.
Long Cordless Pole Trimmers
Cordless pole trimmers, on the other hand, offer near-limitless mobility. These tools run on electricity stored in removable battery packs. 
Cordless trimmers are the latest in the market, and usually feature innovations in ergonomics and portability. The batteries offer reasonable run times that will allow you to do serious work on an average size yard.
Unfortunately, the run times are still a limiting factor, especially in a commercial context. On average, you get 40-60 minutes of run time which may suit certain circumstances better than others. Cordless pole trimmers also tend to have lower power output levels than corded and gas machines.
Is A Pole Trimmer Worth The Purchase?
Like with many things in the world of landscaping…it depends.
If you have a lot of out-of-reach pruning to do on your property, you might have no choice but to get a long pole hedge trimmer. They are essential if you have several trees, an orchard, or high hedge fences that cannot be practically tackled with a ladder.
If all your pruning is within reach, you might be able to make do with a simple string trimmer and the occasional step ladder.
"Worth" also factors in the purchase price and, fortunately, pole trimmers are very affordable. Prices vary, but you can get your hands on an excellent pole trimmer for around $200.
What Are The Best Pole Hedge Trimmers?
If you are on the market for a pole hedge trimmer, you will be pleased to know that you have a limitless range of choices. There are pole trimmers for almost any need and budget. Below are a few of our top recommendations for you.
Maxtra 42.7 cc – Best overall
The Maxtra 42.7 cc pole trimmer is an awesome choice for both commercial and domestic use. Running on gas, this bad boy is the ultimate solution for landscapers with minimum reach.
The trimmer ticks any box you can think of: power, precision, ease of use, ergonomics, and more. The Maxtra trimmer can extend your reach by up to 12 feet, which is more than enough to tend to most hedges and trees.
The star of the show is the cutting bar, which measures 8 inches in length and is sturdy enough to cut through oak! You can also make use of other trimming attachments including a cutting string. That's right, this trimmer can also double as a weed whacker.
Head on over to Amazon for more information.
Sun Joe Pole Chainsaw – Best electric option
While corded trimmers have the ever-present issue of restricted mobility, we simply cannot ignore the merits of the Sun Joe pole chainsaw.
For starters, you can extend your reach by up to 15 feet thanks to the expandable pole.
Another major selling point is the power output level. You get a very powerful motor (6.5 amps) that will drive the saw through branches more than 6 inches thick. The cutting power is also aided by a self-lubricating system. All you have to do is to put in a little oil and you're good to go.
Unfortunately, some people may find this trimmer to be a little top-heavy, which is a consequence of the added power output.
VonHaus 40 V Max Cordless Pole Saw – Best cordless option
If you must have a cordless trimmer, then you needn't look further than the Max Cordless by Von Haus.
This lovely tool can help you grow 8-10 feet taller thanks to the expandable pole. The Max cordless also has great ergonomics and a solid, comfy grip that makes it ideal for beginners. The nifty shoulder strap is a great addition too.
You also get a two-stage safety trigger mechanism to stop accidental startups. The saw's chain can be adjusted quickly without the use of tools, another plus for beginners.
The saw is powered by a 2 AH lithium-ion battery pack with a 90-minute run time. While the Max Cordless' power output levels are no match for the two aforementioned trimmers, it will comfortably deal with any hedge and light branches in your yard. 
Battery life is the biggest drawback, as you can imagine. The pack requires up to 75 minutes to reach a full charge, which is a little disappointing.
The Final Touches On The Longest Hedge Trimmers…
There are many variations of extendable pruners, shears, and trimmers. Whatever your job, you can find a tool in today's market to fit the bill.
For the easiest and most efficient option, motorized pole trimmers are going to be the way to go. They make quick work of most any size branch many feet overhead.
Yet, if your job doesn't involve large branches, but you still ease of the motorized versions, long hedge trimmer extensions are available as attachments to these same pole machines.
If your job is smaller still, you can opt for manual extended pruners, shears, and saw blades. These can be a great tool to have around for those troublesome small branches and hard to reach hedge tops.
Whatever your situation, these options can save you from investing in expensive ladders and taking a chance on injuries from falls. Just take care to move out of the way of the falling debris or you may just trade one injury for another.
To see more articles like this one…
References