It's very difficult to have any serious conversation about power tools without mentioning Echo. The American manufacturer has been in the game for over 40 years now and has battled for market share with some of the world's top power tool brands. The brand's range of weed whacking trimmers is undoubtedly one of the cornerstones of this success.
Residential Echo trimmers last between 5 and 10 years. Commercial versions take much more abuse, but are constructed to take the strain. Echo professional level models can last between 10 and 25 years. This is all dependent on regular maintenance at least yearly.
Today, we'll be taking a look at Echo's trimmers and determining their overall quality. We will examine how they perform across various categories before we discuss how long you can expect them to last. We also have tips on how to extend an Echo trimmer's lifespan. Finally, we will list some of the manufacturer's best offerings to help you determine the best trimmer for your needs.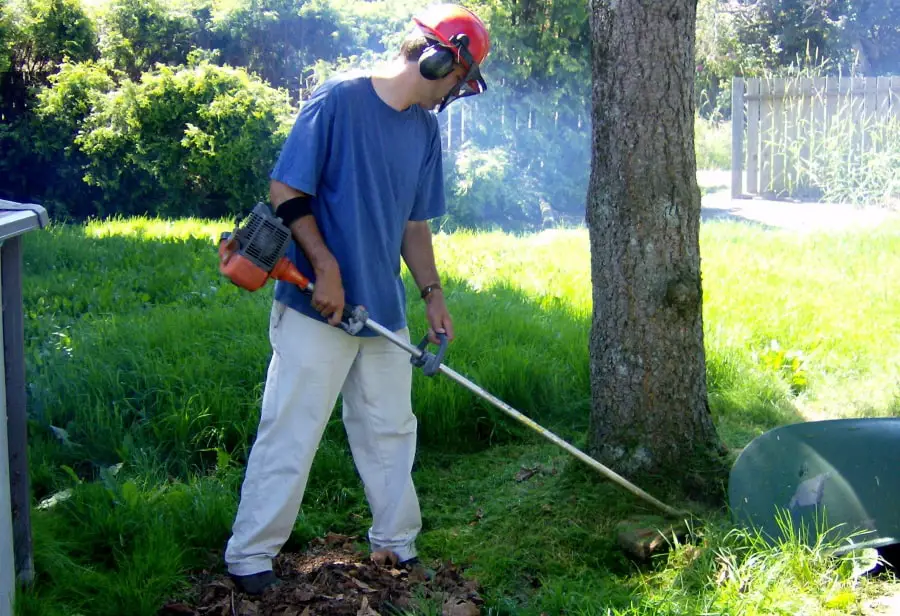 Are Echo Trimmers Any Good?
Modern trimmers, like most power tools, must tick several boxes to be classified as "good". Aspects such as design, energy efficiency, build quality, durability, price, safety, and environmental impact are just a few of the things that the savvy consumer (or even the government) looks at before granting the seal of approval.
Echo make good trimmers and produce a wide number of personal and commercial weed whackers that are renowned for their reliability and ease of use. Currently, the manufacturer offers many trimmers that help you with maintaining your yard or with tackling professional landscaping projects.
The handheld trimmers are mostly gas-powered, although the company offers a few battery-powered models. Straight shafts abound when it comes to Echo's handheld units. At present, there are only two curved shaft models. All of Echo's (combustion) handheld trimmers incorporate the brand's patented 2-stroke engine technology.
If a handheld trimmer isn't your cup of tea, you can try one of Echo's wheeled weed whackers. These babies boast a boatload of technological features and are reported to be FIVE TIMES more powerful than any handheld trimmer.
Regardless of the type of trimmer you opt for, you can expect ease of use and top-notch quality all around. Echo prides itself in machines that are simple to start and operate safely.
Echo Trimmer Saftey
Speaking of safety, Echo's trimmers are all equipped with standard deflectors. Some of the heavier handhelds feature safety harnesses for added handling. Unfortunately, safety has been one area that Echo has been found wanting, especially when compared to some rival brands.
Power Output
For a lot of consumers, power output is a top priority as this indicates a machine's capacity for work. In response to this, Echo ensures that its trimmers pack a serious punch. Handheld trimmers range between 21 and 42ccs of engine displacement, while wheeled trimmers max out at 163 ccs.
Ergonomics And Echo Trimmer Weight
Ergonomics is also an important consideration for the brand, with most handheld trimmers weighing in at 10-13lbs. The machines also sport comfy handles that are a massive help for marathon de-weeding sessions.
Environmentalism Issues
The power tools industry has been hit particularly hard by the rise of environmentalism, with Echo among several brands that have been forced to sink or swim. Luckily, the company's trusty engineering prowess has allowed the majority of Echo tools to stay onside of local and federal environmental laws.
Even though Echo's combustion trimmers produce lower emissions and noise levels than most of their competitors, the limited number of electric options is somewhat disappointing. With environmental laws likely to become even more stringent, Echo may have to pivot fully into greener energy.
Echo Trimmers And Costs
Price is another big point of consideration. Heck, it's probably the deciding factor for many consumers. Luckily, Echo has a trimmer for every budget. Handheld trimmers start at around US$150 and go all the way up to $600 for professional-grade machines. The price range for wheeled trimmers is between $550-$1,000.
Finally, we have warranties. Echo typically offers five-year warranties for private use trimmers and two-year guarantees for commercial use.
To read more about lawn care issues, see my articles…
How Long Do Echo Trimmers Last?
Typically, your warranty will serve as a general guide for how long you can expect your trimmer to last. This is not the case when regular maintenance is kept up.
A residential Echo trimmer can last more than 5 years without any major problems. Commercial machines can fare much better and it is not unfathomable that an Echo machine could last for more than a decade. Commercial trimmers can easily have a 10 to 25-year lifespan, despite a limited warranty.
With proper use, timely repairs, and maintenance, you can drastically increase your trimmer's lifespan.
If you are looking for the best in Echo trimmers, I recommend the following on Amazon…
How To Prolong Echo Trimmer Lifespan?
The simplest way to prolong a trimmer's life span is to use the machine for its intended purpose and per the instruction manual. Avoid activities that do not include trimming, mowing, or brush clearing. If you are going to be carrying out multiple tasks, you must ensure that you use the appropriate attachments.
To prolong and Echo trimmer's lifespan, it is important that they are treated much like a car. Trimmers require servicing and routine maintenance. We recommend that you conduct thorough maintenance at least once a year (or every 50-100 hours of operation).
This annual maintenance usually involves air and fuel filter changes, sparkplug replacement, and cleaning of the trimmer head itself. Accessing the fuel filter on Echo trimmers requires the removal of the carburetor, which should also be cleaned to minimize the disruption of combustion.
Which Echo Trimmer Is The Best?
With several Echo trimmers boasting different features and prices, determining the best is not an easy task. As such, we have identified three consumer categories and selected the best trimmer for each.
For all around usage the Echo SRM-3020T is the best on the market. For the professional, the standards have to be raised due to constant heavy strain placed on the machine. The WT-1610HSP tops the professional's list. Echo's CST-58V is the best electric option.
The first category is for all-around use. The winner here has to be the peerless SRM-3020T. This handheld trimmer is powered by a 30.5cc gas engine. The SRM-3020T boasts Echo's patented Speed- Feed 450 cutting head, with a cutting swath of 20 inches.
The 13lb trimmer is the ideal solution for dealing with weeds on yards of all sizes. Its 2:1 gear reduction delivers a cutting level and consistency that is unrivaled at this price point. The SRM-3020T also has over-molded hand grips in the front and rear for optimum handling.
The next category is professional use. Our pick is a very special wheeled trimmer.
The WT-1610HSP is Echo's top-of-the-line wheeled trimmer, and for good reason. This trimmer's wheeled design makes long de-weeding sessions a breeze for any commercial landscaping outfit.
The self-propelled WT-1610HSP is powered by a Honda GCV engine and has a 3-speed transmission. It sits on 16-inch wheels with sealed ball bearings that allow great maneuverability over different terrains. This lovely (but pricey) machine has a maximum speed of 2 miles per hour.
Finally, let's take a look at Echo's best electric offering.
Echo's CST-58V is a highly underrated electric trimmer that deserves some love.
The CST-58V comes with either a 2Ah or 4Ah battery. The former gives the trimmer a run time of 45 minutes, while the latter facilitates up to 90 minutes of trimming. You also get an adjustable cutting swath (14 inches-16 inches), a Speed-Feed 400 trimmer head, and a dead-silent brushless motor.
Additional features include a high/low-speed switch that allows you to choose between performance and battery life, as well as a variable speed trigger.
Word of warning…the CST-58V trimmer is quite hefty, as it weighs 14lbs when the battery is loaded.
The Final Word On How Long An Echo Trimmer Lasts…
As you can see, Echo brand is a good manufacturer with machines that last long after the warranty has expired. With that being said, the amount of time you get our or your Echo trimmer will depend on the model, how it is maintained, and if it is used professionally or not.
If you choose the right Echo model for your needs, you can't go wrong with this brand. You should have this sturdy tool for a decade or longer.
To read more about yards or landscaping, I recommend my other articles here…
References
https://cornygardener.com/echo-vs-stihl-string-trimmers/#:~:text=In%20general%2C%20the%20echo%20trimmer%20is%20considered%20the,weeds%20and%20grass%20in%20a%20matter%20of%20minutes.