When it comes to lawnmower brands, the list of names is endless. From This 'n' That to Such 'n' Such, the number of competing manufacturers can boggle the mind. This is an all-too-common problem. Walker, for instance, is well known for its revolutionary z-turns. But do they have any walk-behind machines?
There most definitely are Walker brand walk behind mowers, but unfortunately they are not being produced currently. The line was discontinued, but offered many deck sizes and features that made it a quality commercial mower option. The company has shifted its focus to ride-on mowers today.
Sometimes, it's easier to categorize brands by what they specialize in, on top of their overall value for money of course. Walker brand has not always shunned the walk behind market. What do they produce now and what were their walk behinds like?
Let's have a look.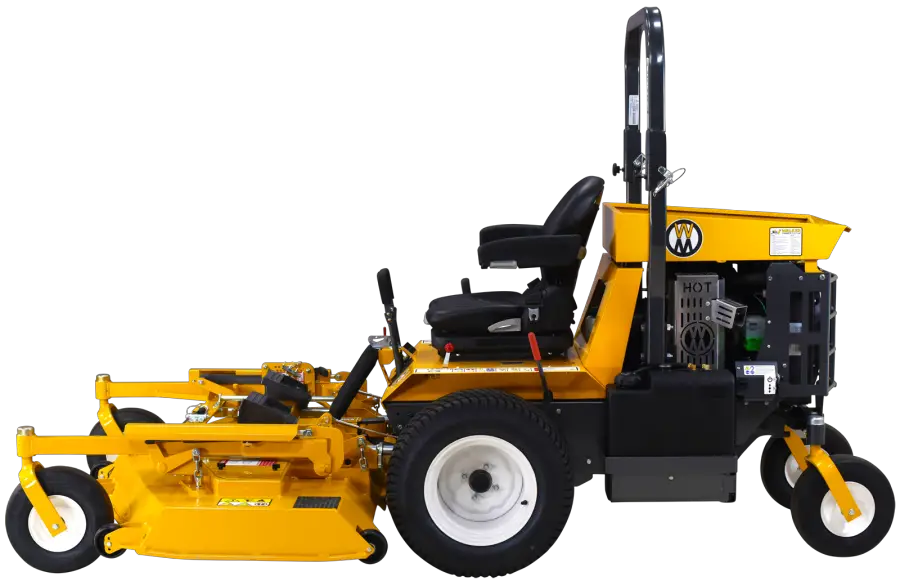 Does Walker Make A Walk-Behind Mower?
As stated above Walker has made a shift. There are Walker walk behinds, but are they being manufactured today?
Walker does not produce walk behind mowers, not anymore, at least. In times past they offered a whole line of walk behind mowers, but today they have discontinued them in favor of the zero-turn style of mower. This business decision changed the focus of the company.
At the time of writing, Walker is in the zero-turn market exclusively with lines such as the Models S, C, T, D, R, B, and H.
The MW Walker Walk Behind Mower
The company did manufacture a walk-behind line of mowers collectively known as the Model MW. The mower came with different deck sizes (36, 42, 48, 52, or 56 inches) and had a cutting height range of 1-4 inches. The MW also had a cool dual-blade cutting system.
How Much Does A Walker MW Mower Weigh?
The mower itself weighed in at 370 lbs. With a 48-inch deck, for example, the weight went up to 520 lbs. A significant portion of the weight can be attributed to the 3/16 plate steel frame on the mower's body and the deck's 11-gauge steel configuration.
The MW was 80 inches in length (tip to tip) with a 22-inch wheelbase. It was also 49 inches tall and 44 inches wide.
At the heart of the MW's drive and mowing power was a 431cc Kawasaki FH430V V-Twin engine. The overhead valve (OHV) motor could churn out 15 horsepower and 32Nm of torque. It also had a maximum RPM of 4000 and an idle RPM of 1500.
Naturally, the mower ran on gasoline and required 3 gallons for a full tank. The manufacturer recommended automotive-grade unleaded for the best results.
To read other great articles like this one…
Were Walker Walk Behinds Commercial Grade?
As a commercial-grade mower, the MW walk behind needed to be able to start in various conditions. And start it did, thanks to its Electronic Magneto ignition and recoil starter.
Once the machine was up and running, it was then the duty of the dual independent Hydro-Gear integrated transaxles to move the mower through the gears. The power hit the surface via two 18-inch low-profile drive wheels in the rear.
The mower had a top speed of 5 miles per hour. The self-propulsion system also came with variable speed control which could be adjusted via a rocker switch on the right-hand grip.
Speaking of grips, you also got two super sturdy pistol handles for maximum comfort during long mows.
Handling is also facilitated by two pneumatic deck caster wheels. Walker also gave customers the option to equip a third deck wheel as well as a tailwheel for added maneuverability.
The MW's deck engagement is managed by a quick-disconnect splined power take-off (PTO) system. The blades themselves are mounted on peerless right-angle gearboxes that are directly hooked up to the shaft. All that means disengaging the blades while you remove the mulch bag or traverse over various surfaces is a breeze.
The manual belt tightener clutch was the key to the MW's impressive cutting performance. This clutch could propel the blades to speeds of 2400RPM. For the 48-inch spec, this would translate to about 15700 feet per minute! 
Equally impressive was the stopping power governing the blades. The band brake was capable of halting the MW's blades within 5 seconds of disengagement.
Were Walker MW Walk Behinds Good Mowers?
Users who got their hands on a new Walker MW also got a one-year warranty for most parts except the engine, the transmission, the battery, and the tires.
All in all, the Walker MW was an excellent machine that was much easier to use than you might think. Having the throttle on the left grip with variable speed control on the right was a particular highlight. Build quality was also classic Walker.
Unfortunately, all of MW's positive attributes did not translate into major commercial success, which eventually forced Walker to discontinue the product in the 2010s.
Is A Walker Mower Worth The Money?
Now, let's briefly go over the current Walker lineup to assess their overall worth.
Starting with the flagship Model H range, we immediately see what Walker is all about. High productivity levels and zero downtime. 
There are three lines in the H series, the H24d, H27i, and H37i (note the numbers signify each mower's horsepower).
Every Model H comes with a Grammer Suspension seat, which is adjustable in four ways, as well as a commercial engine air filtration system and forward speed control. Adjustable footrests, 9.4-gallon dual fuel tanks, and Hydro-Gear's ZT34000 transmission also come standard.
Each Model H line has several deck options. The H37i, for instance, has 7 deck sizes (48-74 inches) as well as several mulching kit configurations. Only the 48-inch decks have dual blades, while the rest have three.
The H24d and H27i are powered by Kohler motors, while the H37i is powered by a massive Briggs Vanguard Delphi EFI engine. The H24d is the only member of the series that runs on diesel. The gasoline-powered models all feature an EFI system which helps circumvent carburetor-related problems.
Pricing for a Model H varies depending on your chosen spec, options, dealer, and delivery costs. You can expect to pay around US$12,000 for an H37i (tractor only). Decks range from $2,000-$2,500 and mulching kits are a few hundred bucks. The Model H mowers come with 3-year tractor and engine warranties as well as a 2-year transmission warranty.
On the other end of the scale is the "entry" Model S range, the perfect introduction to Walker.
The Model S still carries the lineage of the company's first-ever mower, the 1977 Model S Prototype.
The current generation features the S14i and S18. The former is powered by a 14-horsepower Kohler Command PRO (EFI) that drives it to speeds of over 6 miles an hour. The S18 has an 18-horsepower Briggs Vanguard EFI motor that runs on 4 gallons of gas.
Like with the Model H, the S range has a commercial-grade air filtration system and a flexible carrier frame. Tilt-up decks also help with maneuvering over certain areas and obstacles. The machines also feature Walker's patented Thru-Shaft PTO system for quick engagement/disengagement. A 7-bushel grass catcher is also included with your purchase.
The S14i has 3 deck options while the S18 has 5. Sizes range from 36-42 inches (S14i) and 36-56 inches (S18). Dual blades all-round, except for the S18's 52 and 56-inch decks which have 3.
The Model S14i starts at around $8,000 with the S18 starting at $10,000. The S18 has 2-year warranties for the tractor and suspension. The engine has a 3-year warranty.
As you can see, owning a Walker is far from cheap. However, the aforementioned machines, and the rest of the brand's lineup, will more than prove their value through their build quality, longevity, comfort, and (naturally) how well they cut grass. Walker mowers are renowned for the details (obstacle avoidance, ergonomics, and serviceability).
You'll never go wrong with a Walker.
How Many Hours Will A Walker Mower Last?
Typically, Walker offers 2–3 year warranties on all their machines. Yet, does that mean the a Walker mower will only last a couple of years?
Walker mowers can last up to a decade (10 years) or more with maintenance and repairs done regularly. This depends on the terrain it is used on and the frequency it is used each mowing season. As with most high quality mowers, many years past its manufacturer's warranty can be expected.
Of course, any mower that is well taken care of should more than exceed the warranty mark, and the same holds for Walkers.
So, how do we convert that into actual usage hours?
A common approach is to simply calculate the engine's horsepower value by 150. This means that a machine with a 37-horsepower engine should have an engine lifespan of about 5,550 hours…which is quite a lot.
Of course, other factors like the build quality and sheer luck will also influence your mower's lifespan. However, we cannot stress the importance of regular and timely service enough. Doing so will definitely lengthen your machine's life.
The Final Touches On Walker Walk Behind Mowers…
There is no doubt that Walker mowers are great machines for what they are intended to do. The companies current focus on zero-turn models reflects more of a shift in demand than a deficiency with their earlier walk behind models. It is sometimes prudent to take a more focused approach in a market with as much competition as this one.
Though the MW is not in production today, anyone that has the opportunity to purchase a well cared for used one can rest assured that it is a well built machine.
Here are some other articles you will enjoy…
References
https://manualzz.com/doc/1747340/walker-mw-walk-behind-operator-s-manual
https://www.walkertalk.com/repair-or-replace#:~:text=For%20liquid%2Dcooled%20engines%2C%20he,the%20machine's%20lifecycle%20is%20up.