When it comes to the world of power equipment, few names are bigger than Toro and Exmark. The American brands have built stellar reputations on the foundations of innovation, reliability, customer support, and (of course) world-class engineering prowess.
Toro design and quality is behind both the Toro brand and the Exmark brand and each use top quality engines from industry leading outsourced manufacturers. Though a small portion of simple engines are produced under each companies name, they too are outsourced as white label products.
The following article focuses on the brands' lawnmowers and, more specifically, their in-house lawnmower engines as we look to determine the best choice for prospective customers. We will also discuss some standout mower models from each so that, by the end, you can have a better idea of the best brand for your needs.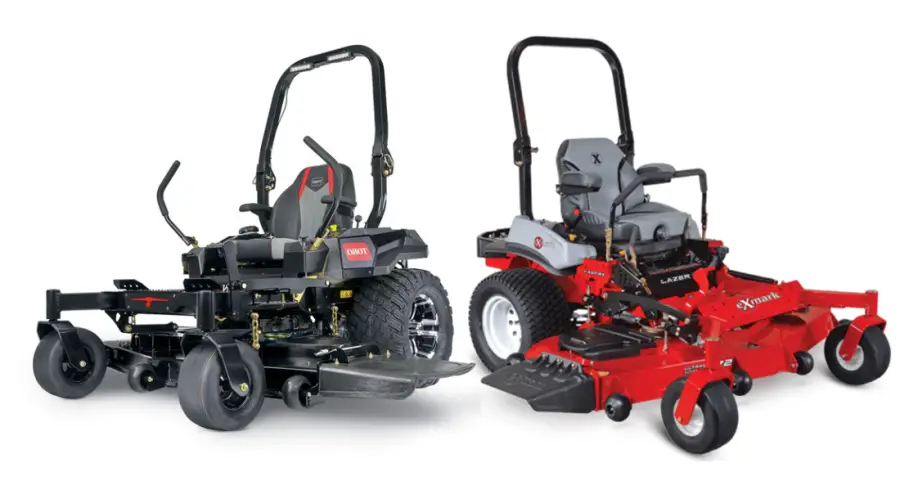 Are Toro Brand Engines Any Good?
It's no secret that Toro, like most major power equipment manufacturers, primarily makes use of outsourced engines for its lawnmowers.
Toro engines are as good as the outsourced companies that make them. Since they purchase their engines from some of the top manufacturers in the industry, Toro mower engines are some of the best produced in any line of mowers on the market.
Most of these outsourcing contracts are with famous American brands like Briggs & Stratton and Kohler, which are renowned for their exceptional power output. The 54-inch TimeCutter z-turn is just one awesome example of the Kohler-powered beasts in Toro's stable. 
Briggs, king of the small engine, powers lovely residential mowers like the 21-inch Personal Pace SMARTSTOW Super Recycler, a self-propelled mower with reduced carbon and physical footprints.
Toro also outsources to foreign brands like Kawasaki and Honda. The 21-inch Heavy Duty BBC, a commercial self-propelled marvel, is powered by Kawasaki's general-purpose FJ180V KAI overhead valve motor. On the residential side, you have machines like the Honda-powered Personal Pace (22-inch). 
It's important to note that the "Toro" name is both a brand and the name of a company that is a parent to several other brands. Some of these other brands also make lawnmowers, and most of those machines (at least the combustion ones) make use of outsourced engines.
Toro Brand Lawn Boy Engines
Lawn-Boy is one such brand. This brand focuses on snowblowers, leaf blowers, and walk-behind lawnmowers. At the time of writing, Lawn-Boy combustion mower engines are outsourced from Honda, Kohler, and Briggs & Stratton. One particular standout is the 21-inch variable speed self-propelled (AWD), which features a feisty Kohler XTX OHV.
Toro Ventrac Tractors
The Toro Company is also home to Ventrac, which specializes in multi-purpose work tractors and PTO implements. 
We highly recommend that you take a look at the 4520 Tractor, a versatile machine that comes with four engine specs. You have your pick from B&S, Kawasaki, and Kubota gasoline motors. Kubota also provides a 32.5 horsepower diesel engine for the 4520. The quick-mount system accommodates almost every Ventrac attachment, including 7 mower types.
To see more great articles from LawncareGrandpa.com, check out some of these…
Does Toro Make Mower Engines?
So, you see, outsourcing is a big part of Toro's modern operations, mainly because it is more economic than making in-house engines for all machines. For one, engine manufacturers tend to give sizable discounts on bulk orders. Secondly, the level of competition among engine builders gives equipment manufacturers like Toro a strong negotiation position for outsourcing deals.
That said, it is important to remember that Toro's roots actually lie in the engine-building arena. That's right, the company was actually founded as an engine maker way back in 1914. 
In those days, the Toro Motor Company (as it was called then) had a very profitable relationship with the Bull Tractor Company before the latter's eventual demise. The decision to move into power equipment manufacturing was made in the 1920s, and the rest is history.
Today, Toro still "makes" general-purpose engines for its power equipment. "Makes" is in quotes because these engine builds are technically outsourced as well. A Chinese company by the name of Loncin is actually responsible for these Toro-branded engines.
Commercial V-Twin Engine
The Commercial V-Twin, which packs an impressive 24.5 horsepower, is the company's pride and joy. There is also a 22.5 horsepower version.
This engine features a double-barrel carburetor that facilitates the separate delivery of air and fuel to each cylinder. This makes the entire combustion process much more efficient and reduces the likelihood of problems like stuttering and start-up failure.
You also get a quick-drain oil hose that allows you to empty the oil without the use of tools. This feature is particularly useful when emptying fluids ahead of transport or long-term storage.
Toro also designed the V-Twin motor to maximize airflow. 
One of the features that contribute to this aim is the self-cleaning air filter housing. This clever piece of engineering makes use of a dual-element air filter and a sloped floor that prevents the build-up of debris. In other words, your air filter will last much longer and airflow will not be disrupted.
The V-Twin Commercial engine is available for various Toro z-turns, such as the TimeCutter series (SS, MX, SW, SWX, HD) and the Titan 1500.
The Toro OHV Engine
In addition to the V-Twin, Toro also produces the single-cylinder Toro OHV, which is often paired with certain TimeCutter models. 
The simple 452 cc motor has a lot in common with its more powerful V-Twin sibling, including an automotive-style piston design that reduces engine oil wastage and blowby. As a result, the Toro OHV packs an efficient punch without wasting fuel. 
You also get 5-bolt heads to help seal the engine, which greatly extends its lifespan. The cylinders are lined with cast iron, another durability feature.
All in all, despite being on the backburner, Toro engine builds are really impressive and are largely on par with industry standards. However, for the most part, these "in-house" motors simply cannot compete with some of the technologies boasted by specialist engine makers like Kawasaki and Briggs.
Are Exmark Engines Made In China?
Let's shift our focus to Exmark and how this brand deals with engines.
Interestingly, Exmark is yet another one of the Toro Company's subsidiaries, with some of their engines mad in China. Therefore, the general rule of outsourced engines that Toro uses also applies here. The Nebraska-based brand gets engines from Yanmar, Kawasaki, Honda, and more.
Let's look specifically at a few of their outsourced engines.
Laser Diesel
One of our favorite Exmark machines, the indomitable Laser Z Diesel (60, 72, 96, or 144 inches) boasts a powerful Yanmar 3TNV80FT engine (1267cc) that has cool features like indirect injection, which allows the engine to run much more quietly than you would expect from a diesel motor of this size.
Commercial 21 S-Series
You should also have a look at the Commercial 21 S-Series, a tough-as-nails walk-behind mower with a Kawasaki FJ180V. This 3,300RPM engine features a dual-element air cleaner, which helps maximize airflow and, therefore, oxygen delivery to the combustion chamber.
Vertex S Series
Exmark also makes fantastic stand-on mowers, such as the Vertex S Series. This mower is powered by a Kawasaki FX730V (V-Twin) engine with 726ccs of displacement. This highly efficient motor helps propel the mower to speeds of up to 8.5 miles per hour, which is mighty impressive.
Loncin Manufactures Exmark Branded Engines In China
While outsourcing is a major part of the Exmark business model, the company also has a small stable of Exmark-branded engines for certain mower models. These engines are also built by Loncin in China. 
The first engine is the Exmark 452cc for z-turns. This single-cylinder gas engine packs a wallop (14.5 horsepower) thanks to its efficient OHV design. The 452 has an optimized balance shaft layout that helps lessen vibrations, which in turn leads to reduced wear and tear.
The engine also has an automatic compression release, which facilitates hassle-free starts every time. You also get full-pressure lubrication and a standard dual-stage oil filtration system that ensures optimum lubrication with every piston stroke. As you already know, efficient lubrication equals a longer lifespan.
Unfortunately, the Exmark 452 engine is only available on 42-inch Quest E-Series z-turns that are sold in California.
The other Exmark engine is the 708cc V-Twin, which is optimized for small and medium-sized z-turns. There are two 708 specs, a standard V-Twin and a commercial V-Twin. Both specs have a maximum power output of 24.5 horses.
The standard model is available on Quest E-Series mowers (34 and 42-inch specs) as well as the Quest S-Series (50 and 60-inch specs).
Features abound, as you can imagine. 
The Exmark 708 has a vacuum choke override that ensures smooth starts. You also have a quick-oil drain system that makes use of a long drain hose, which makes oil-related messes a thing of the past. The air intake and filtration system ensure debris never reaches the sensitive parts of the motor.
Much like the Toro Commercial V-Twin, the Exmark 708 has a dual-carburetor for dedicated fuel and air delivery to the combustion chamber. This also results in higher fuel and power output efficiency.
The Final Touches On Exmark Vs Toro Engines…
Basically, when you get a Toro or an Exmark you are getting outsourced engines. There are a few exceptions, but due to the competitive market that exists in mower engine manufacturing it is more cost effective to buy engines in bulk for the Toro company and its subsidiaries than to make them 'in-house'.
This doesn't mean that there is a lower quality in their design and production. The high standard created by the current market and reputation of each of these companies they employ means you are getting a high quality motor with most any Toro or Exmark machine you buy.
Toro and Exmark mowers are both made with the same quality in design and construction, making either an excellent choice as long as the right design is paired with the right job.
Here are some other great articles you will enjoy…
References
https://www.exmark.com/Exmark-Advantage/features/exmark-engines