It's probably fair to say that the modern lawnmower market is quite saturated, as far as choices go. Have you ever had so many options that you were rendered unable to even choose, out of fear of picking the wrong thing? What about Gravely mowers versus Hustler mowers? Which should you choose?
When choosing between Gravely versus Hustler mowers, commercial crews will normally want to go with Gravely, whereas individual landscapers and homeowners will find the lower cost entry level of Hustler more appealing. Both have great warranties and are dependable machines.
Lucky for you, we're here to help you out of this particular paradox of choice by narrowing it all down to two of our favorite brands. For today's article, we're taking a closer look at American manufacturers Gravely and Hustler Turf, as well as their impressive commercial and residential lawnmowers.
Let's roll…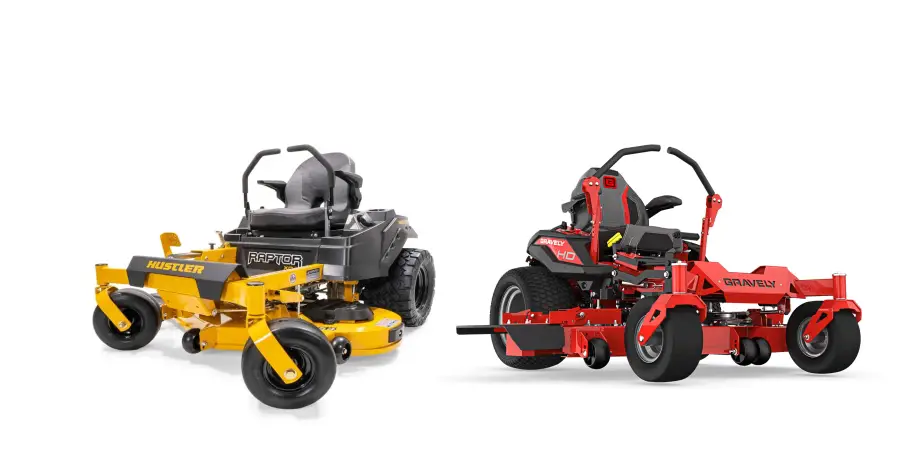 Are Gravely Mowers Any Good?
Let's kick off by taking a look at Gravely.
This company's history stretches back over a century to 1916, when founder Benjamin Franklin Gravely was issued a patent for the motorized plow. The success of this invention, and the vision of the inventor, laid the foundation for a company that prides itself on top-notch American ingenuity, hard work, and craftsmanship.
Of course, we wouldn't expect any less from a company based in Brillion, Wisconsin, deep in the heart of the American Midwest.
Gravely Focuses On Agriculture And Landscaping
The rest of the 20th century was a series of innovations, with a few notable misses and even more major hits, including automobile manufacturing. The year 1937 saw a change of the guard as D. Ray Hall acquired a controlling stake in the company and later renamed it Gravely Tractor Inc.
The company was later sold to Studebaker Packard Corporation of South Bend, Indiana, and automobiles were ditched to focus solely on power equipment.
The invention of the rotary mower, combined with the viability of landscaping businesses, created a gap Gravely was keen to exploit. The plan was to create machines for commercial landscapers. These machines could either be bought or leased out.
Ariens Now Owns Gravely
Fast forward to today, and Gravely has since been sold to former rival Ariens. The current model is for Gravely to cater to the commercial market while Ariens focuses on residential machines. However, both are now based in Brillion.
The Best Gravely Mowers
So, let's take a look at some of the best Gravely mowers you can get your hands on right now!
The Pro-Turn 600
First up is the Pro-Turn 600, Gravely's flagship z-turn.
This awesome lawnmower has everything you need to tackle even the most unkempt parks, fields, or campuses. Professional sports facilities and golf courses would be well served by this bad boy too.
The Pro-Turn 600 packs all of Gravely's best features, like the super-rigid tubular frame, high-grade steel deck (sizes ranging from 52-72 inches), and awesome Kawasaki engines. The best engine spec is the FX1000 EFI which churns out 38.5 horsepower. 
EFI stands for "electronic fuel injection", which basically means fuel is delivered to the combustion chambers more efficiently than in typical carburetor-dependent systems. Kawasaki is one of the kings of this technology, making their combustion engines as clean as anything on the market. Great for the environment, and great for your wallet thanks to the fuel efficiency.
The Pro-Turn 600 features a triple-blade setup underneath the revolutionary X-Factor III deck, which allows for more orderly discharge. The Kawasaki's power hits the turf via fat rear wheels that absorb bumps with minimal fuss, providing you with excellent comfort levels. The suspension is also a major factor in this machine's unparalleled ride, meaning strain and fatigue will be greatly reduced.
You get your run-of-the-mill accessories too. Mulching kits, LED headlights, and a handy 3-bin bagger. 
Other notable Z-turns include the Pro-Turn 100, the Pro-Turn ZX, and Compact-Pro.
To read more about mowers from LawncareGrandpa.com, check out these…
The Gravely Pro-Stance
Gravely also has an interesting stand-on mower, if standing is more comfortable or convenient than sitting on a riding mower. It's called the Pro-Stance and has a wide range of mower deck options (32-60 inches).
The engineers at Gravely are particularly proud of this machine's low center of gravity, which makes it the ultimate machine for tackling slopes and hills. Kawasaki also dominates the entire Pro-Stance lineup, with the Japanese engine maker providing motors for each spec. 
We highly recommend the 60-inch spec with the 26-horsepower Kawasaki FT30V-EFI. Great power, great handling, and an efficient use of 9-gallons of gas.
Gravely Walk Behind Mowers
Commercial walk-behind mowers occasionally seem to be in an identity crisis. However, there's no mistaking Gravely mowers.
The Pro-QXT and the Pro-Walk Hydro are professional in name, profile, and performance. 
The new Pro-Walk Hydro features easy-to-understand controls that will have you up and running in no time. Steering is intuitive and ergonomic, belying the machine's considerable heft. The wide wheelbase offers additional stability, especially on uneven terrain.
The steel deck (36-60 inches) has a single-point height-of-cut that allows for precise height adjustment.
Power comes from…you guessed it…Kawasaki motors. The top-spec 60-incher features a Kawasaki FS691V that has 23 horses that propel the mower to 8 mph. Reverse top speed is 3 mph.
Pro-Turn EV
Despite Kawasaki's environmental consciousness, Gravely still has an eye on a post-combustion future. Electric is the name of the game now, and the zippy Pro-Turn EV is a physical manifestation of that vision.
The electric z-turn features 16kWh FusionCore QuikSwap batteries. As the name suggests, you can quickly swap out the batteries and charge them separately without suffering any significant downtime.
Gravely Innovation
Gravely's innovative streak also pops up via the X3 Constant Drive spindles, that are engineered to absorb accidental impacts. Not far behind are the mind-blowingly silent drive wheels, which feature 5kWh motors. Thanks to the motors, and electric transaxle drive system, you get a futuristic driving experience free from combustion vibrations.
The Gravely Generous Warranty And Reasonable Price
Most Gravely mowers also have 4–5-year warranties, which is always reassuring. You don't want to be buying a new mower every so often if it can be avoided. Gravely's build quality speaks for itself, and more than makes up for its high pricing.
Speaking of pricing, expect to pay a minimum of US$6,000 for an entry-level Gravely. Higher-end models like the Pro-Turn 600 can easily blow past the $20,000 mark. Financing options are available, so don't be afraid to enquire around for good deals.
Are Hustlers Good Mowers?
The aptly named Hustler Turf is a Kansas-based manufacturer obsessed with outworking the competition.
Hustler has come a long way since its 1964 debut. Founder John Regier is widely hailed as being the inventor of the zero-turn lawnmower as we know it.
Regier realized his product's mainstream potential and quickly established a partnership with Excel Industries in a bid to scale up production. Hustler's Hesston facilities were established in Hesston, Kansas, where the company is still based to this day.
Hustler's love affair with the z-turn continues nearly 60 years after Regier's invention. The current lineup features ten commercial machines and eight residential machines. Combustion engines are the general theme although there are a few electric models.
The Best Hustler Mowers
Let's start by looking at some residential z-turns.
The Dash
First is the Dash, a neat entry-level mower that is available with a 34 or 42-inch deck.
The Dash is powered by a 10.5 horsepower Briggs & Stratton PowerBuilt engine that helps it reach speeds of up to 5 mph. The transmission is a silky-smooth Hydro-Gear ZT 1800 setup.
Decks are made of steel and cutting height can be adjusted from 1.5-4.5 inches. The mower's tubular frame is a strong indicator of the kind of build quality you'll be working with. Hustlers are always built to last.
Another cool feature on the Dash is the automatic parking brake, which engages when the mower's steering levers are opened up.
Optional extras include light kits, a mulch kit, an engine guard, and a nifty side grass bagger. The manufacturer recommends this mower for 1-acre yards.
Other notable Hustler residential z-turns include the Raptor X, Dash XD, Raptor XDX, and the top-of-the-range Flip-Up. Hustler also makes the battery-powered Zevo, which can work areas of up to 3 acres.
The Super 104
On the commercial side, our favored pick is the Super 104, an almighty lawncare behemoth.
This monster has a 104-inch steel deck with five cutting blades. This deck is divided into a central main deck and two wing decks. The wing decks can be folded up for transport, storage, or mowing narrow gaps. You can quickly unfold the wings to cover wide swathes of lawn, which greatly reduces the number of passes required on jobs. 
There are three Super 104 specs, each with its own engine. You can opt for a Vanguard Big Block EFI (40 horsepower), a Kawasaki FX1000 (35 horsepower), and a Kawasaki FX1000 EFI (38.5 horsepower). Each spec features a Danfoss DDC20 transmission. The top speed is 11 miles per hour, which is impressive for a 2,500-lb machine.
Other features include an electric PTO clutch, ductile cast iron spindles, a tubular frame, and a comfortable I3M suspension seat with multiple dimensions of adjustability.
Hustler also offers several extras for the Super 104. You can get an anti-scalp kit, a light kit, a flasher kit, a rear hitch kit, and a steering lever extension kit among others. The machine has a five-year (1200-hour) warranty.
Other commercial mowers you can have a look at include the Diesel Z, Super SF, Surfer Pro, and FasTrak.
Hustler Mower Costs And Warranty
Hustler's residential mowers can cost between US$2,800 and $6,000. Commercial machines start at $10,000 and can reach beyond $20,000. Residential mower warranties are between 2 and 3 years, while commercial machines can have 4-5-year warranties.
Hustler understands the high cost of mowers and offers several financing options for its customers. Active and retired members of the U.S. Armed Forces are eligible for Hustler's Military Discount program. There is also the fleet program, which entitles customers to a bulk discount if they purchase two or more units.
The Final Touches On Gravely vs Hustler Mowers…
Though Hustler has some impressive offerings for the commercial arena, it is Gravely that you will find more often on a landscaping crew's trailer. This doesn't mean that Gravely is a better commercial mower for your individual needs, but it does appear to be the choice of more professionals.
We used the same couple of Gravely mowers for decades before having to replace them.
Hustler mowers offer quality and reliable commercial models, but with their popular residential mower lines they have made a dent in the marketspace. These are quality mowers for any homeowner with an entry price point well within the range of most.
Here are more articles you will enjoy…
References
https://www.gravely.com/en-us/about/why-gravely