It's fair to say that, at this point, the lawnmower market is pretty saturated. There are numerous brands to choose from, with even more companies on the rise. When looking at two of the most popular brands on the market it can be hard to make a choice. What about Exmark and Hustler?
Hustler zero-turn mowers are a great option for a residential mower choice while Exmark, a subsidiary of Toro, would be a good choice for commercial uses. Hustler also offers a good commercial option lineup, but Exmark tends to have more options and even sports a 144 inch mowing deck.
In today's article, we will take a look at two popular American brands: Exmark and Hustler. We will look at the range of mowers from both companies, as well as their pricing and overall reliability, efficiency, and durability. Let's get right into it.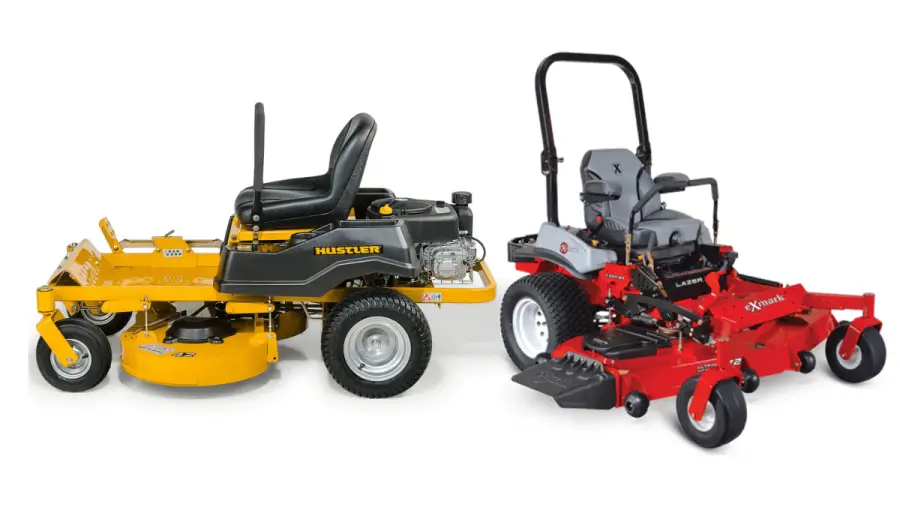 Are Hustler Lawnmowers Worth It?
Founded in 1964 by American Inventor John Regier, Hustler Turf has grown to become one of the premier names in the lawncare arena. Their specialist product, the zero-turn, was Regier's own patented invention and the company has gone on to produce some awesome models.
Hustler is based in Kansas (Hesston, more specifically) and their lineup at the time of writing includes eight residential z-turns and ten commercial z-turns. At Hustler, there is a z-turn for any property size and consumer need. Hustler mowers also come with ideal work area suggestions, which is extremely helpful for first-time mower owners.
As a proudly American brand, Hustler also pays due respect to any active members and veterans of the U.S. Armed Forces. And in what way do they show this respect, you ask? Well, through an 8% discount of course!
Hustler Residential Mowers
Let's take a look at Hustler's residential mowers. Each of these models are designed specifically for a certain sized lawn of field. Here is a quick rundown of their innovative way of delineating their models:
Warning, opinion coming…
The Hustler name is well known among landscaping crews and lawn care business owners. But where many of their models are seen is in the hands of home and land owners. If you are looking for an affordable zero-turn for residential or non-commercial use, Hustler is the brand you are looking for.
The general themes across all lines are Hustler's iconic Z-turn steering, industry-leading seat adjustability, rigid steel frames, and fat anti-tip tires. Mower deck sizes range widely, but 42 and 48-inch dual blade setups are the most common across models. The 5-acre models can have 60-inch decks with 3 three blades. 
Seven of the models run on good old-fashioned combustion power. Kawasaki is the primary engine builder across the residential line-up but the entry-level Dash is powered by a 10.5 horsepower Briggs motor.
The Zevo, which is the latest addition to the Hustler residential family, is the sole electric option. It is powered by a 48-volt AGM battery unit that allows the mower to cover up to 3 acres per charge. 
Pricing for a Hustler residential mower ranges from around the US$2,800 mark (for an entry 34-inch Dash) all the way up to $5,800 for the Flip-Up.
All Residential mowers come with 3-year (or 300-hour) warranties, except for the Dash and Dash XD, which have 2-year (200-hour) warranties.
Now, let's talk about commercial mowers.
Hustler Commercial Mowers
Hustler's options are:
These beasts are all capable of tackling the most demanding commercial jobs around. The features (and options) lists are virtually endless, a trait that Hustler has yet to shake.
As is the case with their residential siblings, the excellence of the commercial lawnmowers is founded on heavy-duty frames that allow you to push the boundaries of what a zero-turn mower is capable of. The engineering orients these mowers to be capable of wide-area coverage and smooth turning as you comb through acre after acre of grass.
Warning, even more opinion coming…
If you are a lawn crew foreman or a landscaping company owner, you probably already are familiar with the vast array of options that make Hustler the right machine for many jobs. If you are looking for a customized machine for your jobs, Hustler is the one to consider.
Combustion is the name of the game here. Kawasaki is also the main engine provider, but some models and model specs make use of motors from Kohler and Vanguard. The Diesel Z is powered by a Perkins engine. All the machines feature hydrostatic drive systems.
Ten-gauge steel decks are the standard throughout the lineup and they are equipped with eleven-gauge spindle mounts. Deck sizes range from three blade 48-inchers all the way to the Super 104's ONE HUNDRED AND FOUR INCH (and 5-blade) deck. 
Operability and operator comfort are top priorities, as they should be for such pricey machinery. You get features like SmoothTrak steering as well as a highly adjustable I3M suspension seat. Some models, like the Super Z, even have foot-operated deck lifts so you can easily change the cutting height on the go.
Pricing is much steeper for commercial machines, although exact figures may vary depending on retailers, location, shipping, and so on. Expect to pay north of $10,000 for an entry-level FastTrak and $20,000+ for a Super 104.
You should also know that Hustler offers special financing deals and specials to qualifying customers.
This is the part where I suggest some of our other articles you will enjoy…
Are Exmark Lawnmowers Worth It?
Exmark Manufacturing Company Incorporated was founded (and is still based) in Beatrice, Nebraska in 1982 and has been dedicated to the perfection of lawn care equipment ever since. Today, it is one of the star subsidiaries under the Toro Company's umbrella.
Here comes some more opinion…
Toro is one brand that we relied on for decades as we completed job after job without a problem. Exmark follows in this same tradition. Toro and Exmark machines quickly become the mowers claimed first when choice is given to crew members.
Exmark specializes in commercial-grade lawnmowers, though they do have the Quest series zero-turn residential line. They have ranges of zero-turns, walk-behinds, and stand-ons that are well-suited to large-scale work.
Exmark Zero-Turn Mowers
The zero-turns include:
These model lines are further split into particular model specs (for example, the Quest line features the Quest S-Series and Quest E-Series), that are differentiated by cutting width, fuel type, or any other aspect. Exmark also uses in-house and outsourced engine builds. Again, Kawasaki is a recurring name across the lineup.
Exmark z-turns have loads of features and optional extras that make them supreme tools on expansive swathes of grass. You get industry-leading maneuverability, ergonomics, build quality. There's nothing quite as efficient as an Exmark.
The top-notch quality of Exmark machines comes at a pretty penny though. An entry-level Quest costs just under $3,000 while the Laser Z starts at over $20,000. Warranties range between 4 years/500-1000 hours (Quest, Navigator) to 5 years/1250-1500 hours (Radius, Laser Z).
Exmark Stand-On Mowers
The Exmark stand-on mower lineup includes the Staris line and Vertex line.
These stand-ons are aimed at minimizing operator strain and fatigue during long sessions. The Staris is the smaller of the two, with decks measuring between 32 and 36 inches. Vertex models, and their 48-60-inch decks, are made to tackle slightly larger work areas.
Staris models start at just under $9,000 while Vertex models begin around the $11,000 mark. The Staris has a 4 year/750-hour warranty while the Vertex has a 4-year/1250 hour warranty.
Finally, we'll look at Exmark's walk-behind mowers.
Exmark Walk-Behind Mowers
There are only three model lines in this category, ranging from the almost-unassuming Commercial 21 to the gargantuan Turf Tracer. The Commercial 30 is a sweet middle spot between the two.
In typical Exmark fashion, all three have combustion engines for the highest possible power output levels. The numbers in the names of the "Commercial" lines reflect their deck sizes (i.e. Commercial 30 has a 30-inch deck).
The walk-behind format is the classic lawnmower design and Exmark has gone above and beyond to maximize their machines' potential in terms of ease of use, maneuverability, efficiency, and safety. Features abound, as are the options and accessories.
Pricing ranges significantly here as well. The 21 is the cheapest, with an entry-level spec costing around $1,500. The Commercial 30 starts at $2,500 while the Turf Tracer S-Series and X-series begin at $7,300 and $10,000 respectively. 
Interestingly, despite the high pricing, Turf Tracers only have 2-year warranties. Commercial 21s and 30s  have one-year warranties, which is also disappointing.
The Verdict: Which Is Better Hustler Or Exmark?
While the competition is tough, it is also a good thing for you because of the range of options available.
In all fairness, neither Hustler nor Exmark is objectively better than the other. Therefore, your choice should be based on your needs and circumstances.
If your heart is set on a zero-turn for your home, for example, Hustler might be the way to go due to their wider selection of residential machines. However, if you want other mower formats besides z-turns, Exmark is the only way to go.
Exmark's overall lineup also presents a lot more versatility for commercial lawn care. Exmark decks (across their entire range) begin at 21 inches and go all the way up to 144 inches, which is really impressive.
Hustler, for the most part, offers better warranties and a healthy selection of optional extras.
The Final Touches On Hustler vs Exmark Mowers…
To be perfectly honest, unless you have very specific requirements for either commercial or residential uses, either of these two great brands will offer great cuts, longevity, and value for you money.
Hopefully, this rundown of each of these two lawn care and landscaping giants has helped you make your decision a little bit easier.
More articles you will like…
References 
https://www.exmark.com/This-Is-Exmark