The Lesco brand is well-known in agricultural and landscaping circles and its reputation has gone from strength to strength over the years. Key to this popularity is the company's versatility and expertise across a wide range of areas.
LESCO publicly available walk behind mowers were made by Commercial Turf, as subsidiary of MTD. These were machines designed by a company specializing in golf course maintenance and were respected in the mower market. Later John Deere Landscapes took over the company.
Lawncare is one of these areas, and today we will be taking a look at the brand's famed lawnmowers. We will discuss a few standout models, as well as the secrets behind their production. Join us as we take a look at who makes Lesco lawnmowers.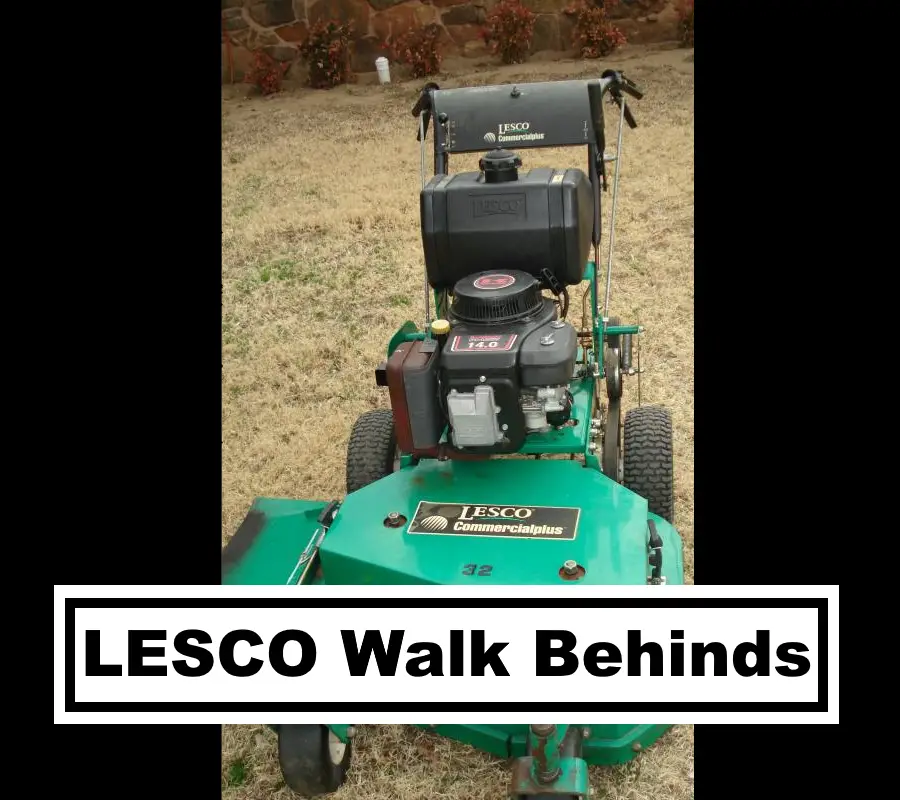 Who Makes LESCO Mowers?
It's important to note that LESCO does NOT make its mowers. More specifically, the company did not manufacture LESCO mowers at the tail end of their production runs. 
LESCO outsourced the manufacturing of their mower lines to companies like Commercial Turf, a subsidiary of MTD. They tried in house production, but mainly stuck to irrigation systems and fertilizer spreaders. When LESCO Mower lines ended in the 2000s, John Deere had taken over the company.
That's right, "LESCO" lawnmowers are a thing of the past, as the company has moved out of that particular industry.
Who Is LESCO?
LESCO (Lakeshore Equipment & Supply Company) was founded in 1962 with the primary goal of providing golf courses with an array of products and services. The company began by offering turf management techniques, landscaping staff, irrigation solutions, and even agronomic newsletters to golf facilities in the greater Cleaveland, Ohio area.
The rest of the 1960s saw founders James Fitzgibbon and Robert Burkhardt grow LESCO into a bona fide one-stop shop for turf care. Their newsletter, Lesco News, also proved to be a hit and proceeded to be published nationally. 
By the early 70s, the company had branched into manufacturing basic agronomic products like spreaders and sprayers, although some products, like irrigation equipment and fertilizers, were still outsourced and re-branded under the LESCO name. LESCO would also introduce key innovations like on-demand delivery via their "store-on wheels" initiative.
Company heads later commissioned the development of in-house fertilizer blends once LESCO had earned a notable following across North America. It is fertilizer that gave the company its longevity. To this day, fertilizer remains LESCO's primary product.
By 1980, LESCO's Cleveland headquarters were deemed insufficient for the next wave of innovation. That same year, the company migrated to Rocky River, Ohio, and dove into equipment manufacturing in a bid to reduce its dependence on outsourcing.
The move was a success and yielded inventions like the rotary push spreader, which featured a Jet-Action Spreader Deflector. The spreaders were a hit with the public and warranted the establishment of gigantic LESCO service centers in Florida and Texas. The company also began developing another one of its core products…grass seed.
LESCO was soaring and, by 1985, the company was trading publicly on NASDAQ…not bad for a company that started with just five employees.
LESCO's Mower Series
In 1986, the company unveiled its first-ever lawnmower, the Lesco 300 Greensmower.
LESCO 300 Greensmower
The triplex riding mower was, as you can imagine, an instant success. Powered by an 18-horsepower Kohler Magnum (Twin-cylinder 4-cycle), the 300 featured three articulated cutting units that helped it deliver Professional Golfers' Association (PGA)-quality cuts with relative ease.
The 300 Greensmower also featured power steering, which made it much more maneuverable than rival machines. You also had an advanced oil filtration system that improved the longevity of the engine and hydraulic components, as well as shock-absorbing measures designed to minimize vibrations. Additionally, the rear-wheel-powered mower had a 9-gallon gas tank.
To see other great articles about mowers from LawncareGrandpa.com, see these…
LESCO 500 Fairway Mower
Soon after, LESCO unveiled the equally impressive 500 Fairway Mower, which had a powerful three-wheel hydraulic drive system. At the heart of this riding mower's performance was a 24-horsepower Onan motor, which also featured twin cylinders. 
The 500 was not only famed for its PGA-quality cutting, but also the "lightweight" profile that allowed it to work fairways without leaving scuffs. You had five articulated cutting units and light grass catchers for the clippings. Another awesome innovation was the mower's positraction feature which facilitated slip-free slope mowing.
Both the 300 Greensmower and 500 Fairway Mower could also make use of LESCO's optional Thin-Cut attachments for extra sprucing. LESCO also designed both mowers to allow for easier access to valve spools, which made service much more straightforward. 
LESCO's vice-like grip on golf course contracts was seemingly growing tighter and tighter. This new manufacturing prowess reduced the level of outsourcing, with the 1990s seeing the debuts of LESCO-manufactured irrigation systems, control products, and more lawnmowers.
LESCO Enters The Mainstream Mower Market
As the new millennium approached, LESCO decided to enter the mainstream commercial mower market. However, the level of existing competition in this market meant that producing in-house mowers would be a financial gamble.
Therefore, company heads turned to a tried and tested approach: outsourcing.
LESCO soon joined forces with Commercial Turf Products, a subsidiary of power equipment giant MTD, and began rolling out lawnmowers. Basically, Commercial Turf would manufacture the machines and LESCO would slap their brand on them.
This union proved fruitful and yielded several excellent lawnmowers. The undoubted standout was the peerless HydroWalk-Behind. This awesome rotary mower was available with a 36, 48, or 52-inch fixed mow deck as well as standard and wide-track configurations. The deck was 10/7-gauge steel.
All the deck size specs were powered by 4-cycle Kawasaki motors (with twin cylinders, of course). The 36-inch had a 15-horsepower engine, while the 48 and 52-inch specs had 17 and 19 horsepower respectively. The latter two specs also featured three blade configurations while the 36-incher had dual blades.
The 52 and 48-inch models also boasted revolutionary starters that significantly reduced downtime compared to industry averages at the time. 
The Hydro was also a breeze to come to grips with thanks to its relatively simple control panel. Steering was well balanced and, thanks to the positioning of the steering levers, one could easily maneuver this heavy walk-behind mower with minimal fuss.
The ground speed control levers allowed for precise manipulation of the mower's self-propulsion capabilities, which was always appreciated. This made mowing on slopes easier and safer.
Although the Hydro was an outsourced product, LESCO was fully equipped to provide support for customers. In addition to full servicing and repairs, LESCO also provided handy maintenance guides and usage tips to help owners maximize this classic machine's potential.
LESCO Mowers Become A Subsidiary Of SiteOne
LESCO chugged along for the rest of the early 90s, earning more success and customers. In 2007, John Deere Landscapes (later SiteOne Landscape Supply) made a formal approach and launched a takeover bid for the brand. The bid was successful and LESCO continued on its winning trajectory.
LESCO, now a subsidiary of SiteOne, then entered another outsourcing deal with yet another MTD brand, Cub Cadet.
This relationship yielded the LESCO Z-Two zero-turn mower, a twin of Cub Cadet's own ZTR. Both machines were manufactured by Cub Cadet. The only difference was that the Z-Two had LESCO branding while the ZTR had Cub Cadet insignia. Both mowers were powered by a 25-horse Kawasaki engine.
The LESCO Brand Walk Behind Mowers Leave The Market
Despite the quality of LESCO mowers, market share was proving difficult to win. Rival brands like Toro and Exmark were well entrenched and made LESCO's continued presence in the lawnmower market a financial loss. Additionally, these other brands had also taken over LESCO's golf domain with their wider mower ranges.
Eventually, the decision to pull LESCO out of the lawnmower industry was made and the company hasn't produced a lawnmower since the mid-2010s.
How Much Do LESCO Walk Behinds Cost?
Though these quality machines are not in production today, there is a way to get your hands on one. They can be bought on sites like eBay, through forums, or even local used mower dealers. If this is your plan, how much would you be looking at spending on a LESCO walk behind?
A used 48″ deck professional LESCO walk behind will cost between $1000 to $1800 depending on the condition of the machine and the accessories included. To purchase a 36″ LESCO mower, it will run between $750 and $1200 depending on manufacture date and condition.
It is advisable to research the size you will need as well as the seller. You will also want to look at the cost of replacement parts and any costs for labor if you are not planning on maintaining the machine yourself.
The reason the company merged with others is the competitive nature of the mower market. It really had nothing to do with the quality of their machines. You can buy a used LESCO walk behind with confidence, as long as you are realistic with buying a used mower in general.
How Do You Use A LESCO Walk Behind Mower
There are a few things to keep in mind, but overall the LESCO walk behind is an easy mower to use. Let's look at some of the key points to operating one of these machines.
To start a LESCO Walk behind, make sure the forward handles are in neutral (or it won't start).
The key ignition is normally next to these handles.
The blade engagement lever needs to be up to start and down to engage the blades.
The emergency brake is in the up position when engaged and all the way forward and down to release.
The engine throttle controls the engine speed and the choke for starting.
When starting, make sure the handle grips are in the neutral position.
To start it has a pull cord starter system.
To operate or continue operation, hands must be on the safety handles at all times while in forward gear and with the blades engaged.
Controlling left or right direction by pulling on the left or right under handle grips.
For reverse, pull the forward handles back to neutral and pull the under handle grips.
Is LESCO Still In Business?
Despite being out of the lawnmower game for the foreseeable future, LESCO continues to be one of the world's leading agronomics companies. This is largely thanks to its unparalleled success with fertilizers and grass seed, avenues that continue to be its bread and butter. 
Today, LESCO produces awesome fertilizers like LESCO CarbonPro, a game-changing turf fertilizer that facilitates deep root formation, water retention, and increased nutrient uptake.
The company also produces a wide range of cool and warm-season grass seeds. If you're on the market for bluegrass, ryegrass, buffalograss, or zoysiagrass seed (among a host of others), LESCO has just what you are looking for.
The company also sells various control products (herbicides, fungicides, insecticides) and equipment like push spreaders, truck-mounted spreaders, sprayers, and much more.
For those looking for the last spreader you will ever need, I recommend their very popular, heavy duty Lesco High Wheel Fertilizer Spreader that can be found on Amazon.
The Final Touches On Lesco Walk Behind Mowers…
Though LESCO is no longer in the walk behind mower business, they are still around at the top of their game in the fertilizer and spreader market. They also are well known for their grass seed.
If you are looking into getting a used LESCO walk behind mower, they are well respected and designed by a company that was the 'go to' name in golf course maintenance for decades.
You can buy one with confidence in the company if you are careful about who you buy from and how they cared for the machine.
Here are other articles you will enjoy…
References
https://archive.lib.msu.edu/tic/flgre/page/1986fal2-10.pdf
https://archive.lib.msu.edu/tic/flgre/page/1988fal2-10.pdf
http://www.fundinguniverse.com/company-histories/lesco-inc-history/