When it comes to lawn tractors, very few brands can hold a candle to the famous Deere. The American manufacturer continues to be an industry leader when it comes to efficiency, reliability, comfort, and style.
However, today we won't be focusing on any machines in the modern lineup, as we roll back the years and take a look at a classic John Deere lawn tractor line.
Sabre John Deere lawn tractors are discontinued models that were abandoned because of the many problems customers experienced over their 7 years of production. Due to these problems and the fact that they were designed as an economy Deere model, it may not be a used mower worth buying.
That's right, we're talking about the Sabre series. These bad boys were a hot topic in the 90s before their eventual discontinuation in the early 2000s. Join us as we discuss these interesting machines and the viability of getting one today.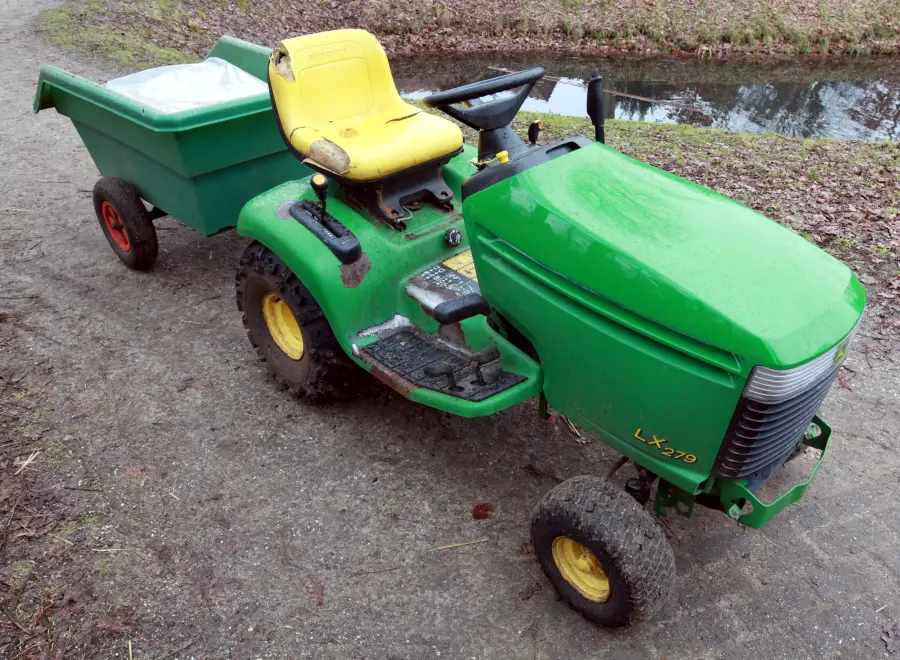 Who Makes The John Deere Sabre?
John Deere has been in the lawn tractor market for nearly 60 years, a run that was kicked off by the revolutionary 110 way back in 1963.
Although the company's main headquarters are in Moline, Illinois, its lawn and garden equipment (since the emergence of the 110) has been based in Horicon, Wisconsin. The modern lineup, which includes impressive tractors like the X750, are all made in America's Dairyland. Granted, the scale of demand has prompted the setup of supplementary manufacturing sites.
One period that was key to securing Deere's place among the kings of residential and commercial lawncare was the 1990s, where a rather interesting development took place…
The O.M. Scott & Sons Company, which had been a major player in the grass seed industry since its emergence in 1868, found itself stuck in a bad marriage with manufacturing titan ITT…and the seed men wanted out.
The goal of Scotts had been to make use of ITT's vast know-how and facility base to pivot into making lawnmowers for residences as well as commercial spaces like golf courses, as both markets were being snapped up by would-be rivals like Toro.
However, ITT was not moving at a satisfactory pace, and the heads at Scotts decided to call it quits. 
After some corporate gymnastics, Scotts managed to wiggle out of their arrangement in 1992 and immediately set about looking for a new suitor.
After three years of trialing and rejecting various proposals, Scotts eventually found themselves in a healthier situation, a merger with Miracle-Gro Products. Miracle-Gro was also looking to consolidate its position in the gardening industry ahead of the new millennium. 
Shortly after the completion of the merger, the Scotts Miracle-Gro Company immediately sought a joint venture with established lawnmower manufacturers. Eventually, the company found its way into mutually beneficial coalitions with the American Lawn Mower Company and (you guessed it) …the Deere.
The arrangement was pretty simple. The American Lawn Mower Company would produce manual reel mowers bearing the Scotts brand.
Power mowers, on the other hand, fell under John Deere's control, and this relationship yielded a few notable walk-behind mowers.
However, the primary focus was always on lawn tractors, which were also beginning to gain popularity in the residential lawncare arena. 
Deere and Scotts opted for a two-pronged approach to penetrating this burgeoning market. Beginning in 1996, John Deere would manufacture a range of Scotts-branded lawn tractors and a range of Deere branded tractors. Essentially, these two sets of mowers were like-for-like machines with different skins.
The Deere side of that prong went on to be named the Sabre series. The Scotts machines were not given a particularly special moniker. However, the aim was the same.
There was an acceptance by the top brass at Deere and Scotts that the lawn tractors had to be made more affordable than the more commercially-oriented machines the former was producing at the time.
The Horicon factory promptly went to work and, in 1996, the first Sabres were born. Briggs & Stratton was the main engine supplier for the Sabre series, with some models making use of Kohler motors. 
In total, seven Sabre Deeres were released in the first year of the collaboration. Standout models included the 1538HS (38-inch deck and 15 horsepower engine), the 1338GS (38-inch, 13 horsepower), and the 1646HV (46-inch, 16 horses).
This first batch of Sabers firmly established the new range as useful, but reasonably priced, machines that could handle most homeowners' demands.
Unfortunately, when manufacturers talk about making things cheaper for consumers, it is almost always code for cost-cutting at some stage of the production process.
While the Sabres were pretty-looking and good at cutting grass, they just didn't last as mainline Deeres. As a result, many of the 1996 Sabers were shelved by the end of 1997. Models like the 15.538HS and 1646HS and HV soldiered on a bit longer before being pulled in 1999.
Short lifespans were the general theme for subsequent Sabres, with most of the lineup lasting for 1-2 years. Some spectacular flops, such as the 1948GV, 1846HV, 14.542GS, 1638HS didn't even reach 12 months of production before being pulled.
That's not to say it was all doom and gloom for the Sabres, far from it. Machines like the 2254HV and the 1642HS were more in keeping with the John Deere tradition of quality. These tractors, which debuted in 1998, generally lasted through to the end of the Sabre series in 2002.
All in all, Deere produced 35 Sabres between 1996 and 2002. Mow decks ranged from 38 inches all the way to 54 inches, while engine output ranged from 13 horsepower to 25 horsepower across the entire lineup.
What Models Were John Deere Sabres?
To get an idea of what models were made in the Sabre line, here is a chart that lists them by the year they were released onto the market. This data is accurate according to several sources. Make sure to check with owners manuals to verify for the model your interested.
| | | |
| --- | --- | --- |
| Years Of Manufacture | Deck Size | Model Number |
| 1996 – 1997 | 38″ | 1338GS |
| 1996 – 1997 | 38″ | 1538HS |
| 1996 – 1997 | 46″ | 1546GS |
| 1996 – 1998 | 38″ | 15.538GS |
| 1996 – 1999 | 38″ | 15.538HS |
| 1996 – 1999 | 46″ | 1646HS |
| 1996 – 1999 | 46″ | 1646HV |
| 1997 | 38″ | 1638HS |
| 1997 | 46″ | 1646GS |
| 1997 – 1998 | 38″ | 1538GS |
| 1998 | 42″ | 1542GS |
| 1998 | 42″ | 1642GS |
| 1998 | 42″ | 1642HV |
| 1998 | 42″ | 1842GV |
| 1998 | 42″ | 1842HV |
| 1998 – 1999 | 48″ | 1848GV |
| 1998 – 1999 | 48″ | 1848HV |
| 1998 – 1999 | 48″ | 2048HV |
| 1998 – 1999 | 54″ | 2254HV |
| 1998 – 2001 | 42″ | 15.542HS |
| 1998 – 2001 | 38″ | 1438GS |
| 1998 – 2001 | 42″ | 1542HS |
| 1998 – 2001 | 42″ | 1742GS |
| 1998 – 2001 | 42″ | 1742HS |
| 1998 – 2002 | 42″ | 1642HS |
| 1998 – 2002 | 54″ | 2554HV |
| 1999 | 46″ | 1846HV |
| 1999 – 2001 | 38″ | 1438HS |
| 2000 | 48″ | 1948GV |
| 2000 – 2001 | 46″ | 2046HV |
| 2000 – 2002 | 48″ | 1948HV |
| 2000 – 2002 | 48″ | 2148HV |
| 2000 – 2002 | 54″ | 2354HV |
| 2002 | 42″ | 14.542GS |
| 2002 | 42″ | 17.542HS |
Now that the Sabre line has been discontinued and the new L100 series has taken its place, these are the only ones that are still in circulation. No more Sabre mowers will be produced.
Did John Deere Stop Making Other Mowers?
If there are no longer any Sabre Deeres being made today, then what does that say about other models they have had through the years? Did they stop making walk behind mowers or other machines?
The John Deere company, its partners, and subsidiaries did stop making walk behind versions of snow blowers and lawn mowers in 2012. Their most lucrative sales mandated that they spend more time and resources producing their commercial and residential models of riding and zero turn mowers.
Along with the Sabre series, other John deer models have left the market. Some of these simply had lower margins and sales, while others like the Sabre produced more problems than the profit warranted.
All in all, the Sabre line was a mixed bag of decent sales and continual headaches for the company. Though there was a demand for lower priced John Deere models, producing them with the same standard of quality that consumers expect from a Deere proved impossible.
Is The Sabre A Lower Quality John Deere Mower?
In a sense, yes. Although, John Deere itself is highly unlikely to say that outright.
However, the Saber series was made to help Deere and Scotts take advantage of emerging markets made up of landowners who couldn't afford the former's premium lawn tractors.
In essence, Sabres were "economy" Deeres. They were made for customers looking for a lower cost option in the new lawn tractors gaining a foothold in the market in the mid 90s. They were not built to fail, but were designed with less material and options for a lower price point.
And, boy, did it show at times.
The mowers were routinely plagued by drive belt issues, starting and choke problems, leaks, paint chipping, and battery problems. There were also complaints about ride comfort, especially after extended periods.
However, perhaps the biggest problem with these mowers was with the hydrostatic systems, which would often just peter out inexplicably. Eventually, customer dissatisfaction levels reached a point that made dealers reluctant to sell the machines.
Fearing for their long-established reputation, Deere heads eventually terminated the Sabre line, and the company's association with Scotts, in 2002.
Nowadays, you may come across a Sabre lying around in somebody's yard collecting dust. However, some owners managed to take care of their Sabres so well that they sold them on to other people.
So, should you go for a second-hand Sabre?
That depends on a number of factors, most of which will be rooted in your own circumstances.
That said, we highly recommend that you go for a well-maintained 1642HS, as this model appears to be the best built. However, do not expect such a machine to be the backbone of any commercial landscaping endeavor otherwise you risk running the tractor (and, possibly, your business) into the ground.
A second-hand Sabre will probably last if you mow very infrequently (maybe once every two weeks) and if you stay on top of service.
If such an approach is not suitable for you or your yard, then a purchase is probably not worth it.
The Final Touches On Sabre John Deere Lawn Tractors…
These economy style riding mowers were a bit of a detractor for the legendary power mower brand name. They tried to fill the demand of the lower end market, only to create more problems than solutions.
These mowers can be upkept and used, but they were not designed to last and definitely not made for commercial use. For smaller yards and infrequent mowings, a used model Sabre could do the trick.
Just make sure you keep up with maintenance and repairs if you have one or plan to purchase one of these Deere models.
References