Maintaining a neat hedge and lawn can be a monumental task, so you need every bit of help you can get. Hedge trimmers are among the most popular tools for dealing with hedges and string trimmers keep the edges of our lawns neat and clean. Today we're focusing on two brands that have perfected the art of making these tools.
With Stihl trimmers being priced lower on average than ECHO brand machines and warranties being similar, differences in options and models bring the two back to an even return on investment (ROI). The best of the two truly relies on picking the model that works for the job no matter which brand.
It's Germany vs the USA today, as we pit Stihl hedge trimmers up against their counterparts from ECHO. Join us as we discuss the overall worth of each brand's string and hedge trimmers and how they may suit your particular needs.
We will highlight some standout models for your reference so that, by the end of this article, you have a clearer idea of the best trimmer for you.
Let's go.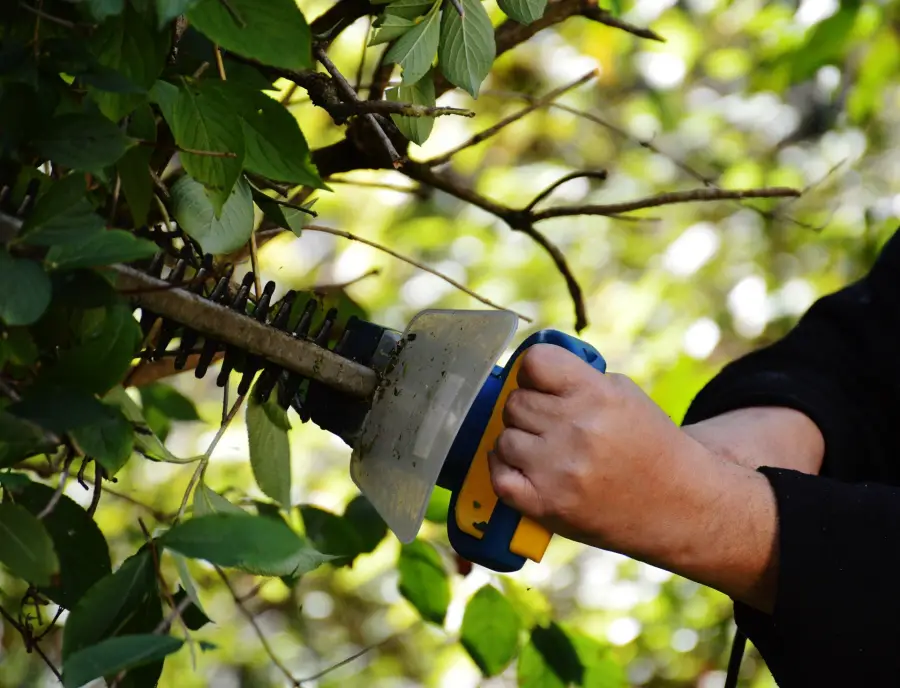 Are Stihl Trimmers Worth It?
Stihl is a name that needs no introduction. 
Even people with absolutely no knowledge of power tools are probably familiar with the famous brand and its iconic logo.
German Engineering Brings A Stellar Stihl Reputation
The German company is HUGE, with nearly 14,000 employees who are directly or indirectly involved with producing, distributing, marketing, selling, and servicing its vast range of equipment. The brand is most famous for its trusty chainsaws, but its other products are just as dominant in their respective markets.
Hedge and string trimmers are prime examples, and Stihl's machines have ridden on the company's stellar reputation long enough to gain even more loyal customers. 
At the time of writing, Stihl produces hedge and string trimmers for residential and commercial use. There is a wide range of machines to choose from, which means there is a Stihl trimmer for everybody.
Stihl Combustion Vs Electric Engines
Combustion is still the primary modus operandi for most trimmers in the Stihl lineup. Stihl's industry-leading engine building, combined with the current limitations of electric power, means that gasoline is still the best energy source for trimmers. This is especially true for commercial machines.
That said, Stihl strives to adhere to environmental laws and ordinances by producing engines that are both quiet and low on emissions. 
Additionally, like a lot of established power equipment makers, Stihl is gradually increasing its range of electric trimmers. Both corded and battery-powered trimmers are gaining popularity, especially among private residents.
Stihl Handling And Ergonomics
Another area of great importance to Stihl is ergonomics. All trimmers come with handles that offer great support. Vibrations are also managed with classic German efficiency, making the tools more usable for people with certain physical impairments.
Safety is another big one, and the hedge trimmers are all equipped with front handguards as standard. Most models also feature secondary support handles to avoid the risk of slipping.
All string trimmers come with handles that are built for long weed whacking sessions. You also get to choose between straight and curved shafts depending on the number of obstacles you'll be navigating.
Stihl Trimmer Pricing
Value for money is an obvious consideration for most would-be buyers.
Stihl string trimmers are a bit on the pricey side, with residential models averaging in the $250 range. Commercial machines will set you back about $400 or more. Of course, pricing will vary depending on the specific model chosen and any optional extras you go for.
Stihl hedge trimmers vary greatly in price. Residential units are typically cheaper than commercial machines. Of course, pricing will vary depending on the specific model chosen and any optional extras you go for. All in all, expect to pay anywhere between $300 and $700, with commercial machines on the pricier side of that spectrum.
Stihl String And Hedge Trimmer Build Quality
Besides pricing, build quality and ease of use are the other contributors to value for money, and Stihl trimmers boast both. The machines are built from high-grade materials such as aluminum and polymers to ensure that you will be tending hedges and edges for a long time to come. They also have features like Easy2Start as well as user-friendly instruction manuals.
Easy2Start is a particular favorite because it reduces the need for excessive force when pulling a recoil starter cord, for instance.
If you opt for a Stihl trimmer, you will also be able to benefit from a wide range of official service shops, dealers, and online support forums if you ever run into problems. 
You will also benefit from Stihl's generous warranty policies. All gas-powered hedge trimmers (commercial or private-use) have 2-year limited warranties, while electric and battery-powered machines have 3-year (private-use) and 2-year (commercial) warranties.
To read more articles you will like…
Stihl Hedge Trimmer Options
Now, let's take a look at some standout Stihl hedge trimmers.
The HS 56 RC-E Stihl Residential Hedge Trimmer
The HS 56 RC-E is arguably the best entry-level residential hedge trimmer around, and for good reason.
Power, ease of use, low emissions, and more, the lightweight HS 56 RC-E has everything you need to efficiently shape up your hedges every time. 
Powered by a 1.31 cubic inch engine that produces 0.87 horsepower, the gas hedge trimmer packs quite a wallop. The 22-inch double-sided blade system makes use of every bit of that power output to deliver a level of cut that would rival any pro machine.
Notable features include a front handle that makes handling the 10 lbs. trimmer a breeze. Another of our favorite features is how smooth the machine runs, thanks to the Anti-Vibration system. The HS 56 RC-E's corrosion-resistant polymer housing is another quality touch that ensures you can prune wet leaves without worry.
The HS 82 R Commercial Hedge Trimmer
Naturally, the theme of quality extends to the commercial side. Our pick here is the versatile HS 82 R, a bona fide pruning monster.
Power and ergonomics are the central themes with this special trimmer, ensuring that no task is too big. The HS 82 R also comes with a 24 or 30-inch blade system. Like the HS 56 RC-E discussed above, this blade is double-sided. However, the HS 82 R's blade is specifically oriented towards thinning and rejuvenating woody shrubbery.
The 12-lb machine has a 1.4 cubic inch engine that churns out 0.94 horsepower. The busy little engine hits impressive speeds of up to 3,100 strokes per minute. Not bad.
Other features include high-tech polymer housing and a throttle trigger interlock. Anti-Vibration and a front handle are standard and necessary. The throttle response on this bad boy is something that is best experienced as it is almost indescribably instant.
HSE 70 Stihl Corded Hedge Trimmer
Next is the HSE 70, Stihl's top corded hedge trimmer.
This machine is the future of hedge maintenance. Capable of operating in almost perfect silence, the HSE 70 is here to take you one step closer to throwing away your noise guideline book for good.
The 120V trimmer has a motor output of 4.5 amps and 3,200 strokes per minute. It also weighs in at 9.3lbs and features a looped front handle for added control.  The 24-inch blade system features laser-cut teeth that retain sharpness for a long time, as well as a protection tip.
Other features include a transparent front handguard, reduced emission technology, and a built-in cord retainer.
The HLA 135 K Battery Powered Stihl Hedge Trimmer
Finally, we have the HLA 135 K. This battery hedge trimmer is a commercial machine designed for landscaping professionals who would prefer to avoid using the ladder. 
This long-reach trimmer is designed for comfort over long work sessions, as evidenced by its lightweight materials and simplistic design.
The 24-inch double-sided blade system counterbalances the motor well and the middle-length shaft is key to this. You get a midshaft grip for added maneuverability.
The HLA 135 K and its blades are powered by an AP Series battery that gets the rapid brushless motor to deliver just over an hour of pruning time. You also get an instantaneous throttle system with three-speed modes. All three modes produce almost no noise…and zero emissions.
The hedge trimmer weighs in at 13.3 lbs. with the battery loaded up. This is where that shaft grip comes in handy, as the weight is evenly distributed to reduce strain.
The HLA 135 K's other features include a protective blade scabbard for safe storage, an onboard air filter, and a safety locking button to prevent accidental startups when the battery is loaded up.
Stihl String Trimmer Options
Like the hedge trimmer variations, the string trimmer options are pretty impressive. There is a model for just about any owner and any job.
If you choose one of these options, don't forget your Stihl trimmer line found here on Amazon.
FS 56 RC-E Stihl Gas Powered String Trimmer
The FS 56 RC-E is arguably the cream of the crop when it comes to gas-powered residential trimmers, and for good reason.
The straight shaft FS 56 RC-E has all you require to quickly clear your yard edges of weeds. 
With a 1.66 cubic inch engine that produces 1.07 horsepower, the trimmer is 5% more powerful than its predecessor, the famed FS 55 R. The machine requires 11.5 ounces of fuel. The standard cutting width is 16.5 inches.
One useful feature is an adjustable front handle and shoulder strap that make handling this approximately 10 lbs. machine a simple task. An additional favorite of many users is how smooth the string trimmer runs thanks to the fully lined drive shaft. It's corrosion-resistant polymer housing is another quality touch.
FS 240 Stihl Commercial String Trimmer
The commercial versions of Stihl's offerings displays just as much quality. I suggest here the bike-handled FS 240, a certified obstacle master.
Like with the Stihl hedge trimmer counterparts, power and ergonomics are important aspects with these string trimmers. The FS 240 also comes with Stihl's pro-grade SuperCut Line cutting head. It can also be equipped with saw blade and even brush knife implements for heavier duty tasks.
The 15.2 lbs. machine has a 2.3 cubic inch engine that pumps out 2.3 horsepower. Like the FS 56 RC-E, you get a 16.5-inch cutting width.
Features include a fully lined drive shaft, high-tech polymer housing, and an innovative throttle trigger interlock. A heavy-duty steel-on-steel clutch has been used to minimize occurrences of slippage. As you can imagine, the bike handle allows for greater control and the soft grips will benefit operators during long sessions.
Stihl FSA 135 Commercial Electric String Trimmer
The bike-handle configuration is also used for the FSA 135, a commercial-grade electric trimmer that Stihl describes as "a true game-changer". With zero emissions and almost zero noise, the FSA 135 is an environmental darling that is no less of a menace to weeds. 
The machine is powered by an AP Series battery that lasts for about 45 minutes. It has a 16.5-inch cutting width and weighs 10.8lbs. The motor whirs along silently and requires very little maintenance.
Other features include an ergonomic loop handle, built-in battery indicator lights, and a safety locking button that prevents accidental starts when the battery is reinserted.
The FSE 60 Corded Stihl String Trimmer
Finally, we have the FSE 60. This corded trimmer is a residential machine that is optimized for small to medium-sized yards. The lightweight (8.8lbs.) trimmer has a motor output of 5.3 amps and a 14-inch cutting width. 
Features include a handy loop handle, a built-in cord retainer, and start/stop controls on the handle.
Are ECHO Trimmers Worth It?
American brand ECHO has been in the outdoor power tools business for about 40 years now, and they have picked up some nifty tricks along the way.
ECHO Trimmer Models
This expertise is reflected in the company's range of hedge and string trimmers. At present, ECHO makes 16 hedge trimmers, 13 different handheld string trimmer models and 2 wheeled string trimmers.
ECHO prides itself on similar values as Stihl. Efficiency, safety, value for money, and ergonomics are the brand's defining themes. 
However, the most impressive aspect is the sheer versatility of options on offer. In addition to the classic chainsaw design, you get models with elongated shafts to help with your reach. Private-use and commercial markets are both catered for of course.
While the company is making strides to get onside with environmental guidelines, combustion is still the only power source for its hedge trimmers and by far the most commonly used power source for both wheeled and handheld string trimmers. String trimmers on the other hand come in several electric powered models.
ECHO Trimmer Features
Like with Stihl's trimmers, ECHO machines are chockful of features.
You get things with their hedge trimmers like debris shields, comfortable grips, and world-class shock absorption. All this is in addition to sets of aggressive teeth with an insatiable appetite to prune.
With ECHO handheld string trimmers you have either curved or straight shafts. You also get features like variable speed control, deflector kits, and replaceable cutting head implements.
Unfortunately, there isn't a handheld string trimmer model with a bike handle configuration, with loop handles being par for the course. However, the heavier machines feature safety straps for additional support.
ECHO Trimmer Engines
ECHO gas trimmers have 2-cycle motors that have lower emissions and noise levels than most of their competitors. You won't need to worry too much about disrupting your neighbors as you take care of your yard. That said, you might want to keep observing your local noise hours to be on the safe side.
Wheeled string trimmers run on outsourced 4-cycle motors.
ECHO Trimmer Pricing
Pricing for ECHO hedge trimmers ranges from approximately $300 to about $600, with optional extras bumping up the overall MSRP.
Prices for ECHO string trimmers range from about $150 for entry handhelds to about $1,000 for the top-spec wheeled machines.
Most all trimmers also have 5-year warranties for private use and 2-year warranties for commercial use.
ECHO Hedge Trimmer Options
So, which ECHO trimmer should you go for? What machine will trim your hedges or edge your lawn with ease at a price that won't brake the bank?
HC-2420 ECHO Hedge Trimmer
Well, for starters, we recommend that you take a look at the HC-2420, one of ECHO's best-selling tools. This awesome machine is part of ECHO's X Series, so you can always bank on extreme performance, and excellent results on your own property or for your commercial clients.
The HC-2420's cutting power is something to behold too. It boasts the snippy RazorEdge double-sided blade system (24 inches) with double reciprocation. Powered by a 21.2cc 2-stroke, the HC-2420 is a glorious tool to use.
Another reason to love the HC-2420 is the 5-position rotating handle. Now you can trim at all angles without the pesky awkwardness that we're all-too-familiar with. Vibration control is also very nice, allowing for more precise pruning and longer work sessions.
With commercial-grade air filtration, reduced-effort starting, and a bargain base price of $499, the HC-2420 is one heck of a trimmer. The reviews continue to come in glowingly.
HCS-4020 ECHO Single Sided Hedge Trimmer
Next is the HCS-4020, arguably the best handheld hedge trimmer in the ECHO stable. The lovely single-sided cutter is powered by a 21.2cc 2-stroke motor. With 40 inches worth of blade, this trimmer will make quick work of all small and medium shrubbery and hedges.
The 13-lb trimmer was born for work and its professional DNA is evident in the design and features. The gearbox, for instance, is well-positioned under the handle to minimize the number of passes in that direction. You also get a leaf collector for quick tidying up. 
Despite its noticeable heft, the HCS-4020 is well balanced and unlikely to cause strain during marathon pruning jobs. The front-hand safety guard is very supportive and makes wielding the trimmer child's play.
One criticism often leveled at ECHO trimmers is their slightly delayed throttle response. Well, someone in the engineering department was listening because the HCS-4020's trigger is highly pressure-sensitive and on par with some of Stihl's best. At nearly $550, it better be.
ECHO's SHC-2620S Lightweight Hedge Trimmer
Next, we have the SHC-2620S, a lightweight hedger with incredible reach.
Say goodbye to standing on your tippy-toes and say hello to 42 inches of non-stop pruning action. 
The 25.4cc SHC-2620S is a double-sided trimmer that is equipped with 3-sided teeth for extra zip when engaged. With its manageable 12.7-lb weight and a mid-shaft handle, the trimmer is very easy to come to grips with.
You get easy starts in all conditions, as well as an advanced cooling system to ensure consistent combustion. 
The SHC-2620S starts at nearly $500 and has a 2-year commercial warranty. For private use, ECHO will give you five years' worth of cover.
ECHO String Trimmer Options
So, which ECHO trimmers should you go for? There are several good options. Let's take a look at the ones we grandpas would suggest for different situations.
The CST-58V ECHO Residential String Trimmer
First, I suggest the CST-58V, an awesome residential handheld trimmer that runs on battery power. You can opt for a 2Ah or 4Ah battery pack. You can also set the machine to battery saver mode or performance mode.
The CST-58V's cutting ability is rather impressive, and you get an adjustable cutting width range of 14-16 inches. The 14 lbs. machine comes with a nice loop handle with a comfy grip.
ECHO SRM-3020T String Trimmer
Then we have the SRM-3020T, which I believe to be one of the the best string trimmers in the ECHO lineup. This well designed straight shaft machine runs on a 1.8-horsepower engine with 30.5ccs of displacement. You get a 20-inch cutting radius thanks to the Speed-Feed 450 cutting head that comes standard.
This commercial-grade machine boasts a ton of features, including over-molded grips on the handle and 2:1 gear reduction. Its 13lb weight is well balanced and unlikely to cause strain during marathon de-weeding jobs.
The ECHO WT-161HSP Self-Propelled Wheeled String Trimmer
On the side of the wheeled trimmers, we have the ECHO WT-1610HSP. This self-propelled beast is every weed's worst nightmare and every pro landscaper's dream.
At the heart of the trimmer's power is a 163cc Honda GCV engine that propels the machine to a steady 2 mph pace. You also get a three-speed transmission and a 24-inch cutting radius.
The WT-1610HSP has a 10-gauge steel housing to keep dirt and debris out of sensitive areas, as well as tough 16-inch all-terrain wheels. The handlebars can be collapsed to make the trimmer more compact for storage and transportation. Definitely worth a look at.
Final Touches On Stihl Vs ECHO Hedge And String Trimmers…
Choosing any of the options available between these two giants in the lawn care industry will be a good choice as long as the intended use of the model fits the job. Both companies design and manufacture their products with high performance and quality standards.
It is important to select the proper model no matter the brand, which happens to be the number one thing that ensures expected results and the longevity of the tool.
Here are more articles you will enjoy…
References
https://www.echo-usa.com/Products/Hedge-Trimmers
https://www.stihlusa.com/products/hedge-trimmers/
https://www.echo-usa.com/Products/Trimmers
https://www.echo-usa.com/Products/Wheeled-Trimmers
https://www.stihlusa.com/products/trimmers-and-brushcutters/