A snow blower helps blow snow away from places where it is not wanted. There are different snow blowers manufacturers; Honda, Toro, Ariens, and MTD are good brands. Amongst all these brands, MTD stands out. So, is the MTD Snowflite snow blower a good option?
Though MTD doesn't make the snowflite line of snowblowers anymore, the used ones that can still be found on the market are good options. They may need some extra time, money, and effort to get them running like new, but the thicker and more durable construction makes them worth it.
MTD has several snow blower models, and there are specific criteria you need to consider before you pick one. You can read all about it in this article.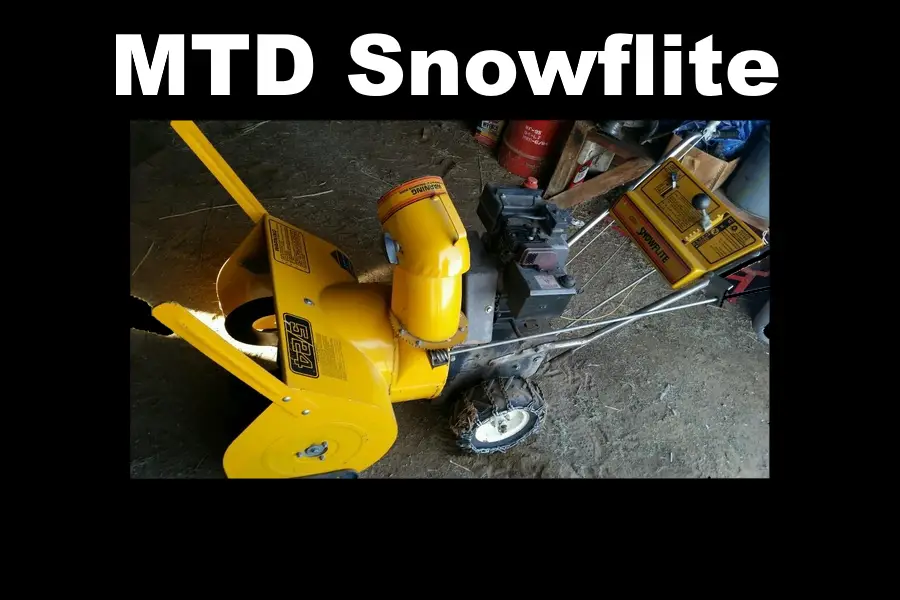 Is The MTD Snowflite Snowblower A Good Option?
MTD Snowflite is a line of older models of snowblowers made by the company back in the '70s. You can rarely find them today because MTD discontinued the line of snowblowers.
The MTD Snowflite was the go-to snowblower back in the day, and it is still a valid option today. However, if you happen to come across a Snowflite, it might not be in the best condition, meaning you have to spend a few extra bucks trying to repair it or buy replacement parts.
They are great machines made completely from metal except maybe the gas cap, the pull rope, and the wheels. 
Like most older machines, the metal on the Snowflite has thicker and more durable metal than modern-day machines made from thinner recycled metal. 
Also, you will find that controls are more rugged and better made on the Snowflite. Yes, newer machines have features that older ones do not have, but how durable are these new features is the question.
Aside from its powerful snow-blowing ability, this machine is very loud. Therefore, using it during the winter season might annoy your neighbors. 
Regardless, the MTD Snowflie Snow Blower is a fantastic option. It was incredible back in the '80s, and it still is today.
Remember that buying an MTD Snowflite Snow Blower today means you are getting it second or even third-hand. Therefore, it shouldn't be overly expensive. Anywhere between $100 to $150 is a great deal for these machines.
To find a new snow blower that works as well or better for a comparable price, I suggest this best seller from Amazon… Snow Joe SJ623E Electric Single Stage Snow Thrower
About MTD
MTD is a tool and machine company. Its full name is "Modern Tool and Die Company." They are one of the oldest companies involved in supplying tools. 
The company has evolved over the years and has become a leading brand in the world of machines. They not only supply but also produce their machine parts. They have several types of equipment such as yard machines, snow blower, Wolf Garten, and Cub Cadet.
Snowflite snow blower is one of the oldest models built by MTD. A common model is the Snowflite snowblower 5/24 electric & pull two stages. 
It has a five-horsepower engine, 24 inches wide, and is powered by gas. Although this model is old, it remains durable and up for the task.
To read other great articles you will enjoy from LawncareGrandpa.com…
Why Choose An MTD Snowblower?
MTD has won the hearts of many customers for various reasons. MTD manufactures their machines and parts of the machines by themselves. The parts of a machine will always become faulty at some point.
Brands that make their machine part easy to access are better options than others. Fortunately, MTD falls under this category. Since they manufacture their machines, it makes it easier for them to meet the demand of their customers.
In addition to this, MTD products are durable, effective, and come with a warranty.
MTD snow blowers have two major designs, either single or dual-stage. These designs can either be for domestic or commercial needs. The location and quantity of snow will help you make a better decision. 
MTD offers a 2-year warranty for all their snow blowers. They also make provision for the replacement or repair of any defective part. 
The retail outlet will also influence the services and offers that you get. 
How To Choose The Best MTD Snow Blower For You
Sometimes you get carried away by all the fancy functions of a product that you forget the most important thing, your needs.  Evaluate your needs first, then the product's function, before you decide on which one to buy. 
It is not always necessary to get the latest or most expensive equipment. Your needs and your finances should decide. 
Here is a list of important questions to ask before choosing a suitable model. 
How Large Is Your Yard, Walk, Or Drive
You will need a two-stage blower if you have a large yard. Two-stage machines have stronger engines; this makes them a better option for larger space. 
If your yard is small, a single-stage snow blower is all you need to clear off the snow. However, it might require a little more time than the dual-stage machine. 
What Is Your Yearly Snow Average? 
A single-stage blower is all you need if you only record a minimal amount of snow yearly. An area with a higher yearly snow average will require a stronger machine. 
Dual-stage blowers have larger and stronger engines; they are a perfect fit for clearing a pile of snow. 
Is The Area You Need To Clear Gravel or Paved? 
A dual-stage blower clears snow from irregular surfaces better than a single-stage machine. The dual-stage blower works well for areas covered with gravel and rocks. On the other hand, it will mess up a smooth surface.
A single-stage blower is the best option for clearing smooth surfaces. It leaves no residue behind after clearing the snow. 
Do You Need a Blower For Private Or Commercial Purposes? 
Whether you need a blower for commercial or domestic purposes will help you decide which model to go for. 
In this case, size is not always important. A smaller-sized machine might be more durable than a larger one. 
Dual-stage blowers are great for commercial purposes. While for residential use, either a single-stage or a dual-stage can serve. 
I have mentioned the Single-stage and dual-stage snowblower a lot in this post. Let's take a look at the best single-stage and dual-stage blower and their unique functions.  
Best Current MTD Single-Stage Snow Thrower
MTD Pro 21 is rated as the best MTD single-stage snow thrower. It is great for residential areas that experience light snowfall. But can also take care of moderate snowfall with no hassle.  
The snow thrower is small in size, weighing only 90 pounds. The lightweight makes it easy to use and maintain. 
This thrower can clear a pile of snow running almost a foot deep. This machine is up to the task if snow covers the driveways, lawns, sidewalks, or car parks. You don't have to worry about residues; the MTD pro 21 will do a clean job.
This snow thrower has an auger installed in it. The auger creates a hole that allows snow to pass through. 
The snow moves out through a hole as the chute rotates. The direction of the chute determines the direction of the snow. The chute can rotate to a maximum of 190 degrees. 
It gets even better; the thrower's side push start button by the side of the thrower makes it easy to use. This machine has stronger tires than those other popular models or brands. 
Best Current MTD Dual-Stage Snow blower
MTD Yard Machines 31AS63EF729 26" is rated the best MTD dual-stage blower. It can clear a large pile of snow without breaking down. 
It has a few things in common with the single-dual blower. This includes a push start button, user-friendly experience, two-year warranty, and they were built only for residential use. 
This machine is relatively large, measuring up to 30 feet in height. The height allows the blower to blow away a heap of snow easily.
It comes with a powerful engine (208cc gasoline engine) that does not require gas and oil to be mixed. The chute in this model can rotate up to 180 degrees, and it has an intake height of 21 inches. 
Unfortunately, this snow blower is only suitable for residential use. Also, it can only clean smooth surfaces.
The Final Touches On MTD Snowflite Snow Blowers…
If you are in the market for an inexpensive used snow blower, the MTD Snowflite could be just what you are looking for. It is important to keep in mind that the sticker price is more than likely not all you will need to spend. There could be problems to fix and parts to replace to get it up and running.
With that in mind though, the construction and materials used in these machines are something you can't find in modern snow blowers. Though not as feature rich as some of the newer versions, the Snowflite has durability on its side.
Here are some other articles you will like…