We all know that modern lawnmowers come in all shapes and sizes. From tiny reel mowers to large tractor attachments and, of course, a wide range of walk-behind and riding lawnmowers. There's a lawnmower for every patch of grass and every consumer need.
The gas tank size of non-commercial grade push mowers are between 1/4 to 2 gallons. Residential lawn tractors and riders hold 4 to 6 gallons. The large commercial grade machines like Zero-Turn mowers from Toro or Gravely walk-behinds normally hold 10 to 12.5 gallons.
When it comes to mowers with combustion engines, fuel efficiency is one of those needs. It's important to know how much fuel your mower needs, as well as how long it will last. That's exactly what we'll be discussing today. Let's get right into it.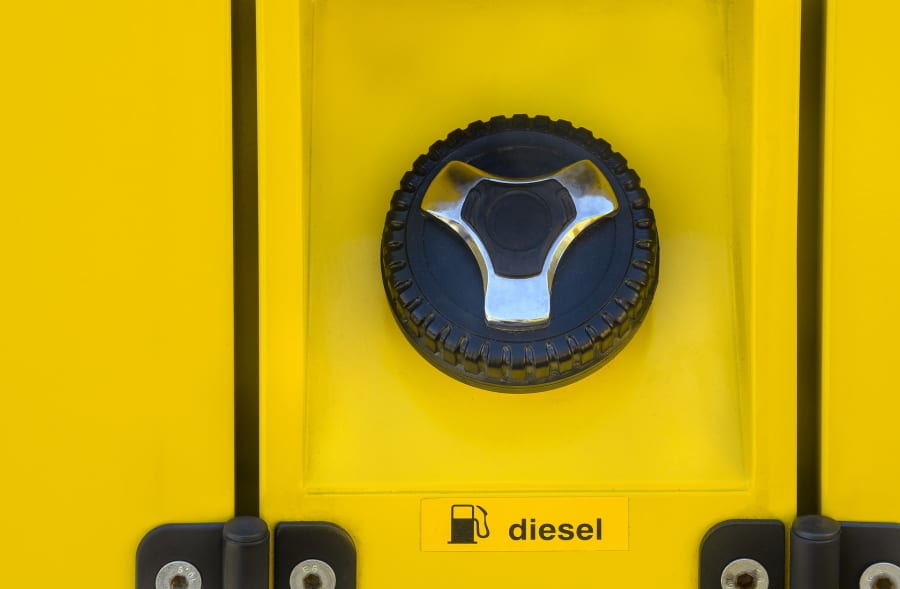 Lawnmower gas tank size
Even though electric power is rapidly gaining popularity, there's no debating the fact that combustion is still the number one power source for cutting grass. From the high-pitched whir of a 2-stroke trimmer to the droning hum of a 3-cylinder lawn tractor, there's nothing quite like the sound of exploding fossil fuel.
Naturally, different machines need different quantities of it. The "tank" on an entry-level push mower is sufficient for trimming the typical suburban backyard, but tackling a golf course would take…long enough for the grass to grow again!
So, I thought it would be a good idea to pick out different gasoline and diesel mowers from some of the best manufacturers around. I'll pay particular attention to their fuel capacities, as well as the tasks you could hope to achieve with them.
Need a good gas container for on the go fill-ups? I recommend this Briggs and Stratton Press 'N Pour 5 Gallon Gas Can from Amazon.
Exmark Laser Z 96-inch Zero-Turn
Let's kick off with one of the granddaddies of the lawnmower game. Exmark is known for its no-nonsense equipment, so you should pay attention when they unveil a machine that can devour 9.5 acres worth of grass in 60 minutes! Read that again.
Sporting an impressive (and foldable) 96-inch mower deck, the Exmark Laser Z 96 is one impressive beast. The 60 and 72-inch deck options are already crazy good, but the 96 takes it to a whole new level.
This diesel zero-turn is perfect for school campuses, parks, and golf courses. Farms are great too, but you should avoid things like wild cattle grasses, which could take a toll on the four blades. Oh yeah, there are four blades, one on each foldable wing deck and two on the main deck.
All this cutting power is fed by a 12-gallon diesel tank. Fuelled by a 37 horsepower Yanmar TNV engine, the Laser Z 96 can reach a very respectable 12 miles per hour!
Honda HRX 217
The HRX line is Honda's elite squad of residential lawnmowers. These are the best of the best, it's as simple as that. 
The HRX 217HZA is the jewel in that crown, and it is one of the few machines that can turn mowing the lawn into a chore everyone fights over! It is that good…the mulching/ bagging system, the cruise control, the idling mode. We can go all day. 
In fact, all trim levels in the HRX series are excellent and they all share Honda's class-leading twin-blade cutting system, which is aided by the handy Roto-Stop blade stopping feature. You can bag, mulch, or do both at the same time. Features, features, features.
At the heart of it all is the trusty Honda GCV200 motor. This lovely engine uses straight gasoline and requires about 0.24 gallons of it.
Toro 7500-D Series 96-inch & Toro 7500-G Series 96-inch
Some more gargantuan zero-turn fun. Toro's 7500-D 96-inch and 7500-G Series 96-inch mowers are arguably the best lawnmowers in this class, and with seals of approval from the PGA and NFL, it's hard to argue against that. 
Speaking of which, these machines can run through 7½ football fields (roughly 10 acres) in one hour! 
The D-Series is powered by a 37 horsepower Yanmar diesel with 1,642cc of displacement. Its fuel capacity is 12.5 gallons. Its gas-powered evil twin, the G-Series, has a Kohler EFI engine with 38 horses fuelled by a 12.5-gallon gas tank.
It's never a good idea to pick favorites among siblings but, if you are running a landscaping business, the diesel-powered D-Series may be a cheaper option in the long run.  
Want to read more about Toro engines? Read my article here: Who Makes Toro Lawn Mower Engines?
Husqvarna 7021P
GPS tracking and cupholders are all neat features on a mower but, ultimately, what you really want is to cut grass.
That is exactly what the simplistic Husqvarna 7021P offers. This push walk-behind is very much "what you see is what you get" and it is an awesome budget solution. You cut your grass, mulch some, bag the rest. Maybe have a beer in-between as the sun begins pounding.
The compact design ticks every ergonomic box, and its large rear wheels allow for excellent maneuverability. Four-point blade height adjustment between 1-4 inches is just one of the cool features.
The 7021P runs on gasoline and has a ¼-gallon tank. The mower has an efficient Honda GCV-160 engine that delivers 4 horsepower.
You may also like my article… Who Makes Husqvarna Lawn Mower Engines?
John Deere X758 Lawn Tractor
No lawncare list is complete without a representative from the Deere. The X758 is the range-topping member of the brand's signature X700 lawn tractor series. So, you know it has all the bells and whistles.
Comfort, technology, adjustability, and reliability are just a few of the areas the legendary company has mastered over the years, and the X758 has them in spades.
The X758 is the only member of the X700 series with a full-time 4×4 drivetrain. It is powered by a 28 horsepower Yanmar diesel engine and it holds 5.2 gallons of diesel (or bio-diesel, if you wish). The mower is available with a 48, 54, or 60-inch mower deck.
Also take a look at my article… Average Life Of A John Deere Lawn Tractor
How Long Will A Lawn Mower Run On A Tank Of Gas?
If you know what the tank size it and the miles per gallon that your mower runs at, then it is a simple process to figure out how long you can mow till empty. Yet, what is the average time that a mower will run on a tank of gas?
On average, two hours is the time it takes to run a full mower tank dry. Diesel mowers last longer and you can expect 2½ hours of mowing time. There are many different conditions that will change this time frame. Wet grass, inclines, and older mowers are just a few of the variables.
The answer to this question is a little complicated because of different contributing factors. These include:
Height and thickness of the grass
Whether the grass is wet or dry
The gradient of the terrain
Weight of occupant and attachments (for riding mowers)
The mower's service condition
Maintenance (removing debris and clumps from deck and blades)
The above factors can all increase or decrease efficiency. Cutting your wet grass in the morning might put additional strain on your mower's engine, which uses more fuel.
Cutting your under-serviced mower uphill while the grass is wet will use up even more fuel. So, fuel efficiency depends on the work environment as much as it does on the machine's engineering.
Can You Put Too Much Gas In A Lawn Mower?
If you are in a hurry, not paying close attention, or in poorly lit environments, is overfilling the gas tank on most mowers a real possibility? Can it be a problem or even a hazard?
You can put too much gas in your mower if you are not paying enough attention or filling up the mower in a poorly lit environment. The result will be gas poring out onto the engine and ultimately the ground. This can cause a fire hazard, kill plant life, and expose people and animals to fumes.
Most modern mowers have a visible limit point in (or on) the tank itself or some kind of fuel gauge. Some lawn tractors even have digital gauges.
Overfilling must be avoided because it exposes nearby people and animals to fumes. This threat is even greater if the mower is stored in an enclosed space. This is also a fire hazard.
Overfilling can also affect your grass if fuel leaks onto the lawn and soil. Gasoline is especially deadly to grass and soil microbes, which could result in unsightly patches that can last for weeks!
Final Touches On Lawn Mower Gas Tanks Sizes…
The tanks sizes plus the fuel efficiency will determine how long you can mow until a refill is needed. The size of the tank can only hold so much so it is necessary to be cautious that gas or diesel doesn't spill out onto the engine or ground.
Augmenting these tanks is also highly dangerous and will immediately void the warrantee. Trying to increase tank sizes beyond factory specifications is not recommended. Besides, keeping a gas container around for refills is inexpensive and safe.
References
https://homeguides.sfgate.com/lawn-mower-leaks-overfill-101008.html