We all have our favorite lawnmower brands, from Exmark and MTD to Husqvarna and John Deere. However, did you know that very few of these brands actually make the hearts of their machines? Many of their engines come from one of two major engine manufacturers. But which engine is the best, Kawasaki or Briggs & Stratton?
Between Briggs & Stratton and Kawasaki there are only fine distinctions. Yet, Kawasaki has more power output, fewer vibration issues, and more efficient cooling capabilities. Kawasaki engines also do not have the same level of carburetor issues as Briggs & Stratton models.
Well, it's true, and today we will be looking at two of the biggest names in the mower engine outsource pool. It's East vs West today as we pit Japanese master Kawasaki up against classic American bruiser Briggs & Stratton. 
This should be fun.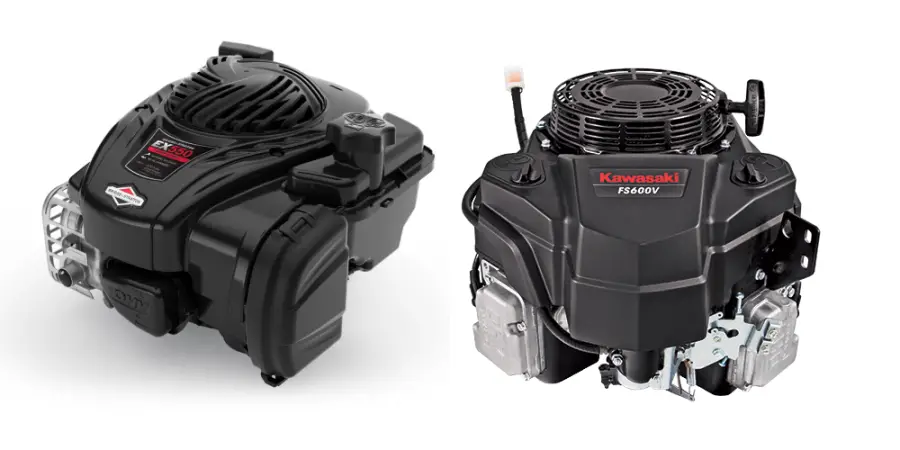 Are Kawasaki Engines Any Good?
Many laypeople will understandably recognize the Kawasaki name because of the company's awesome motorcycles but, rest assured, this is but the tip of the iceberg.
You see, anything with the name "Kawasaki" on it is a product of Kawasaki Heavy Industries (KHI), a multinational corporation based in Japan. KHI is a parent company to several subsidiaries, including the Kawasaki Heavy Industries Motorcycle & Engine division.
As the name suggests, this division is home to the brand's iconic motorcycles as well as a myriad of multipurpose motors. Kawasaki motors are used for generators, water pumps, and (of course) lawnmowers.
Kawasaki Lawn Care Engines
So, which engines are we looking at when it comes to lawn care?
Well, Kawasaki offers a wide range of engines for various mower models, sizes, and functions. The company is just as adept at producing commercial-grade mower engines as it is at making simple home garden tractor motors. Kawasaki typically specializes in gasoline engines.
Kawasaki FX Series
Let's start by looking at the famous FX Series, a range of awesome pro-grade engines that prioritize performance while always having the environment in mind.
At the time of writing, there are 14 engine models in the FX series, beginning with the 15.5 horsepower FX481V. The beefed-up FX1000V-EFI is the range-topper with an incredible 38.5 horses.
The FX series, like all Kawasaki mower engines, is 4-stroke throughout. The V-Twin layout is the hallmark of the series and it serves as the foundation of the motors' efficiency. The FX is the heartbeat of many of our favorite riding mowers, including the Bad Boy Rebel (54 & 61-inch) zero-turn.
Some of the features typical of the FX series include:
Overhead Valve (OHV) technology
Multi-stage canister air filter system
Oil coolers
Steel guard with a rotating chopper screen
Kawasaki FR Series Engines
Another jewel in Kawasaki's V-Twin crown is the underrated FR Series. 
This line of engines boasts many of the same features as the FX but in a scaled-down manner that makes FR engines the ultimate choice for residential lawnmowers. The Husqvarna Z254F is one of the top residential Z-turns on the market, largely because of its glorious 24-horsepower FR730V engine.
Kawasaki FRs feature cast iron liners for enhanced rigidity, a footprint-reducing 90-degree V-Twin configuration, and an advanced pressure lubrication system that ensures all moving parts receive all the oil they need. In addition, you also get Kawasaki's patented "High Energy Spark" ignition system, which should prove its worth during cold starts.
The FR series features 4 models in total. The entry FR600V has 18 horsepower while the top-of-the-range FR730V boasts 24 horsepower.
Kawasaki FH Series
The FH KAI series is another eye-catching line. This line is the famous home of the now-discontinued FJ180V KAI, an air-guzzling motor that powered cool machines like the Toro 21-inch Self-Propelled Walk-Behind.
Nowadays, the company only makes the mighty FH770D KAI, a multipurpose beast reserved for taming the wildest grass. With 764cc of displacement and two cylinders, this V-Twin engine is capable of powering through grass of any density. 
Cooling is still the KAI's major selling point, as evidenced by the dual air cleaning system and the massive blower fan. You also get cast iron lining, easy oil filler access, and high-energy spark ignition. V-Twin layout, of course.
Kawasaki FT Series
Kawasaki also makes the FT series, which is hailed for its Vortical air filtration system and electronic fuel injection (EFI). Unlike most engines with carburetors, FT models shoot gasoline straight into the cylinder to make for quicker combustion cycles and less sputtering.
The rest of the Kawasaki lineup includes the FS, FJ, and FD series. All in all, Kawasaki (USA) produces 35 engine models across all its series. The FX series has the most models with 14.
The Verdict On Kawasaki
To answer the above question, Kawasaki engines are AWESOME!
The V-Twin philosophy means you will benefit from having two pistons working in tandem. More power and better balance are what people tend to consider first, as they should. 
However, another advantage of a V-Twin configuration is the reduced vibrations. A well-oiled V-Twin will almost always run smoother than an equally powered single-cylinder engine, which means less wear and tear.
You may have also noticed Kawasaki's love for cooling. Mower manufacturers certainly have. Brands like John Deere and Exmark pride themselves on their reputations, especially in the commercial arena. Cooler engines always prevail in the war against downtime, and Kawasaki is the master of this strategy.
Given the reduced vibrations and advanced cooling technology, you can expect modern Kawasaki engines to breeze past the 2,000-hour mark with ease. With special care, timely service, and proper storage, you could be looking at 3,000+ hours.
Unfortunately, Kawasaki engines are not infallible.
One problem they have been notorious for is surging. Coincidentally, this problem may begin popping up as soon as your warranty expires. However, surging is not a fatal issue, so to speak. Surging can be fixed by cleaning out fuel filters and draining aged fuel.
Luckily, with EFI technology for small engines on the rise, the issue of surging may soon be a thing of the past.
Are Briggs & Stratton Engines Reliable?
Now, let's take a look at Briggs and how they measure up.
Unlike Kawasaki, which has its tentacles in as many "heavy industry" pies as one can imagine, Briggs & Stratton has a laser focus. The Wisconsin-based company is primarily (almost wholly) dedicated to making engines. Granted, a lot of these engines are for various applications. 
Gasoline motors have been the company's bread and butter throughout its 113-year history. However, the rise of global environmental concerns has pushed Briggs towards greener avenues.
When it comes to lawnmowers, Briggs jostles for position with many of the big names in engine building. In all honesty, they very well could be the biggest.
Walk Behind Motor Series From Briggs And Stratton
The company has 21 walk-behind mower engines and 12 riding mower engines.
Let's start with the walk-behinds…
Briggs & Stratton 300E Walk Behind Mower Series
Simplicity has always been a key value at Briggs and very few (if any) of its motors symbolize this value better than the entry-level 300E Series. These lightweight engines power numerous residential walk-behinds, like the Sprint 410P.  
The 300E Series packs a mighty punch, and it is quite robust. The most striking attribute has to be the noise management system. Really, it is quite something to behold.
On the performance side, this machine is pure American Muscle.
With 125cc of displacement, the single-cylinder 4-stroke engine churns out 15.8 horsepower with 6,10Nm of Torque. Not bad.
The cylinder is industry topping aluminum, ensuring smooth operation all year round. OHV, 0.21-gallon gas tank, no fuss…
Briggs & Stratton 650EXi
Another noteworthy walk-behind mower motor is the 650EXi Series. The 24-horsepower engine is great for both residential and commercial mowing. Like the 300E Series, the 650EXi is an OHV 4-stroke with an aluminum cylinder.
The float-feed carburetor's efficiency is particularly impressive. With the way this engine runs, you would think it has EFI. The paper air cleaner also ensures the consistent delivery of debris-free oxygen.
Briggs & Stratton 950PXi Series
Topping the Briggs engine pyramid is the 950PXi Series. The 223cc engine is Briggs' most powerful small vertical shaft motor. With numbers like 35 horsepower and13.56 Nm of torque, it's not hard to see why. 
Brigg's ReadyStart ignition system is impervious to any weather condition, greatly minimizing downtime. In fact, the company is so sure of the engine's starting capabilities that they offer a two-attempt start guarantee. If the engine fails to start after two tries, Briggs will repair it for free.
The 950PXi also has a high oil fill tube to make service that bit easier. You can also opt for a high-pressure lubrication system.
The Electric Powered 82Li Series
Remember how we said that Briggs & Stratton is moving towards green energy? Well, the 82Li Series is the latest and greatest effort in this quest.
The motor runs on smart lithium-ion battery technology for emission (and noise) free performance every time you wheel your mower out. At 82 volts, you'll be working with some serious juice.
A simple electric start comes standard, as does Briggs' patented Load Sense tech. Load Sense basically assesses the density of grass being cut and adjusts power output accordingly. So, the thicker the grass, the more power the engine will release.
The 82Li gives you a reasonable mowing time of ~45 minutes. Charge time depends on your battery's amperage (30 mins for 2Ah, 60 mins for 4Ah, and 75 mins for 5Ah).
Riding Mowers Engines From Briggs & Stratton
Now, on to riding mowers. Of course these will need to pack a little more power, and coming from Briggs, you can expect they will.
The Briggs & Stratton 3000E Series
For residential riding mowers, there is the entry 3000E series. 
The OHV motor has loads of cool features, including Briggs' Anti-Vibration System (AVS). The design is function over style, and that's what we love about Briggs.
The motor has 344 ccs of displacement, 16,82Nm of torque, as well as a cast-iron sleeve cylinder. You also get a mechanical governor and Briggs' Magnetron electronic ignition system as standard.
The Series 8 Engine From Briggs & Stratton
Another cool rider engine is the Series 8 Commercial. As the name suggests, these engines are for the big jobs where downtime is simply unacceptable.
The Series 8 has the revolutionary 5-step debris management system to protect vital internal parts from being bogged down. The V-Twin engine is almost vibration-less too, which is really impressive for its size.
With 724cc, this is the undisputed king of Briggs engines. The cast-iron lining protects while the mechanical governor regulates power output when dealing with heavy loads. An electronic start is also standard.
Other riding mower engines from Briggs include the 4000E, 5000EX, and Series 7 series.
The Verdict On Briggs And Stratton
Briggs & Stratton engines are, on the whole, very good motors with impressive build quality. Their robust designs capture everything good about American engineering and they show no signs of compromise.
Briggs' electronic starting systems are another highlight, showing how far the company goes with product testing. The engines are also steadily improving on the noise and air pollution front.
However, Briggs engines just lack some of the finesse and pound-for-pound efficiency of Kawasaki's efforts. They are also not as efficient when it comes to cooling. Additionally, while the insistence on single-cylinders may make Briggs motors cheaper, they are more prone to vibrations and damage than their V-Twin counterparts from Kawasaki.
However, the biggest problem when it comes to Briggs engines is carburetor problems. Whether from built-up gunk or shoddy build quality, it seems that someone somewhere is always complaining about inconsistent fuel delivery to the cylinders.
The Final Word On Kawasaki Vs Briggs & Stratton Engines…
For those looking for the top of the line, number one position, very best mower engine, you are going to want to choose Kawasaki. Yet, these engines also come at a hefty price in most mowers due to the parts used and advanced design.
Briggs & Stratton engines give comparable quality and longevity at a price that is easier on the wallet.
The ROI or return on investment is definitely a major consideration for most buyers. It may be that in many cases the Kawasaki engine it 'overkill' for the uses planned for the machine.
Whether you are looking for the very highest in quality or a healthy mix of quality and price, you will find it in Kawasaki and Briggs & Stratton engines.
References
https://www.btsouth.com/engines
https://www.justlawnmowers.co.uk/blog/the-benefits-of-owning-a-twin-cylinder-tractor-over-a-traditional-single-cylinder-tractor/#:~:text=you%20get%20more%20power%20with,cooler%20and%20burns%20fuel%20cleaner.