Leaf blowers are notoriously loud. So much so that they have even been BANNED in some cities as a result of pressure from countless neighborhood committees. In other cities they have been strictly regulated. Can anything be done or made to counteract the noise?
Leaf blower silencers are possible, but the ROI (return on investment) is not enough for most companies to produce them. Recently, the rise in restrictions in some cities have prompted 'quieter' leaf blower production. As more cities join the list more lower decibel options will become available.
Here we set out to explain this and other key questions surrounding leaf blowers. We examine exactly why leaf blowers make so much noise as well as methods of reducing said noise. We will also look at some of the quieter models out there before we list some of the cities that have permanently banned this popular tool.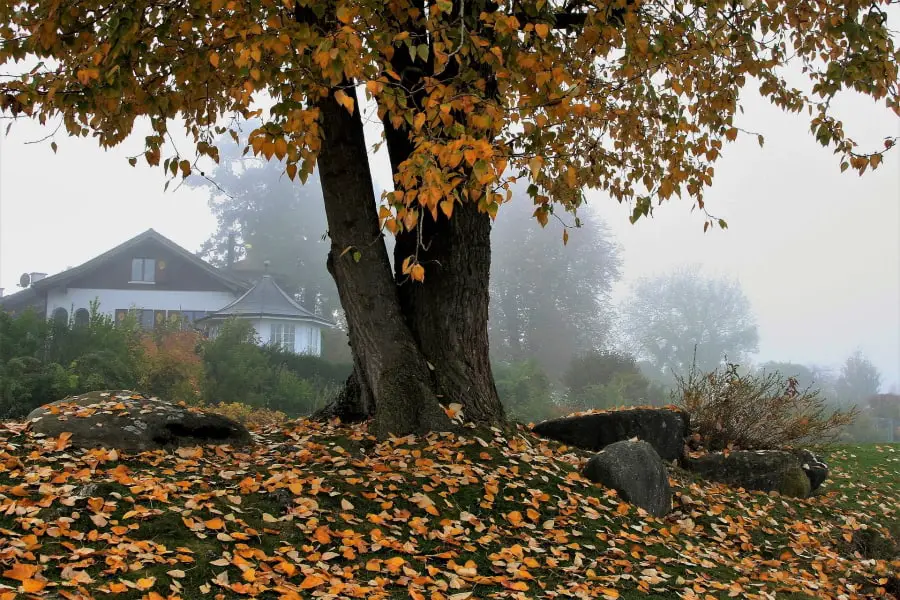 Why Are Leaf Blowers So Noisy?
The noise a leaf blower makes is actually a combination of factors.
Leaf Blower Engine Noise
The main source of noise is arguably the blower's engine. Blowers that run on gasoline have the same two or four-stroke engines that are used to power other gardening tools like chainsaws. For context, a chainsaw can reach noise levels of up to 95dB! Anything over 85 is a serious threat to your long-term hearing!
When a gas-powered blower's motor is running, the burning and conversion of fuel (combustion), as well as the movement of parts like crankshafts and cylinders, causes vibrations that will result in what we call "engine noise". Even the recoil start system that is typical on these tools is quite loud.
Leaf Blower Fan Noise
The other source of a leaf blower's noise is the fan. The fan is driven by the engine to produce air for blowing leaves and other debris. Most handheld blowers typically have a 10-blade fan, which results in the tool's trademark 'scream' when in operation. 
Echo company former vice president Larry Will explains that it is the pitch of the 'whine' of the fan that is grating to most people's ears. The decibels created are usually cited as the main cause of the irritation by opponents, but it is the frequency that is the real culprit.
Leaf Blower Air Noise
In addition to the engine and the fan, you also have the air itself. Granted, the fan's whirring is a result of interaction with air. However, the leaf blowing air from the nozzle is also a major contributor to the overall racket. 
The funneling of the barrel, combined with the fan's rapid revolutions, results in the ejection of high-pressure air. This gives the leaf blower its garden cleanup power. Air can exit the nozzle at speeds over 185mph on some blower models. Serious friction can ensue, which results in noise.
Let's not forget the noise a mass of dry leaves can make as it is violently shifted or mulched. The overall orchestra of doom is a nightmare for anyone with plans of sleeping in.
And what's worse than a leaf blower on a sweet Saturday?
A WHOLE NEIGHBORHOOD OF LEAF BLOWERS!
This is not uncommon across North American suburbia. Some people's leaf problems are so big that they require entire leaf blower teams to even make a dent during the autumn. 
Chaos is always bound to ensue, even among fellow leaf blower owners. For some reason, your neighbor's leaf blower is louder and more annoying than your own!
How Can I Make My Leaf Blower Quieter?
Several tinkerers have pondered the feasibility of making leaf blowers a little less noisy and disruptive for the community. Famous tinkerer and entrepreneur Elon Musk promised a dead-silent leaf blower in the near future…but we're still waiting.
The truth is most leaf blower silencer modifications have proven to be:
Too bulky for practical use
Made of too many attachments
Too expensive to produce for mainstream production
Making a quieter leaf blower would require the (1) soundproofing of the gas engine compartment or (2) the replacement of the engine entirely in favor of an electric motor. Some companies have slowly evolved in these regards, but most simply cannot afford such massive overhauls if they wish to remain profitable.
At present, the best thing you can do is get a "quieter" electric-powered leaf blower. While electric motors are far quieter than gas engines, electric blowers still produce significant levels of fan and air noise. The quietest blowers on the market today are around the 55-65dB range, which is still enough to rouse a light sleeper.
As you can see, a simple attachment is not feasible to cut down on the many types of noise that come from blowers.
Are There Quiet Leaf Blowers?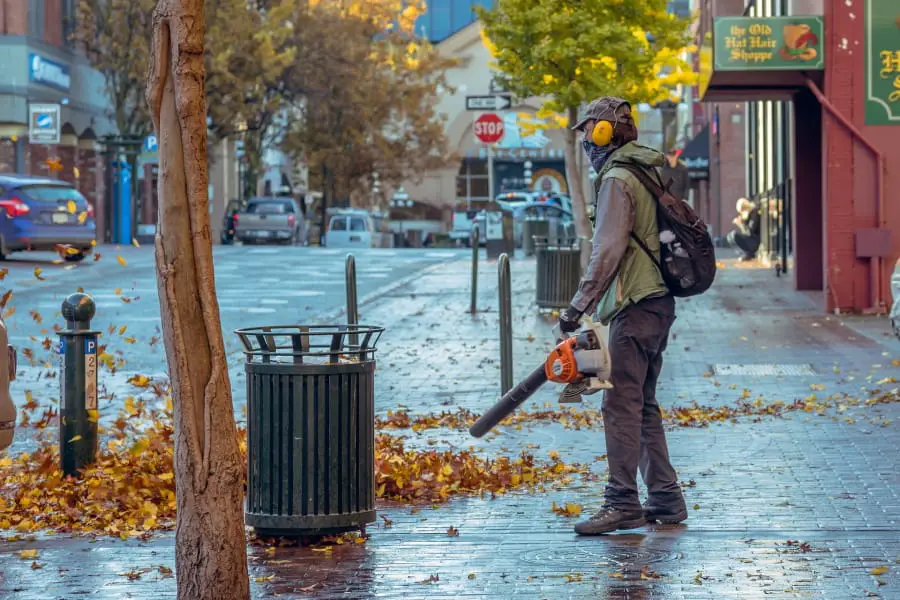 While there are quieter leaf blowers, there are no silent ones…yet. Even the word "quiet" can be viewed subjectively depending on which side of the pro/anti-blower divide you find yourself.
Electric blowers are as quiet as they get, but they just don't have the power like gas fueled Echo or Stihl ones. There are even battery powered ones, but you will only get about an hour or so out of 'em.

Jerry McMillan, McMillan Lawn Service, 40 Years Experience, Great-Grandpa
The fact of the matter is several manufacturers have made a considerable effort to try to curb complaints against their products. After all, leaner profits are still better than an outright ban.
Ryobi's RY40470VNM cordless electric leaf blower has been lauded as being the quietest handheld blower on the market today. This battery-powered dynamo is part of Ryobi's "Whisper" series of electric leaf blowers and it delivers up to 125 mph of yard clearing gusts…with just 59dB of noise!
The blower's brushless motor allows for longer run times than competitor blowers. In fact, you can get up to 20 minutes on "turbo" mode, and 30+ minutes on the normal mode. That's right, you get variable speed control with this bad boy, which is a big noise reducer.
Another neighbor-friendly leaf blower is the Echo 345 handheld gas leaf blower. Echo is one of the major brands that is wholly dedicated to making all of our weekend mornings a little quieter. Central to this mission is the company's popular handheld air-thrower.
The gas-powered 354 can blow air at a rate of 191 mph, which is more than enough for wet or dry leaves. The blower also comes with a "silencer" nozzle that can reduce noise to 64dB! 
What Cities Have Banned Leaf Blowers?
As modern society progresses towards environmentalism and reduction of pollution, leaf blowers have found themselves in the crosshairs thanks to a variety of individuals, organizations, and interest groups. 
Blowers are not just noise polluters, but they are also notorious for kicking up air pollutants and allergens. Gas blowers also dish out a large volume of carbon exhaust into the atmosphere.
As a result of such pressure and furor, several city and town authorities across the U.S. have issued restrictive ordinances or outright bans on leaf blowers in certain areas or at certain times.
Most of the cities that have imposed these sanctions (at the time of writing) are in California, although Long Island, New York has also placed restrictions on blowers. Expect several more states to join in over the coming years.
In fact, over 20 (and counting) California cities have completely outlawed the use of gas-powered blowers. Electric leaf blowers may still be used provided they fit in with a respective city's noise ordinances.
If you simply cannot imagine life without your trusty gas leaf blower, then you want to avoid these California Cities:
Beverly Hills
Indian Wells
Del Mar
Claremont
Hermosa Beach
West Hollywood
Santa Barbara
Santa Monica
Menlo Park 
Los Altos
(All California)
Here is a list of cities around the country in addition to California that have completely banned the use of gas leaf blowers in their municipalities…
State
Cities That Have Banned Gas Powered Leaf Blowers
New York
Bronxville
Dobbs Ferry
Great Neck Estates
Greenberg
Larchmont
New Rochelle
Russell Gardens
Sleepy Hollow
Tarrytown
Thomaston
Village of Tuckahoe
White Planes
Yonkers
Colorado
Aspen
Carbondale
Westminister
Connecticut
Greenwich
Ridgefield
Maryland
Montgomery
Florida
Palm Beach
Illinois
Arlington
Evanston
Glencoe
Highland Park
Lincolnwood
Wilmette
Winnetka
Michigan
Blackman Township
Cassopolis
Kalamazoo
Oakland
Richland
Roseville
Massachusetts
Brookline
Cambridge
Longport
New Hampshire
Portsmouth
New Jersey
Princeton
Township of Montclair
North Carolina
Chapel Hill
Oregon
Portland
Texas
Houston
Washington
Seattle
The Final Touches On Leaf Blower Silencers…
There may not be specific silencers that you can add onto your blower to make it more quiet, but there seems to be movement to give incentives to companies to further their research and development.
The demand must also be there in the form of customers choosing to buy these quieter models. This comes in three major forms of incentives:
Price
Availability
Local Ordinances On Noise
A blower silencer to cut down on the many forms of noise that blowers make may not be in the future of lawn care, but quieter and quieter overall blower models probably are.
References
https://www.nonoise.org/quietnet/cqs/other.htm
https://soundproofcentral.com/why-are-leaf-blowers-so-loud/#:~:text=Here%20is%20a%20brief%20explanation%20that%20answers%20the,and%20you%20get%20a%20loud%2C%20high-pitched%2C%20irritating%20whine.